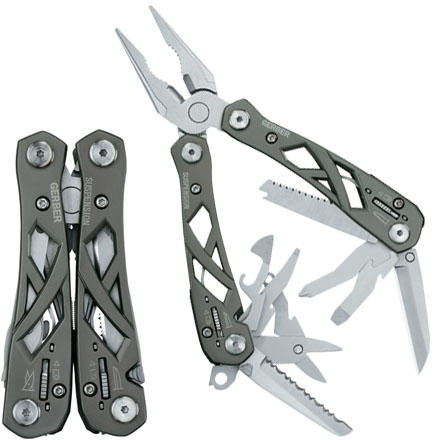 Community Images
The Gerber Suspension Multi-Plier narrows the gap between pocket knife and toolbox. Inspired by Portland, Oregon's bridges, the Suspension has an open frame that belies its ability to support your emergency needs. Incredibly strong and packed with trusted tools, this multi-plier opens quickly and locks each component in place while in use. And it's a sleek-looking multi-tool—because looks are important when you're cutting wires or tightening screws.
pressed metal?
Familiarity:

I've used it several times
Broke before it made it into the wilderness. It's made of some type of composite metal, that doesn't respond to torque well. Definitely wouldn't trust my life to it in the outdoors.
I wouldn't trust it in an emergency..
I was screwing down a hose clamp on a garden hose and the flat head screw driver bit crumbled like a cheap Chinese knock off... Oh wait.. This is just that.



I still have to send it back though it is still like new. I called Goober to see if I could just get the part and replace it myself. Nope.. They need to do any parts replacement even for the simplest of repairs for liability reasons. Anyone who says that has had plenty of problems and most likely has been sued before.



At the same time I purchased one of these I bought a machete and had Gerber send me a recall notice on it only a few weeks later. I bet they are more worried about getting sued than they are about making a good product.



I wouldn't waste my time or money on Gerber products again. The price seems like a good deal at first and the Gerber name seems synonymous with quality but it isn't. They have the big corporate mentality of shaving quality while they do gimmicky advertising to entice new buyers.
Handy little tool
Familiarity:

I've put it through the wringer
While a little on the hefty side I still like this multitool a alot. I haven't had any problems with it and it works just as good today as it did over a year ago when I bought it.
Too heavy and not durable
This thing is too heavy for my purposes. It would be a good leave in the car tool. The thumb studs for the blade came off after very little use and all the tools have developed a lot of play front to back and side to side. I am usually pretty hard on my stuff however. This thing just cant take the abuse imho.
Fantastic Tool
Gender:

Male

Familiarity:

I've put it through the wringer
Love this tool. Has everything you could ever need on it. The kicker for me is the spring loaded plier action. Makes it very easy to use with one hand. This is the only tool that you will ever need out in the wilderness.
Replaces an 5-year-old SOG multi. (Lost.) Chose this over the Skeletol because of the indispensible can-opener, but it was a very difficult decision. Good design and construction, but weight and bulk keep it at a "four." Yes, it will work on the moon.
It's Gerber! Not much else needs to be said. The quality is good, durability good, I like it.
You'll love getting your hands on this tool
Nice blades and functional tools. The locking mechanism is nice and easy to use. Sexy little number as well, but it seems a little heavy and overbuilt on the only downside.
This thing came in handy during my seasons with the National Park Service, Ticks were a daily problem... multiple times a day. One day I pulled 32 ticks off of me, only half or so of which were embedded but you get the idea. This thing killed many a tick and was eventually dubbed the tick slayer. The needle nose pliers are spot on even after heavy abuse, allowing me to pull ticks with ease. Definitely a solid multi tool, haven't had any problem with the tools holding up to whatever I've thrown at them. The blade is nice and sharp, and seems to stay sharp. Downside, the case is garbage, it still holds it, but that's about it, barely closes, frayed all over, looks to be needing replacement soon. Seems like a good deal, I got it as a present, but I would probably pay this much if I were in the market.
Pretty solid multi, but after a while you can definitely tell that it isn't made quite as nice as a Leatherman or a Victorinox multi-tool. This is a big step forward for the Gerber line-up, which hopefully continues doing what it is doing, and getting better. The lock up is pretty tight, the blades come sharp, and the tools are functional. But personally if I could only have one tool, it would be a Leatherman, since I know from long experience how well they are all made.
Looks are a close second to the great functionality of this tool. The fact that every tool locks out makes using it much easier. Sharp knife.
This is a nice solid multi-tool. The suspension doesn't do much to reduce the weight as it still comes in at about 9oz, but it does look cool. Spring loaded pliers and one hand opening knife blades that can be opened without opening the pliers are a nice touch.
I bought this tool today and used it on a couple of things to test out all the functions. It works great and unlike some multitools i have bought in the past, it really does a great job as far as durability.
You gotta love Gerber's multi tools! They're equipped with suspension (Come on leatherman, Get with the program). Very cool look with all the tools you'll need. A tough Knife!