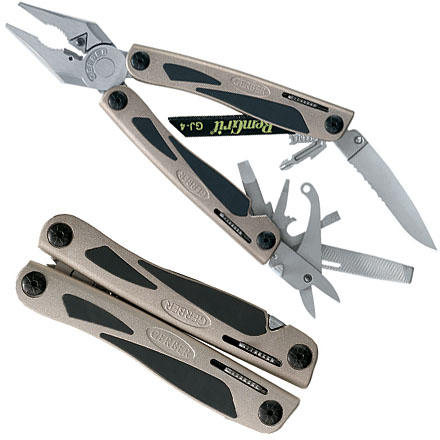 The Gerber Legend Multi-Plier 800 is for the user who wants extreme wire-cutting ability, quick access to the components, spring-loaded pliers, and a secure ergonomic grip. The Legend features replaceable wire cutter inserts in case you try to cut more wire than the cutters can handle—though that would be a challenge. Much harder than any stainless steel, Gerber's tungsten carbide wire cutters will cut through #2 hard carbon steel fishhooks, 1/16-inch piano wire, and 278-pound stainless steel offshore fishing leader. If the cutters get damaged, you can rotate the triangular cutter to a new edge with a wrench. The Legend Multi-Plier 800 has a knife, scissors, crosspoint screwdriver, three flathead screwdrivers, a bottle opener, and a saw with a RemGrit blade. You can reach these tools without opening the pliers, and they lock into place once rotated out for use. The spring-loaded scissors cut all braided fishing lines, hemmed denim, Cordura, and leather.
What do you think about this product?
Have questions about this product?
my legend is strapped to my side everyday, and i use it at least once everyday as well. the spring loaded pliers are awesome and the knife holds a pretty good edge. this is big enough to feel like an actual tool in your hand but isnt real heavy, although it is heavier than others on the market. i have had mine for about eight years and still works like new. it is on the pricey side, but when you need it the most, you will be glad you paid a little extra for it. the only thing i wish it had is a little bit smaller phillips screwdriver along with the larger one. i have used this while in the mountains, on the water, in the winter and summer, around the house, and at work. pretty much everywhere i go. i love it! the only downfall of having this tool is that everyone knows you have the bottle opener:)