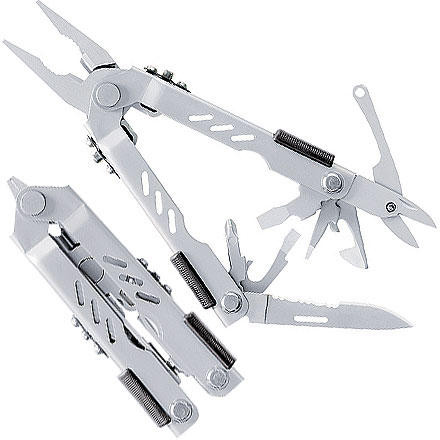 Videos
The Gerber Multi-Plier 400 Compact Sport is a compact toolbox that fits in the palm of your hand. This ultra compact tool features stainless steel hardware and Gerber's patented one hand opening plier jaws—opens with a flick of the wrist. Tool components include: large and small screwdrivers, crosspoint screwdriver, drop point knife blade, can opener, bottle opener/medium screwdriver, and a pair of Fiskars® Scissors. These are the best scissors found in a multi-function tool, able to cut through leather, hemmed denim, ballistic cloth, and all braided fishing lines. All components lock open with Gerber's patented SAF-T PLUS(TM) locking system—the safest, strongest, most durable lock available. -Vendor
The one hand open is great. You can flip open the pliers with a flick of the wrist. Great for when you are already elbow deep in a job and need a quick pinch.



It has most of the basic tools you would need. Only lacking measurement markings.
Great replacement for the one TSA took..
Familiarity:

I've put it through the wringer
I'm an Idiot... capital "I".



I totally forgot that my original 400 was in my carry-on bag, and the TSA grabbed it - for obvious reasons (Like, they needed the nylon sheath or the bottle opener...)



Replacing it for every day use was a natural move. The tool has the essential functions for anything you would want it for - around the yard, around the house, whatever... It isn't very heavy, and doesn't have the extraneous tools - but you can buy an accessory bit set that makes it more than just a basic tool.



I had read reviews that some of the housings and parts had been converted to plastic, and was happy to see they weren't true. The flick-feature is my favorite - when you need the pliers or tools and are one-handed, that tool comes out with a Wolverine like 'snikt', locking into place for use.



I've had several Gerber tools over the past few years, but this is my daily go-to.
Stacks up with the best of them
Familiarity:

I've put it through the wringer
This tool is amazing. And for the price you can't pass it up. Gerber makes amazing tools and can hang with the leathermans for sure. I The blade comes very sharp out of the box and stays sharp during a long backpacking trip. If you are wanting durability, reliability, a lightweight product and a good price. You can't go wrong with the Multi-plier. If you have any questions for me feel free to chat in to me or email me at skdavis@backcountry.com
Great Tool
Familiarity:

I've put it through the wringer
I've had this tool for sevearl years now, and it has been in my pack, pfd, and fix-it-kit for just about everything i do. It has cut plenty of cheese, cut material for a patch, opened many cans and screwed several screws. The sliding mechanism is awesome, and even after a little saltwater or cheese crust, it slides and opens well. in a can opening race, this opener- which moves forward as it cuts rather than backwards- beat the opener on a leatherman every time! The blades are all sharp, and the tools well cut as to do thier job the best they can- and still sharp after years of tough use. When closed, it is small enough to wrap your fingers around and be fully covered by your hand. Perfect size for good grip.
Gerber Multi-Plier 400 Tool
The description says that there is no...
The description says that there is no scissors with this multi tool yet the picture seems to show one. Which is correct?
It definitely has scissors. Pretty sweet ones at that- small, but pack a serious snip.
Gerber's wrist snapping plier opening has been a standard of multitools for years. The one handed plier opening ability is fantastically useful for gearheads, who generally have one broken part held together with one hand, and need the pliers in the other. They also serve as instant hot pot tongs. Having a Multiplier on your belt aids in quick pot removal in cooking. The tools are plentiful, easily locked and unlocked, and held solidly with the spring loaded locking device. Like all multitools, the knife blade is weak, but this should never be your primary knife to begin with. Always always always, carry a good knife. I use a SpecOps Survival Sheath, so I carry this tool with my Ka-Bar, and a firesteel, all in one useful and handy package.
I am on my third Gerber 400 and love it. The reason it is my third is because I have lost two others in the past 8 years or so that I have been using them. The fact that I continue to re-order the same model says a lot. All the tools are great and the ability to open it with one hand is key for me. Strong and light, this tool is with me always.
This is the first online review I've felt compelled to write. There are so many multi-tools to choose from, and online they all look so similar, let help you - this tool absolutely delivers.

This tool has been the only multi-tool in my fishing vest, on my ski trips and on my boat. It still works like the day my dad gave it to me, what I think was over 10 years ago. Ive dropped it in the river and wanted it back bad enough to put my head under to reach in to get it out. Its been left to rot covered in trout roe wet in my vest. Its been dropped in the sand, and down in the rocks. After I packed the guts with grit and filth, the tool lock mechanism started to get stiff, so 5 minutes with some WD-40 and it was good as new, and that's all the cleaning it has required in all the years of service.

The things ive liked the best - easy in and out of the tools if you dont fold it totally away every time, and when you need real strength for a job, like a tough screw or knife cut, you can pull the pliers back down in and lock the tool out, and its rock solid for the work. Pliers are solid as well.

I had another multi-tool, and its stuffed in a back drawer somewhere not being used, while this one is still in the holster on my beltloop or in the vest every time I go fishing.

You wont be sorry. Im glad to see they're still for sale in case I ever lose mine.
This is a handy tool to have around, it is enough to handle the majority of jobs. Not one of your big multi-tools that has everything in it, but it seems to cover the basics. I haven't needed to really test the strength yet, but it worked well on a couple of little tasks.
Nice idea, but the system seems a little wack to me. To get the inside tools, you have to slide open the pliers, pick your tool, and then slide the pliers back down. That is just something I could never get used to, since Leatherman is what I like. That aside, the tool is pretty strong, and plenty useful around the camp.
I carried one of these bad boys for over six years, and never had a single complaint about it. sadly i lost it last summer. it functions amazingly, and the scissors are more like tin snips! the blade holds it's sharpness very well, and the wire cutters are strong enough to go through a coin! no compliants to be had here, or by anyone else I've ever met who carries one!