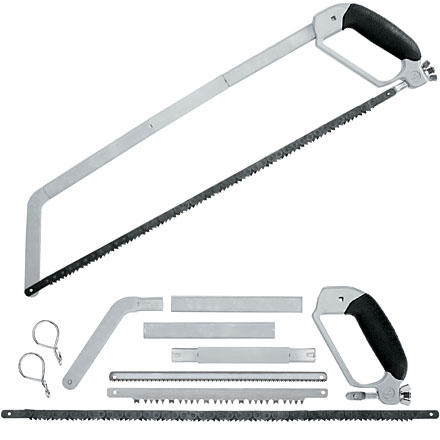 If you've struggled with the question of how to pack a bow or hack saw in to the backcountry, the Gerber Gator III Saw gives you a simple, compact answer. This sheathed field saw comes with a 10-inch bone saw, a 10-inch wood saw, and a 20-inch, ultra-sharp collapsible chain saw. The entire saw fits into a case that's less than 10 inches long and four inches wide, so it's easy to pack for hunting trips, campsite fire-building, or trail maintenance work. At a mere two pounds, it's light enough to carry in a backpack on short trips. The Gator Saw has a rubber-coated handle for a solid grip. Gerber designed a special attachment system to keep the wing nut from flying off when you really get into saw mode.
What do you think about this product?
Have questions about this product?
Chain Saw Blade is Too Short
When I tried to put the flexible chain blade on, it would not tighten down enough for the square part of the peg to seat, so it would twist incredibly easily and popped right off at the slightest of pressure.

If you want it for the small woodsaw/bonesaw, you couldn't go wrong; the fact that I just bought this and it doesn't fit together well enough to work is incredibly disappointing and it's lucky I chose 3 stars not one.

Normally Gerber is top-notch stuff, but this one is mediocre at best.

As a note, though, I took an angle grinder and cut 3/4 of an inch off of one of the sleeves and it is now a fully-functional saw. If you're willing to do some work it turns from half-usable into normal Gerber Quality.

Bottom line? Don't buy unless you don't mind not being able to return it.