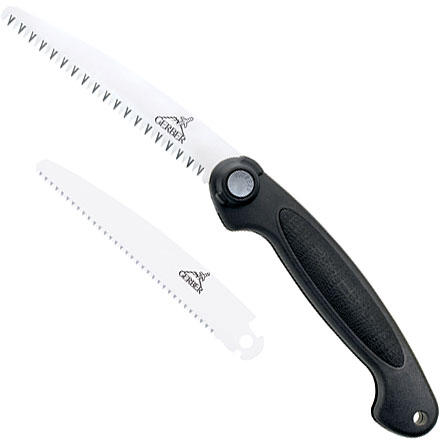 Description
Carry the Gerber Exchange-A-Blade Saw when you head into the backcountry.
Trail crews, outdoor guides, hunters, and other outdoor enthusiasts will appreciate the Gerber Exchange-A-Blade Saw, which comes with two blades. The Exchange-A-Blade Saw folds to a length of eight inches for easy packing and carrying. The stainless steel blades cut with a push-pull action that requires a third less effort than standard blades. The coarse blade is for regular wood and the fine blade works well for hardwoods and bone. The Exchange-A-Blade Saw comes with a sheath.
You'll need both blades
Familiarity:

I've put it through the wringer
This is a neat little design, and my initial sentiments were very complimentary. Looking back objectively after becoming familiar with the product I would strongly advise taking your 25 dollars and using it toward an alternative option. The blade steel is not exceptional, one sawing with too aggressive a stroke can put a twist on the blade which will result in failure. Speaking with individuals who have had this happen to them in the field it seemed that the tip of the blade was breaking off when being used to process timber larger than the diameter of ones wrist. A way to avoid this would be taking more patient strokes and using the body of the blade nearer the hilt rather than relying on the outer third of the saw. Comparatively priced alternatives with a much better service record include the Bahco Laplander, Corona Razor Tooth and even Fiskars Power Tooth.
Nice Saw!
Gender:

Male

Familiarity:

I've used it several times
This saw is anything but flimsy. After reading earlier reviews I expected super skinny blades, but they are both standard wood saw width and strength. As with any small saw, you need to let the blade do the work. Pushing forcefully or trying to saw at a mile-a-minute will definitely cause the blade to warp, but this is going to be true of any saw with this design, Gerber or not. Just go slow and steady with even force and this saw will cut through wood like butter. I was able to cut through a 5 inch log in about 2 minutes. Made a pile of firewood in under 15 minutes. Packs down fairly small and has an awesome durable case. The blades are easy to change, but care must be taken to keep them and the attachment slot free of grit and debris. The saw comes fully lubricated at the hinge joint with grease, which is nice, but it can get a little messy when changing blades in the backcountry (why didn't I pack in some degreaser!?). All in all, I am very satisfied with this product.
The blade flexes way too much. This is a problem with all little folding saws so I only knocked off one star there, the other is because its a Gerber product, it should be better. Id recommend the Snap On Bahco Laplander for a folding saw.
This thing is great...be careful with it. Wood saw is like cutting thru butter with a hot knife. Haven't used the fine blade. Very lightweight. Its not an axe! Go slow with it and you will have your firewood, with very little impact on total gear weight.
Expect better from Gerber
The blade is too thin and warped on first use. Now the locking hinge mechanism is breaking. I have a Gerber multitool that is an awesome piece of work. This saw bites. I bought to replace my $9 Coghlan cheapo saw that was gettting dull and it's two steps below that one in quality.
This folding saw i very light an works out fine. Sadly the saw is to fragile. The blade is very easily bent an the connection between blade an shaft is loosening up.
If you are careful and are looking for a light saw this is a good product. If you (like me) has a more rough handling action I'd recommend something stronger.