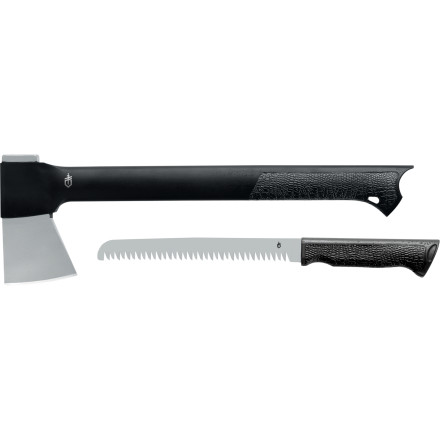 When you're planning a two-week backpacking trip or deciding what goes in your bug-out-bag as you prep for the zombie apocalypse, weight matters. Luckily, the Gerber Gator Combo Axe II with Saw is lightweight and uber-versatile. The glass-filled nylon axe handle is longer than the original Gator to give you greater striking force with the forged-steel axe head, while the handle sports Gator texture for a better grip when the rain turns dirt to mud. The bluntnose pull saw stays securely inside the axe handle with an internal magnet, and coarse teeth easily saw through brush and small branches. Don't expect to fell 200-year-old redwoods with this axe (and really, why would you want to), but you'll be able to make a shelter and chop up dead trees for firewood without any trouble with the Gerber Gator axe/saw combo.

Forged steel axe head
Gator grip handle (axe and saw)
Coarse, blunt-nose pull saw
Internal magnet in axe handle
What do you think about this product?
Have questions about this product?
Weather you are splitting some logs for a fire or sawing away at some branches to make that prefect shelter. This is the hatchet you will want. The nylon shaft makes the hatchet very light without giving up durability. This is great for car camping, backpacking, and zombie survival. If you have any other question you can contact me via chat or email at skdavis@backcountry.com