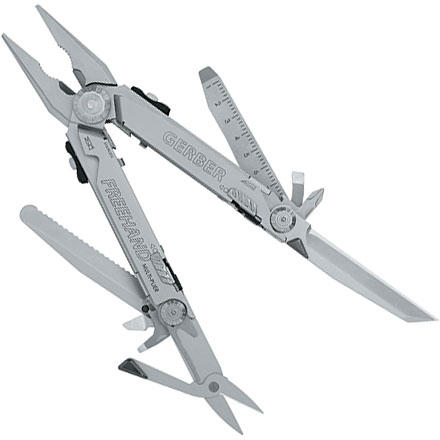 I've had a Leatherman Wave for years and recently lost it so I thought I'd give the Gerber a try. It's about twice the size of the wave when you stick it on your belt. I ski with mine and the gerber seems to be a bit much. As for functionality it fits the bill with everything the wave has plus a little more. It seems a little more beefy as well.
I got this for my husband for Christmas in preparation for our backpacking ventures this summer. So far he loves it. He has used most of the tools for this and that and has no complaints. It's easy to use and seems strong and durable. Not too heavy when stuffing our packs.
It's a lot heavier and larger than some of the Gerbers and Leathermans I've owned in the past, but seems pretty tough and works well. One small complaint: when hte pliers retract, sometimes they don't line up in the exact center and thus don't realyl close completely. A minor but annoying thing.
I have the Gerber Multi-plier 600, which is a slight variation of this Freehand model, so I'll limit my review to the general ruggedness of the tool. For three years, I used the MP600 tool in the rough, greasy, and dirty environment of railroad car field-maintenance that ate Leathermans and Swisstools for breakfast. I beat it, leveraged it, and caked it with grime, but it always opened with a flick of the wrist. The locking features for the pliers and fold-out tools are pretty secure and reliable. Now it leads a more civilized life, tagging along when I'm not sure what tools I'll need, like winter backpacking with crampons, snowshoes, trekking poles, etc... Gerber tools are strong, versatile, and reliable, and that's good know when it's all you remembered to bring with you.

(4 stars instead of 5 since I can't review the exact model shown here, but I'd give my MP600 5 stars)