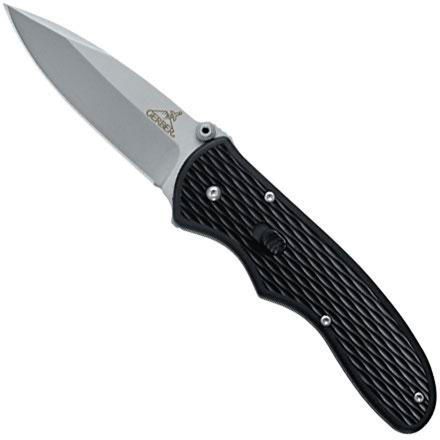 Community Images
Be the first with your knife out when you carry the Gerber Fast Draw. With a fine or serrated edge and two ways to open it, this Gerber assisted-opening knife is ready to chop, slice, or carve. Open the Fast Draw manually with your thumb and forefinger. Or use Gerber's Forward Action Spring Technology—trigger the blade's sudden-release button with your index finger to allow the Fast Draw to jump into action. A fiberglass-reinforced nylon handle with a textured grip absorbs impact and ensures years of reliable use.
Share your thoughts
What do you think of the
Gerber
Fast Draw Knife
? Share a...
Good knife
Familiarity:

I've put it through the wringer
This knife has a good feel and is easy to use. It seems to be well made. I would recommend it to others. I carry this with me frequently and it has always performed the job.
Pretty good
Familiarity:

I've put it through the wringer
Not my favorite knife, but it's solidly built. Received it as a present. I'm generally not a fan of serrated blades as they are a pain to sharpen. Other than that it's fine. The spring assist is fast and it's nice that the lock can be used to keep it closed. I prefer my Benchmade 530 Mel Pardue over this knife, though, and end up keeping this one around the house for random tasks.
Well made
Familiarity:

I've used it once or twice and have initial impressions
I just got this the other day so I have not put it to good use yet. But my initial impression is that it is a very well made knife. I definitely will be sharpening it before getting into using it too much.

Handle is sturdy and doesn't feel cheap or like it will break.
Definitely a right handed knife so if you are a lefty - do not purchase.

Love the fast draw function and the lock is very secure.
Pretty decent
Familiarity:

I've used it several times
Pretty good, the handle is nice and doesn't feel cheap. Nice blade, will definitely do the job for hiking and camping purposes. Seems durable.
However, the locking system is not so easy and smooth to use, it seems safe which is important, but that also accounts for not being as comfortable as it could. Also it is made for right handed people.
For Right Handed people only.
Gender:

Male

Familiarity:

I've used it once or twice and have initial impressions
If you are looking for a low priced spring assisted knife with a good lock this is a good one to get! It is a little awkward to open compared to higher quality spring assisted knives, but one you get used and break it in it should be a good knife. My favorite part about the knife the switch on the side to close and lock the knife. It is a little hard to see in the main picture but you can see it. This is probably the coolest idea for a lock that I have played with.

Pros:
- The lock is awesome and easy to use.
- The handle doesn't feel too cheap and plasticy.
- Low Price.
- Spring assisted

Cons:
- A little difficult to open because the clip is so flat that it is hard to grip with your fingers.
- Right handed open only. Lefties are SOL because of the locking switch.

I would recommend this knife to anyone looking for a low priced spring assisted knife who doesn't want to drop the money on a higher end Benchmade or SOG knife. If you want a high end spring assisted knife I would recommend getting the Benchmade Mini Barrage knife.
With some wear it will be fine but the fast opening is held up by the amount of pressure required.
Easy to use. Sharp blade. nice to have the safety feature on the handle.
Great Knife for the Value
This is a great day to day pocket knife if your looking for something a little larger than your average blade. Fast draw is super handy and makes it easy when only one hand is free. However, Gerber metal is Gerber metal and seems to dull quite easily which doesn't seem to bother me much, I simply resharpen. If you don't know how to sharpen a knife I suggest you learn because this knife will keep you busy. Also, after about 2 months of use the knife lost the majority of its rigidness and loosened up. Simply put, great knife for the value, if you want a top of the line knife go Benchmade, forget Gerber.
I just got the Gerber Fast Draw Knife and I have to say that it seems to be a pretty solid knife so far. I like that it has a spring assist to help you open it with one hand. I also love that it has a switch on it which locks the blade in the down position so that it won't somehow open in your pocket.
Bottom line, its a sweet knife with a sharp blade and solid handle, which makes it ideal for daily use.
Pretty solid knife. Had it pop open once or twice, but I use it every day so who knows what happened. Sharp blade and good handle.
Great Knife Cheaper at Wal-Mart or Amazon
I carry this knife every single day, and have for about 5 months. I use it probably 100 times a day (I work in a warehouse) It holds and edge even through tape, cardboard and even the occasional METAL strap. I can easily open and close it with one hand. Only con is that every 3 or 4 weeks I need to tighten up all the screws as it gets a bit wobbly, and the clip starts to loosen, but if you just do that whenever you sharpen it it works out fine.

Unlike a few people I have NEVER had this knife unintentionally open. That being said I always put the switch to the lock position before returning it to my pocket.
Knife broke in about a week. Very unhappy! Unacceptable for a Gerber product.
GERBER FAST TECHNOLOGY????????????IS THIS...
GERBER FAST TECHNOLOGY????????????IS THIS A SWITCH BLADE???? ITS A FELONY IN TEXAS TO POSSESS A SWITCH BLADE PLEASE ADVISE.......THANK YOU
Best Answer
This is not an automatic knife/switchblade. It uses spring assisted opening which is legal in all states. You open the "Fast Draw" with the thumb stud mounted on the blade & the spring helps with the opening initiated by that action. An automatic knife uses a button mounted in the handle to release the blade which is already under tension to open.
I love this knife! I have had no problems with it opening unexpectedly but when I want it to open it does so in a hurry...with only one hand. Two thumbs up!!
I can always be the first with my knife drawn. Its absolutely perfect except for the pocket clip. It bends easy if you get it caught on anything. Had to straighten mine with some pliers several times. I wish they would revamp the clip design.
how do u close a quick draw knife?
how do u close a quick draw knife?
Best Answer
Release the blade by using the switch on the handle. This action is detailed on the product photo above...F.A.S.T.
I haven't had any trouble with this knife,It's a wonderfully made product that i would recommend to anyone and i might even purchase another one to add to my collection.
Never had it open up unintentionally. This knife is awesome!
Do NOT carry this in your pocket! It will open on any sort of impact [bump into something, flick, it's open in your pocket]. If you own one, try dropping it on the ground from about waist level. It will open. I had one open in my pocket and sink about 1/3 of an inch into my leg. This knife is UNSAFE to use as a pocket knife!