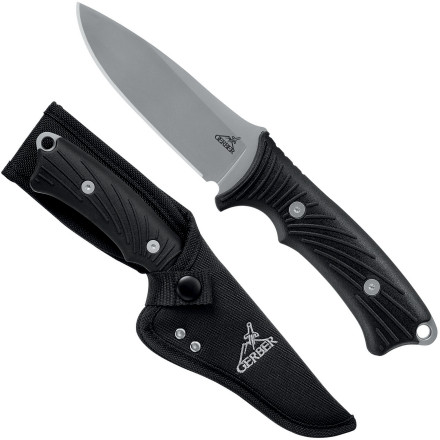 Using sticks and stones is one way to get things done around camp, but the Gerber Big Rock Camp Knife is a lot more efficient. Knife designer Bill Harsey constructed this fixed blade knife with a full tang for strength, and the durable fiberglass-infused handle features a Softgrip overmold for ergonomic grasp. Ol' Bill coupled the Big Rock's strong point with plenty of belly (deeply curved slicing surface), so it's ideal for cutting long hours without fatigue. This large knife has a hand guard and a lanyard hole, and comes with a nylon sheath.
Very Good Quality Knife
Familiarity:

I've put it through the wringer
I bought the partially serrated version of this knife from a local hardware store and opened the package straight away. It came in a clear plastic clamshell package. The balde is 4mm thick and is made from 440a stainless steel blade. 440a stainless resist corrosion and rust and is great for saltwater environments. It holds an edge reasonably well, but will need touching up every few weeks if it is used all the time. This knife comes in either a full fine edge or a one-third serrated edge. The knife handle is made of a glass filled nylon handle with a textured rubber overmold. It is very comfortable to hold even when wet. The sheath is a little plain but does the job. It has a single oversized belt loop, a snap stud to hold the knife in the sheath and a plastic insert that is stiched inside the nylon sheath.



I used this knife for throwing, batoning wood, cutting food products such as meat and vegetables, digging and prying. The blade held up very well to this use. I would not suggest using the very tip of the knife for prying as, of course, it will bend which happened to me. I re-bent it back though. The serrated edge sustained a few very tiny chips from batoning wood, but I easily fixed them with a sharpening stone. Since this sheath only had a single large belt loop, I stiched the loop smaller to about 3 centimetres, added a second velcro strap to secure the top of the knife handle to the sheath when not in use and added a MOLLE compatible strap that doubles as a place to attach a leg strap on the back of the sheath.



So who's this knife for? I would say that this knife is a very good choice for hiking, biking, camping, rescue operations and light bushcraft. If you are looking for a larger knife that is almost indestrucible, I recommend the KA-BAR Bk 2, the Schrade SCHF 9 or 10, the Gerber LMF II or Prodigy and the Gerber Bear Grylls Ultimate Pro Survival Knife.



I have attached some detailed images of the sheath modifications.
Backcountry Top Chef
Familiarity:

I've put it through the wringer
This is my favorite knife to take on camping trips.

The weight and balance of the full tang just feels right in the palm of your hand, and that all translates into an onion's worst nightmare.

Slice and dice your way through veggies to create your backcountry masterpiece. It's sure to impress the ladies
A Perfect All Around Knife
Fishing, Hunting, Chopping Onions, this knife does it all. You can feel the power of the full tang the moment you pick it up and it's design allows you to keep it ultra sharp. It feels and performs like a knife three times the price. Great deal, great knife
you can get this knife very sharp. its just big enough to do some pretty serious batoning.
Nice knife. Easy to carry and handle. Haven't had to use it yet but I bought to protect against Mountain Lions so the fact I haven't had to use it yet is a good thing.



It has a comfortable weight and is solidly built. It was a little shorter than I expected but I know it will do the job when needed.
I have carried a Gerber EasyOut since 1996 and use it daily. Also have a Gator & Gator Jr. that i use weekly. I always take the Gator Jr. on hikes, it fits in my pack. I love Gerber products!
If you are looking for a sturdy durable knife for every day camping uses this is what you want. Comes sharp enough to filet a fish without a problem while still being burly enough to split wood for the fire. Edge stays nice and sharp even though I abuse it beyond reason. Comfortable grip that doesn't seem to deteriorate from anything. Can't imagine being happier with an all purpose blade especially for the price.
Really good knife over all. It holds an edge well, and its great for camping and hiking.
best survival knife for your $$
This is a big burly survival knife, it came super sharp and I've been impressed with it so far. I mostly use it as a self defense/ security blanket for when I go hiking by myself in cougar country, or to ward off would be bad guy hikers who would be interested in stealing my camera equipment, as such the handle has really taken a beating as I've squeezed through many a tight spots where the handle and sheath have been sandwiched between me and jagged rocks, so far, despite the abuse, the handle still looks brand new.

I have other knives I use when precision or weight are primary factors, but when I'm in survival mode, this is my go to knife. It's also really well priced, I got mine on sale for about 35 bucks, at that price I don't think it can be beat.
Would he choose the knife over me? :)
I bought this for my husband...in fact, I bought TWO of these for my husband because he wanted one in his car and one in our camping stuff. He absolutely loves them...I am not allowed to hold it, either because he is worried I will cut myself or scratch it. The first is definitely a possibility because the blade is super sharp. If your man likes camping and gear, he will love you forever for buying him one of these!
Good knife, sharp blade that holds an edge well. Pretty thick blade so you can pry with it, and not worry about breaking it. Kind of expensive on this site though.
Strong full tang fixed blade design, good edge holding capability, no nonsense straight grind edge (not the hollow grind edge which may be sharper at the beginning, but may easily get damaged when used for chopping firewood at the camp side).

Comfortable handle material which is still rather slip proof when wet.

The handle could be a little thicker and the sheath leaves something to be desired it could hold the knife better (that is why I am deducting one star), but hey it is a big well made knife for less than 50 $.
I've learned anything from Gerber is quality. This knife is a fixed full tang (meaning the steel to make the blade extends to the hilt) giving it a much stronger and durable design. The blade does not dull easily and can cut through ample sized wood. The price does not break the bank and your paying for a lifetime warranty. Great buy.
I love this thing. Its got a solid design with the stainless all the way through the handle. Its super sharp and holds a pretty good sharp blade with regular usage. Its great to have along when in the backcountry.