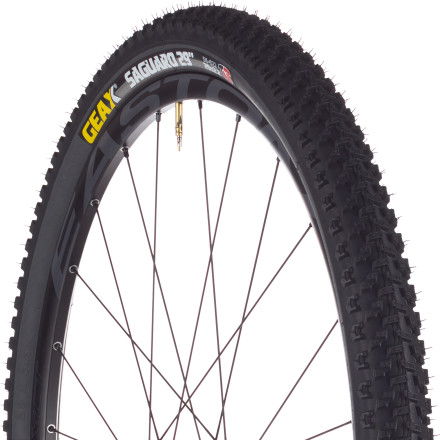 Detail Images
Despite the desert name, the Geax Saguaro can handle a wide range of conditions. As a 29er, it's an all-mountain and enduro gem, one that can handle all conditions but excels in the dry hardpacked stuff. Notice how the knobs are attached to an uninterrupted ridge down the center of the tire. That's for a steady ride on the hard stuff. The knobs spread out towards the shoulder so they can dig into the trail when cornering on loose material. The C-shaped shoulder knobs right above the sidewall will hold the line when you're leaned really far over.
But, as you know, tread is but one part of the tire story. Almost as important is the casing underneath. The Geax casing is made from a cloth that has 120 threads per inch: supple by mtb standards. The sidewalls are reinforced to minimize both cuts and folding when riding with low pressure. Geax calls this their Phase 3.1 tire casing.
Holding the tire onto the rim is a traditional folding Aramid bead. The tires can be run front or rear; if you want a little more dig in the back, reverse the tread direction so you're getting more of a "scoop" effect. The tread color is Black; the sidewall is Black. The TNT (Tube No Tube) versions have reinforced sidewalls and a UST bead, so they weigh a little more than the folding model. The claimed weight of the Geax Saguaro 29 x 2.2 TNT tire is 820g, while the folding is a mere 690g.
Bought it based on reviews
I bought this as a replacement to my Schwalbe Racing Ralph after a glass shard shredded my tire beyond anything Stan's could fix. It was cheaper than the RR and the tread seems like it's going to last much longer.
Hooks Up!
Familiarity:

I've used it several times
I have ridden these tires in wide ranging conditions from tacky hero dirt to super loose, dry and rocky. Even on super loose climbs these tires still manage to find traction. Don't let the small knobs fool you. In addition they roll very quickly.

I have the TNT version and they seal up as tubeless very easily. They set up on the first try. Little bit of Stan's and compressed air and voila. Not even any seepage at the bead.
if you only could have one tire
Familiarity:

I've put it through the wringer
The Saguaro does it all, especially in the 2.2 version. I've race muddy XC's on these, Downieville on the TNT versions, and everything in between. The TNTs are basically knife proof, and the foldables go tubeless quite easily. Probably one of the most durable tires I've ridden, as a side note.
A company favorite
Familiarity:

I've put it through the wringer
As you look through all these reviews you will notice this tire is definitely a Company Favorite and has been for year. For good reason, this tire has been the choice of CC for everything from the Forests of Little Rock to the Mountains and Deserts of UT. It handles most every condition, holds up to the sharpest rocks and rolls as fast as anything else on the market. We all ride and don't agree on much, but this is the tire of choice. That alone speaks volumes. 5 stars!



If you're afraid of cuts or punchures, go with the TNT version. A couple grams is worth it.
Fast Rolling, Predictable, Lightweight
Like most others have said, these tires have a lot of positives to them: rather lightweight, fast rolling tread design, cheap. The normal version sets up tubeless rather easily. I haven't tried the TNT version, but have heard they are incredibly difficult to install on any Stan's rims.



While I really like the positives to this tire, the one big disappointment with these tires (and I know I'm not alone) is the puncture resistance of these tires, especially in the sidewall. The TNT version would have a bit better protection, but at a weight/cost penalty. I was pretty disappointed as I had to abandon any dreams of a tubeless tire very early in it's life. About as disappointing as finding a warm spot in a pool.



Even though puncture durability can be questionable, there's definitely some strengths to this tire, especially considering the price.
Love me some Saguaro Tires
Gender:

Male

Familiarity:

I've put it through the wringer
I can't say enough good about these tires. I've ridden Maxis, Continental, Michelin, Kenda, Intense (yes, they made some tires awhile ago), WTB, etc. over the years but these tires, made by Vittoria, seem to work the best for me.



I ride XC in the Wasatch (PC) and some in Idaho (SV) and these tires are great for the conditions seen in these two locations. The tread pattern is just burly enough, they hook up when needed, roll fast and are durable. I will say that the tires are pressure sensitive so if you choose to ride them, fiddle around with the pressure until you find the sweet spot. If you do that, you won't be dissapointed. I run speed-front, traction-rear on my 29r SS at about 25 psi (tubeless) and I've found this combination to be a winner.
Good tire for the price
Familiarity:

I've put it through the wringer
I run them tubeless & they seem to last well as long as they don't cut/tear. One of my first ride on them I hit a loose sharp rock & ripped a knobby off, needless to say the Stan's didn't patch that hole. Other than the one incident, these are super solid tires.


Good front tire. Not so good rear.
I have the non-TNT version mounted to Stan's Flow rims, front and rear. No problems mounting whatsoever. Great tire for hard, dry conditions, deals with rocks and roots (again, dry) very well, and seems like a reasonably long-lasting compound (few trips to Moab with no need for new tires). Unfortunately, as a rear tire, the Saguaro suffers due to the linked center tread line, which wears down to a solid stripe. While it probably decreases rolling resistance and increases longevity, it definitely hurts traction when climbing. I've been looking for something similar without the linked center tread, and so far been unable to find it...and when I do, it'll probably wear out too quickly. I like this tire overall, and I'd recommend it to anyone as a front tire.
I think these are pretty decent tires at a decent price. They roll fast and have good traction. I'm running them on my new single speed bike and they are a huge improvement over the tires that came with the bike. Thinking about buying another set to throw on my other bike.
I had these in the wire bead version, not sold here, which tip the scales at nearly 900g. The tread design and rounded profile helped it to roll like a lighter tire. The Saguaro handles well on hard pack and pavement and not very well on anything soft. They're labeled as 2.2"x29(56-622), but measured a bit wider for me. On my bike, I could never get the rear tire to not rub the front derailleur in granny gear. Even my LBS where I bought my bike admitted that the tire were a bit understated on the size and shouldn't have been used on that frame. I would say it was more like 2.3 or 2.35, so if you have clearance issues, you may need to do some measuring before you buy. Other than the size issue on my frame, I liked the tire a lot for dry conditions and would recommend it.
Favorite Dry Tires
Gender:

Male

Familiarity:

I've put it through the wringer
I've used these almost exclusively for three years now in the folding version (and have tried the TNT version). They're my favorite tires for dry conditions. They roll fast, they grip and corner well, and they wear slowly (usually takes me ~100 miles before I even see any wear, barring a sidewall slash they tend to last me ~1000 miles). They're reasonably lightweight though a wee bit on the porky side for racing (actual weight of the folding comes in ~690g). They are a true 2.2" tire though, they fill out that whole volume.



There are a few caveats here. First, they really have to be run tubeless. They have a perfect traction sweet spot at about 26psi. More pressure than that and they don't grip anywhere near as well. Above 30 they're actually kind of bad. Below that they grip but are a little bit slower.



I use the folding for tubeless; I tried TNT and the bead was way too tight and was horrendous to even get on the rim. I've mounted the plain folding to Stans and Bontrager tubeless rims and run them just fine, never a burp. I've also used these in ghetto tubeless conversions and again no problems. They do not leak Stans sealant, they're great for tubeless (and as I said, pretty much have to be run that way).



They are semi-directional, with a "fast" and "traction" direction (printed on sidewall). I run "traction" up front and "fast" in the rear and prefer this combo.



Also, these are definitely dry tires. The tread is not deep enough to dig into mud and they also shed mud pretty poorly. I live in the SW so I shouldn't be riding mud anyway, but if you're looking for something to ride in both the wet and dry I'd avoid this. They're called "Saguaros" for a reason.
Good tread design
Familiarity:

I've put it through the wringer
Great rounded tread design providing great cornering even in hard cornering situations.



Do find they are slightly prone to cuts and punctures.
Great for the price
Gender:

Male

Familiarity:

I've put it through the wringer
I have mainly used these as XC/Race tires, and they have performed will.



They have good size, decents side knob, roll well, and have average weight.



The lifespan is fairly normal, but way less than my previous Maxxis Ikons. The side knobs go early, and the whole rear tire didn't make it much over 700 miles. My Ikons kicked it after 1500 dirt miles.



Overall, at half the cost of Maxxis or Schwalbe, I'd say these are very worth it. If you are a serious racer, I'd stick to Ikons, they are just better everywhere.
Great, Fast, Long Lasting Tire
I went with the non TNT version of the tire for the weight savings and I hear that TNT's can be hard to mount. I have these mounted up tubeless to Stan's Arch Rims. They fit just right. Tire pressure is key with these tires. You'll need to play around with them to find your sweet spot. Once you find and maintain the sweet spot you will love these tires. For me that is around 25 psi. Much less pressure and they feel squishy bouncy and unstable. Any more pressure and they spin out on tough climbs and wash out in braking and cornering. I have never had any problems with leaks or burping with these mounted on Stan's Arch rims. There is a bit of a learning curve but for those willing to try the reward is an amazing tire that rides like a dream and wears very well.
Might be a nice tire but...
with Stan's Archer 29s are a PAIN to mount. So much so that these tires are going back. I will say that I did see the previous postings on a tight fit/difficult mounting with Stan's, but I thought they might just have had bad luck. I've mounted many dirt bike tires on very tight rims and these are every bit as hard. With a relatively delicate rim and finish that I want to protect, I just wasn't in the mood to leverage THAT hard to mount these babies. Too bad.
Got this based on the price mainly. It's solid for those dusty utah trails. Not the lightest tire out, but for the price it gets er done.
Like these in the dry dusty conditions in Park City. Running the regular version with sealant in a tubeless setup and they work pretty well. Only criticism is that they seem pretty pressure sensitive - a little too much and they skid easily, too little pressure and they feel really soft and sealant leaks out. Still working on dialing the pressure and it's worth it for the light weight.
Great tire at a great price. Roll well in dusty soft to hard pack trails. they even hold there speed on the road to the trail and dont wear fast.



two thumbs up!!
I mounted these up to a set of Stan's Flow rims and have been riding them in Salt Lake and Moab for a few weeks now. They mounted easily, but I recommend using a compressor as I couldn't get them to seat with my floor pump. As for performance, they're fast and grippy on everything but wet rocks and roots, and they wear like iron. Still had the little hairs on the front after two full days of slick rock riding. Good tire for dry, hardpack, sand and loose rock riding like we have here in Utah. The 2.2 size seems pretty accurate; a shade higher volume than my old Maxxis Ignitor 2.1's.
Tough to install TNT on Stans Rims
Heard awesome things about Saguaros from many people that ride them locally (N. Texas) but I failed to pay attention at the warnings about mounting on Stans Rims. It's not impossible, but quite difficult to accomplish. I was unsuccessful on Arch 29ers.

IMO it is not practical to run tires that are this difficult to mount especially if you have to repair the tire on the trail. As a result, I decided to return the tires and exchange them for a different set.

I may give the non-TNT version a try.

I must say that Huck N Roll has been awesome tho. Wicked Fast Shipping and Excellent Service.