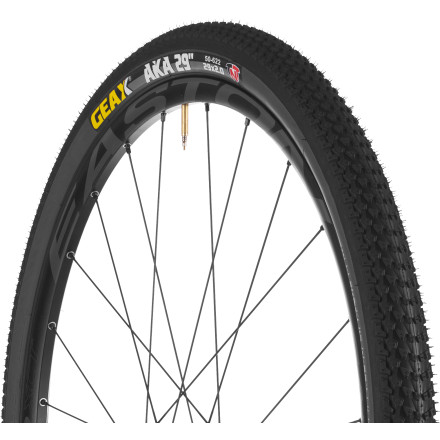 Detail Images

Community Images
Wrap your wagon wheels with the Geax AKA 29in Tire. Aggressive, low-profile knobs provide cornering grip in a multitude of trail conditions—without sacrificing rolling resistance. Available in the dual-compound TNT XC 120tpi nylon casing, or a regular, folding casing.
Unanswered Question
Is this 2.0 120tpi version the TNT tubeless variety?
is this a wire bead or folding? is this the 2.2 or 2.0 (image shows 2.2) the weight listed as 750 which is not the correct weight for 2.0 folding 29" AKA?

thanks
All that are left are the 2.0, there were 2.2 for sale at one point and that is why the picture shows the 2.2. The weights listed is manufacturer given, we do weigh some of our products and list as actual weight but have not on these tires.
Great dry weather tire
Familiarity:

I've put it through the wringer
I'm a huge fan of these tires and am on my second set. They hook up super well on the alpine and desert conditions I ride on in Utah. All the ramped knobs leads to a really predictable tire when you lean into turns and they're great on hardback, loose, and rock. As others have mentioned, running them at a lower PSI than normal because of the stiff casing is super helpful. However, if I lived in a place that got a lot of rain I would probably look for another option. Mud tires, these are not.



Wear is pretty standard. Not super quick, but not the longest life either. Ditto for weight. Not really an XC race tire in the strictest sense, but I've certainly raced them plenty.



And on sale, they're a steal!
Defective
Familiarity:

I've used it several times
I purchased the AKA TNT from chainlove.com (backcountry sister site) and it was defective. The sidewall was low on one side and when mounted, the tire had a wobble.



Chainlove/backcountry told me there was nothing they could do, since it was past the 30 day return period.



Do not recommend buying this tire from Backcountry, as they do not stand behind what they sell.
Unanswered Question
are they ust compatable?
Unanswered Question
Can I use this as a rear tire as well or...
Can I use this as a rear tire as well or would you recommend a different type tread.
Geax AKA 29" Mountain Bike Tire
Gender:

Male

Familiarity:

I've put it through the wringer
900 miles on the front tire pictured (wish we could insert multiple images).



Texas summers can be dry and dusty with little or no moisture on the trails and I picked these up as something that would hopefully provide a better ride on loose dry stuff. For that reason alone, they seem to perform as intended, but push them and you'll find they have their limits. They seem to transition to moist and damp with unenthusiastic results. When pushed in the dry, loose stuff, they demonstrate predictable drift and slide, but give them roots and rocks and the results become less than desirable. Add some dampness or even slightly wet and they get unstable and can provide some adrenaline inducing moments. Personally, any application beyond the dry loose stuff exhibits unfavorable mannerisms that do not inspire confidence. On anything wet they will provoke adrenaline spikes and fear. Quick to find your butt on the ground will be the unexpected outcome.



One notable tip is I found these to be a little better under hard cornering with a slightly higher tire pressure than I normally run. These are not the TNT casing that I'm writing about here. They are a bit more robust than the straight AKA's I'm referring to here. Under 23 lbs. of pressure these tires had a propensity to roll the tire which yielded disagreeable handling that I can do without. Obviously, higher pressures eliminated this.



Some have stated they do well on dry concrete, but my observations don't agree. On dry concrete their limits are easily exceeded. They will break loose prematurely regardless of tire pressure. To be fair though, the induced drift remains fluid, predictable, and controllable. However, these are simply my opinions and others will possibly find these traits to be attributes. Two wheel drifts on hard pack or concrete is simply not a desirable characteristic for me personally.
The tires are great, 2.2 roll perfect for me, my only criticism is they are a little lose on wet streets, yet quite versatile performing extremely well in various terrains, sand, tails and gravel to shrubbery for those of us who enjoy crating a new path. The tire pictured have just over 300 miles on it, the rear tire shows a bit more wear but considering the amount of paved roads, curbs and the occasional pedestrian while traveling down stairs.. The tires are great all-around rubber to use while traversing all surfaces, Ive abused them and as of yet never let me down and one of the best all-around tires available on the market. Its earned my respect, will always remain my choice.
Both are great all round tires. 2.2 sticks great in the corners and rolls well. The 2.0 rolls even faster and is 100 grams lighter. Both are high volume tires and with the TNT setup are almost flat proof. I don't even worry about the sidewalks. The only tire I use.