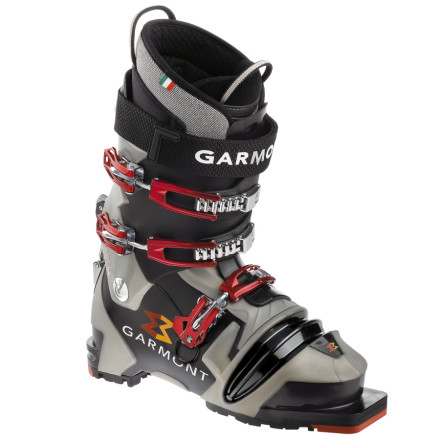 Community Images
You may wonder if Garmont cast a spell over the Men's Voodoo Thermo Boot, but alas they just used multiple injections to reinforce the lower shell to create a badass tele boot with the stiffness of an alpine boot.
A smooth, progressive forward flex for deep knee-bends in steep chutes and mellow terrain
The Power Wrap shell has a custom-bootfitter fit to provide room for your foots first metatarsal, '6th toe', etc
The Shell's high overlap panel provides close, gap-free contact with the instep and lower leg, and evenly distributes pressure for comfort when you shred the hill
Cuff buckles catches are moveable to custom-fit different sizes of lower legs, and field-replaceable
The Voodoos aren't NTN, are they?
The Voodoos aren't NTN, are they?
They're the same moulding as the Garmont Prophets which are NTNs. I wouldn't recommend doing this, but if you had a drill and a sander you could probably convert your Voodoos into Prophets as it appears to only be the sole that is different.


Unanswered Question
Hi! I wear Scarpa T1 29.5 MP size. It's...
Hi!

I wear Scarpa T1 29.5 MP size. It's just ok in length but could be a bit wider. What Garmont Voodoo size should I try then? Thank you.


I'm curious if these are a similar boot...
I'm curious if these are a similar boot to the Scarpa T2x? I have a pair of the T2x's, and love them to death, but the KILL the outer edge of my foot for some reason. Hoping that maybe a Garmont or Crispi may fit my foot better than the Scarpa. Thanks!
The Voodoo is a burlier boot than the T2x. While it only has three buckles, it is significantly more laterally stable and stiffer overall than most three buckle tele boots. They are also going to be a little heavier than the Scarpa. I used the old T2 for a while, and when upgrade time came along, I went with Ener-Gs and then Voodoos. Garmont boots fit my wider feet better than Scarpa. I think that they're the best boot on the market (when paired with a stiff binding spring/cartridge like O1s with RidStiff or AXLs). At the same time, If you prefer the lighter weight and greater flex of a boot like the T2 then you might want to choose another boot like the BD Seeker or T2.
After starting my tele years in leather I have watched the progression to plastic boots and up until recently always wore a Scarp T1. I think the newer versions of many tele boots are moving to close to Alpine expectations than I prefer. I want a boot that makes the maximum out of a tele turn without just making it a dialed back Alpine experience.
Garmont has found the perfect place between a big boot to drive new skis and the flex in the cuff a true tele turn requires. I can feel shin flex and drive into the ski that I had lost with Scarpa.
So glad to have found these!
Simply stated, these boots are amazing! After 8 years of "suffering" in Hawaii, I have returned to telemark and what a way to return. The Voodoos were comfortable out of the box and are even better after baking. I wear size 10.5 to 11 and opted for the Mondo 28.5, which is clearly on the looser end. I could have easily worn a 27.5, but issues in the past steered me toward the right side of the scale. I went sockless when cooking to allow for greater foam expansion and hopefully a better fit after packing out. I have now added the Sole EV insole and have a perfect fit! The Voodoos feel solid and transfer power smoothly and reliably. Paired with 22Designs Hammerheads, I have found my dream setup and a rig that I can grow with.
Have loved previous Garmont's and have a wide forefoot and midfoot. This boot definitely fits tighter than the old Garmonts, especially in the mid foot. But, after 2 molds with some small expanders for my funky feet they fit amazing. Great lateral stiffness and the alpine wrap, while a pain to get in to, transfers all that power through to the ski. Soft in the bellows, just like the classic Garmont flex and stiff everywhere else...love it!

For reference: I had a size 27.5 in the old Garmont and am in the 27/27.5 in the new shell style.
last boot I will ever own!!
just stepped up from the t-2's, it's taking a while to adjust from 2-3 buckles but had a breakthrough and I am in love!! getting in and out is like some midevil torture device but once I am in it's all love. I endured the pain of riding the boots without forming the liner for 4-5 days and then went to a local shop to get it heated up, and now it's all butter. (but I don't use the foot bed liner..) going to a third buckle is odd, and sometimes the multitude of micro adjustments are annoying, but once you get yourself dialed there is no doubt the boot helps me turn my fat ass as well as extending endurance. My breakthrough trick is the leaving the middle buckle loose or not loose depending on my mood. I like it loose. The boots high shin and strap locks down my leg for better energy transfer. extremely well designed and constructed, truely amazed at the baffel. you pay alot but it's worth it!! I think the thermo forming is the trick, make sure the store has the toe boxes and you stand your toes on a 2x4 board with your heels onthe ground. some stores staff don't know or care, so you better!!
15 years of tele skiing starting with leather Asolos, going to T-2 Scarpas and then last year, 2010, thinking new T-2 bulky on the inside, went with Garmont Voodoo. Fitted at shop, following procedure on baked liners, noticed somewhat snug in toebox, figured liners would pack out a bit and all would be good.
Put 30 days on them and they never did feel good in the toe area and definitely colder than my old T-2's. Thinking I needed more days, more hiking, I held on until now. Got another 15 days so far and I'm throwing in the towel and going back to T-2's. Just not right for my feet I guess. Painful bruising on top of both big toe nails, and when I hike, they tend to rub on the inside and just below my ankle knob. Not so bad as to blister, but it's noticable and uncomfortable. No complaints about construction and for some folks, maybe a great boot. Unlike some others I read here, I don't think you need a mammoth boot to drive a big ski. My T-2's pushed my G-3 Hombres just fine and I ski faster and harder than 90% of the pack, have broken numerous bindings and skis, just lately busting a G-3 T-9 plate. So I'm pushing the gear and I'm going back to T-2's because of their fit for my feet. I'd always felt I could wear them all day, and many times did, carrying me across the Haute Route for a week on 1 trip. Not so with the Garmonts.
I upgraded from old three buckle T1s this year to these. It was a night and day difference in ability to drive wider skis. The ability to drive down the back ski and control it was much better. The bellows is also more flexible which I prefer. I like the 3 buckle design with the power of a 4 buckle (saves weight).

The foot area is wider and the toe area is not as tall as my Scarpas, which is good because the sides of my feet were killing me after a day last year. However the shorter toe area did take two baking sessions and a handful of skiing sessions to finally pack out. My large toe was being smashed and needed a little extra room. I also went down a 1/2 size. My Scarpas were 27 and Garmonts are 26.5.

The grooves that the buckles clip into have a very nice feature which holds the portion of the buckle into the buckle catch groove. So if you need to unbuckle the top two buckles for a hike, tour, or walk to the truck, it holds the buckle in the groove...no more swinging buckles. The red anodize on the buckles are starting to peel a bit but who cares.
i wear a us 10.5, almost an 11. what size...
i wear a us 10.5, almost an 11. what size would you recomend?
I wear a 10-10.5 street shoe and wear a 26.5 in Garmont (actually 26 but the shop didn't have a 26.5 in stock). The 26 and 26.5 shells are the same. It took two bakes to get the liners to fit properly. I'd say either a 26.5 or 27...you can order both and return one...

Or support you local BC shop, with boots its great because most will help bake and mold the liners to ensure you are happy. I had two fitting session that each took over an hour.
It's your tele-talisman for the slopes
Similar models considered before purchase: Scarpa T-1, BD PushAfter spending hours and hours between reading reviews and literature and consulting with tele-boot-geeks at various shops around Boulder/Golden, I finally settled on these and I've never looked back. It's an excellent boot - the three-buckle design combined with the stiff, alpine-style plastics make for a boot that light enough going up and firm enough coming down to drive bigger boards (with the right binding). The toe box is super-roomy, and it's great for really getting a feel for what's going on with your toes and letting you use them to max effect.Make sure the fit's for you - if I had a slightly narrower foot, I might be singing the T-1's praises instead!
Been waiting for this one
Good fit. I'd go up a half size from past Garmont boots. I wore a 27.5 in the Ener-G and wear a 28 in this one. Stiffer than the Ener-G. Ultra smooth forward flex and the ski mode locks the cuff (forward and back) for added power. Because the cuff can be locked both ways it allows a skier to put pressure into the tongue of the boot just like and alpine boot making for really powerful para-mark turns. It is compatible with 3-pin bindings. Super light, feels good touring. The new overlap shell design is a definite step forward in tele boot design.