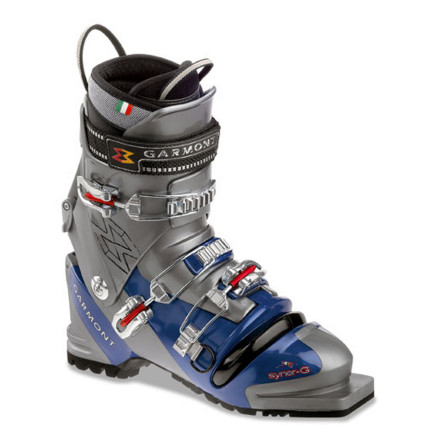 Unanswered Question
What is the best way to form the liners...
What is the best way to form the liners at home. How long to you have to roast them and at what temp?
I used these with Hammerhead bindings and Voile Hardwire 3-pins to push skis 100+ days last season and they were pretty sweet. I thought at first I might be missing something (like a 4th buckle), but they worked well.
Just making sure these would be compatible...
Just making sure these would be compatible with the AXL binding from 22Designs
There is nothing listed on 22's site that leads me to believe these wouldn't work with this boot. Its the "standard" tongue size as the rest of the industry, it would be silly for them to make a biding that required a special kind of boot. So, bottom line...YES..you are good to go, Free the heel!!
Both my wife & I have these (although a couple years old) & they work with the Axl's. Even with her smaller foot, the regular size Axl's are fine. As a side note, I am very happy with the Axl's, even if they are somewhat heavier than BD's O1's.

Karhu Jak BC's
22 Designs Axl's
Garmont Syner-G
comfortable light. plenty of control. The buckling system can be a little tricky with cold hands, gaiters, ski pants etc..but i guess that comes with the territory?
Feb 2010. We skied into Ostrander Ski Hut in Yosemite (11 miles). Then we skied into the Van Vleck Bunkhouse in the Eldorado Nat Forest (6 miles) breaking trail all the way. The boots are great for getting there and then getting around the backcountry and telemarking when you get there. All around comfortable.
When the liners pack out, does re-heating...
When the liners pack out, does re-heating and re-fitting work to "restore" them?
The second molding will never be as good as good as the first. If you messed up the first mold, you can redo it about three or four times without compromising the liner. If the liners are packed out, though, they won't be revived to their original pristine state. If you're looking to get a snugger fit in your boot, though, it wouldn't hurt the liners, but they wouldn't fluff up or thicken at all.
Can you purchase replacement liners?
Has anybody skied both the garmont kenai's...
Has anybody skied both the garmont kenai's and the synergy's? wondering how they compare. Or just if anyone has used the kenai's?

thanks.
Best Answer
I skied my Synergies for about five years. Lots of everything, lift serve, backcountry, etc. I'm a pretty neutral skier and don't like high stiff boots. They were terrific. Flex always perfect for my style.

Had the opportunity to ski Kenai's last winter. I was skeptical of just two buckles for hiking but need not have worried. The Kenai's worked really well even when pushed. I probably hiked & skinned well over 40 hours uphill in them plus downhill time. Never had a blister (which I did get in my beloved Synergies). Skiing downhill in lots of spring moguls, heavy corn snow, hideous breakable crust, etc. they performed extremely well. Never got to try them in deep fluffy powder but have no doubt they'd perform well. Weight on the boots is excellent. Lacing, buckles, straps, etc. all worked easily & well. Plenty of adjustment. If I had a suggestion it would probably relate to the amount of foam on the liners. Seems like quite a bit less than in the Synergy liner. Never a real problem but did feel like I could have used more padding up in the front. I only baked them once. Either a measure of my laziness or how much they really didn't bother me. That was my only (minor) concern. I love these boots! If you like light and not super stiff so will you. FYI: I work in the outdoor industry but not for Garmont or a retailer.