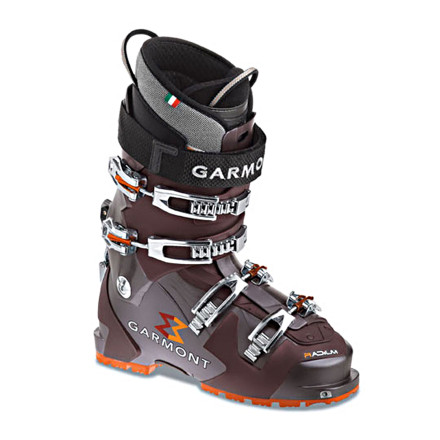 Community Images
Share your thoughts
What do you think of the
Garmont
Radium Thermo AT Boot - Men's 2009
? Share a...
Unanswered Question
can someone compare these to the scarpa...
can someone compare these to the scarpa tornado pros in terms of downhill skiing performance? i have liberty helix with marker f12 bindings. thanks

I've been using these boots for 2 backcountry seasons and they're awesome. Super comfy for hiking dirt, rocks and snow, skinning and crampons. Also stiff enough for steep and variable skiing conditions. Just hiked Mt Shasta for the first time, longest highest climb yet and not a single hot spot.

My only trouble with them is getting the bottom 2nd buckle just right for the ski down. If it's not in perfect balance, when I flex forward the 2nd buckle comes undone. Seems like a design flaw but they may have fixed it since.

Overall, I'd buy them again.
Unanswered Question
WHat are teh differnces between the 2009/10...
WHat are teh differnces between the 2009/10 and 2010/11 Garmont Radium and do they matter?

The 30.0 fits better. The 30.0 and 30.5 share the same shell. Will a custom foot bed make up the difference?
What is the sole length on the 25 or 25.5...
What is the sole length on the 25 or 25.5 size

Write your question here...
BSL for a 25/25.5 is 295mm
How do these perform on steep terrain? I'm...
How do these perform on steep terrain? I'm trying to figure out all the bells and whistles to an AT setup. I'm getting into back country skiing and these seem pretty light and have good performance eh? Any "extreme veteran back country skiers" with this boot?
In Steep terrain they will perform well....
Great Ski Mountaineering Boot
Used the Radiums on a ski mountaineering trip this spring and they worked great. They excelled at kicking steps and were very compatable with Black Diamond Step-in Crampons. Very comfortable during long tours and great responsiveness when skiing with lots of weight, 170lbs+60lb pack,Feels stiff and doesn't get soft when charging down groomers at high speed either.
So far I've skied with these inbounds and I have to say they are a great flexing boot. I'm comparing them with the Garmont Axons and I think the Radiums ski much better in my opinion. The Axons may be slightly stiffer but the flex is weird. The Radiums flex more like my Lange downhill boots. As a result I felt much more comfortable in the steeps than I ever did with the Axons. Also really like the buckle system and the simple ski/walk mode (no multi-angles of lean).
I use a Garmont boot because I like the design. I think the buckles, the overlap construction, the sole, and the general design are the most simple and useful on the market. However, the fit is a bit weird on these boots. The toe box is very narrow, and the heel pocket is too large. I think next year's shells are supposed to be updated to accommodate this. If you have the patience to do the bootfitting required to get these to fit, you'll love them, but for an out-of-the-box fit these aren't the best.
Excellent boots for the slopes. I haven't had a chance to take them back country yet, but hope to do so soon. They are slightly wider in the forefoot compared to the MegaRide, Axon or Dynafit ZZero.
Does anyone know how the shell sizes run...
Does anyone know how the shell sizes run on these?
What are the shell sizes for:
28.5
29
29.5
30
??
Are you looking for Boot Sole Length?

BSL:
28.0/28.5: 325mm
29.0/29.5: 335mm
30.0/30.5: 345mm

*these shells are only sized on the half size.
Hi, I'm Javi, from Spain. The season is...
Hi, I'm Javi, from Spain. The season is starting and I must change my AT boots. I've got ones Scarpa Matrix whit a great battles and I'm searching someone more straigth in foot... I'm look Dynafit Zzero 4ct (carbon tongue) and Garmont Radium (no carbon but w/ overlap)... I think it are the betters compromise up/down/weigth in the market... Both are made in Pebax but one have Carbon strips and the other is overlap construction, then which is stiffest in downhill? I practise a allmountain ski... 1000-1500m ( maybe 4000 feets ¿?)uphill and little freeride downhills, until 45º +/-. Also, I valore Dynafit ZZeus... but is a little heaviest for me...
Lets Radium a good uphill maniobrability dua to overlap?
Thank, and sorry for my english...
Best Answer
javi,

i have not tried the zzero but wish i have. i have the radiums and have about 50 days in them. they are a brilliant boot that excells just as much carving and jumping cliffs as it does charging up a mountain setting your own skin track. the radium is also very comfortable on rock and ice, making it in my opinion a must have for the do everything skier. and they feel like i have nothing on my foot. you need a high cuffed overlap boot if you do anything other than noodle down the mountain.
i might be a little late but i was just trying on the radium and the zzero the other day. the radium is much stiffer than the zzero, its gonna perform better down hill. i tried the black diamond method on too, which was extremely comfortable with a great walk mode, but was unfortunatly a pound heavier than the radium
Great boot, if it fits your foot/leg. Feels stable while charging and has plenty of power (for me anyway) to drive 130's. Good sole for hiking. New overlap shell is higher volume around the ankle and cuff. A very different fit from other Garmont boots. Sizing is a bit different as well. I had to go up a half size. Awesome combo with dynafit FT 12.
Unanswered Question
Getting any more 30.5 sizes in stock this...
Getting any more 30.5 sizes in stock this season?
Will Garmont Radium AT boots work with an...
Will Garmont Radium AT boots work with an alpine binding?
The Radium is designed as an beefy but light backcountry ski boots and in order to keep the weight down it doesn't have swappable soles, so Garmont doesn't recommend using it with alpine binging. Check out the Endorphin if your looking for a boot for both AT and alpine.