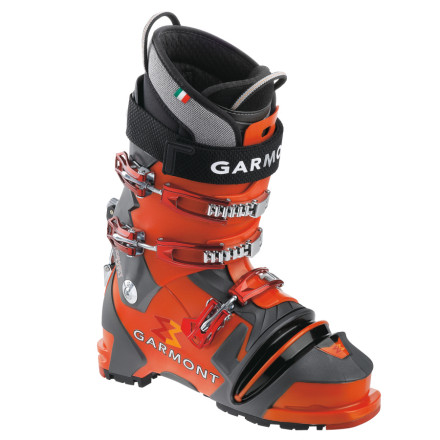 Community Images
In 2010 the Garmont Men's Prophet NTN Thermo Boot won so many awards that we've lost count. It's basically a free-heelers wet dream thanks to its sweet forward flex, alpine-like torsional rigidity and support, rounded toe for easy walking and scrambling, easy binding entry, and free-pivot touring mode. The Prophet also delivers the responsiveness that you desire when you arc down the mountain, and its Rabid Thermo liners custom mold to your feet.
are you guys going to be getting more...
are you guys going to be getting more Garmont Prophets in stock?
Unfortunately it looks like we do not have any more Garmont Prophet NTN Thermo Boots on order at the moment so we don't have a good timeline for when they will be back in stock, if at all this year. Please check back with us in a couple of weeks if you haven't found an alternate source by then.


Where can I get a replacement "second...
Where can I get a replacement "second heel"? The piece held on by three screws, where the back of the binding holds onto.
We do not sell replacement pieces unfortunately, but I would hit up Garmont directly at info@garmont.com or use their store locator to find a retailer near you!



http://www.garmont.com/en/store-locator




Amazing Boots even more amazing liners
Gender:

Male

Familiarity:

I've put it through the wringer
Tons of awards, blah, blah, blah... Yes these are without a doubt one of the if not the best boots out there, just as the Voodoos log as many accolades for a 75mm (I have both) Long of the short - for the vast majority of us these things rock.



But what I never see anyone talk about are the liners! These lines are soooooo much more technologically advanced than everyone else's. The foam that is used, the cover material, the lacing system, ... if you compare them side by side there is no comparison. The rest of the industries liners are crap. Now I just learned Garmont was bought by Scott... lets hope they don't screw up a good thing.



They don't "pack"out... everyones else's do because they use a compressible foam that feels great when new but compresses over time. Garmont uses a closed cell foam that holds .... this means less adjusting your boots as the day progresses and from my experience after 2 years they fit the same.



Sure there are a lot of shells out there... but there is just ONE liner... compare that and there is no comparison.



If you have an average volume foot your gonna love these.
Can you heat up the liner a second time...
Can you heat up the liner a second time once the boot has packed out and remold the liner to your feet? If so how?
You should be able to reheat the liners up to five times without trouble.

You'll want to use a convection oven to make sure the liners heat evenly. Preheat to 250º. Place the liners in the oven - I've heard on a foil-lined cookie sheet, but I've used the bare rack without issue - for 10-15 minutes. You want them to look puffed up like a marshmallow.

While they're heating, prep your feet. I like to use the thinnest sock possible. Put a toe cap on under the sock. If you don't have toe caps, you can make them out of whatever you have around the house. The point is to spread your toes a little bit to give them room once the boot cools. I've used cotton balls and packaging tape.

Also, grab a 2x4 out of the garage and put it on the floor.

When the liners are heated up, pull them out and shove them into your boots, being careful to get the tongue placed properly. Toss your footbeds in there and put the boots on. Strap them one step looser than you normally wear them, kick your heels to get them set into the boots, and stand with the toes of the boots on the 2x4 for about 10 minutes. At the end of the 10 minutes, pull your feet out, strap the boots back up, and let them sit until they cool entirely.

You're done!
This is my third year on the Prophets. I have the older model with the softer flex. The boots themselves are well built and work well. I sized for comfort after years of race fits. That may be the issue.

I wear a size 9-9.5 in street shoes, and went on the high end of the sizing spectrum to a 27.5. They feel right, lengthwise, but I have major heel lift issues. A full length shim helped, but it took up too much room in the toebox and cramped my feet. I ended up cutting up a shim and putting a double layer in the heel while leaving the toes alone. With one day on the new arrangement, I think things may have finally settled in.

Beyond sizing - Walking mode works well when the buckles are undone. I can skin for hours with absolutely no discomfort. I really like Garmont's mechanism that holds the buckles, even when they're undone, until you press on the release button. It makes for much quicker transitions from touring to skiing. The cant adjustment doesn't go far enough to account for my needs. I haven't experienced anything like the other reviewer, where the bales press into the boot toe.

Given the chance to do it again, I'd probably go with a different boot.
This was my second NTN boot and it didn't last too long for me. The boot definitely isn't as torsionally stiff as any of the Crispi boots or the Scarp Tx-Comp. Granted the boot has a smooth forward flex, but this is to an extent. If you ever get in a deep turn, you can feel the toe box deform over the toe bail of the binding. Garmont designed this boot with such a tight fit into the binding, that the boot will start to fold over the bail and put pressure on your big toe if you have a performance fit. This also cause the whole toe box to deform. This doesn't happen in my Shivers or Comps, both of which I also have a performance fit. Even though Garmont "stiffened" up the bellows, the bellows aren't as stiff as stated. I would compare them to a Scarpa T2 or Garmont Synergy, but nothing like the Voodoo or Energy as in bellows flex. For all these reason I lable it the "False" Prophet.
Skiing with the Garmont Prophet
Skiing with the Garmont Prophet in an early season pow session. Good forward flex, but too soft laterally for my taste.
How does the sizing of these compare against...
How does the sizing of these compare against Scarpa 75mn offerings both in terms of length and width? I'm a 29.5 in T1s.

Thanks a lot.
I raced T-races in a 26. I downsized when I switched to the prophet to a 25.5. It worked very well for me after the oh so painful break in period and learning how to arc with the different flexpoint. Very much worth it though, got a top 10 and a few top 15s on the world cup in 2010.
Scarpa's Mondo sizing is wierd. A Scarpa 27 is bigger than a Garmont 27.5. You'd need to size down for proper length. I think they're about the same width as the Scarpas I've tried, maybe slightly wider.
Any difference between this year Prophet...
Any difference between this year Prophet and last years? Also - is there a shell size difference between the 29.5 and a 30.0? Thanks.
Best Answer
Changes for 2010-2011 model are: bellows increase stiffness about 15% and will be similar in stiffness to the 75 mm Voodoo, forward lean increases to 25+ degrees, and the L-pads in the liner increase in thickness by 1.5 mm for a more snug heel hold. New model can be recognized by gold forward lean mechanism, 09-10 model was silver. The shell breaks at even sizes so 29 and 29.5 are the same shell, 30 jumps up one shell size. Finally, don't forget about the Rottefella rebate offer, between Oct 1, 2010 and Jan 31, 2011, buy an NTN boot and NTN binding, submit the rebate form to Rottefella and receive a $100 gift card. Info at: www.garmontusa.com
I am planning on buying these for the...
I am planning on buying these for the upcoming 2010-2011 season,and wanted to know what people thought? I know they won several awards... and Garmont makes great gear.... I had a pair of Garmont Gara Telemark Ski boots for years, and they broke in very nicely....were great boots for 90+ day seasons on trails and in the trees.
cJ, i too looked at these boots but ultimately couldn't justify the cost. i compared them to the equivalent Scarpa and Black Diamond and found very little difference. i ended up going with the Black Diamond becuase the boots were virtually the same but the pricing was much different. if money was no issue for me, i'd probably go for the Garmont, as their gear is great, but like most people i suspect, i'm watching my pennies. the money i saved actually went towards my season pass. Hope this helps.