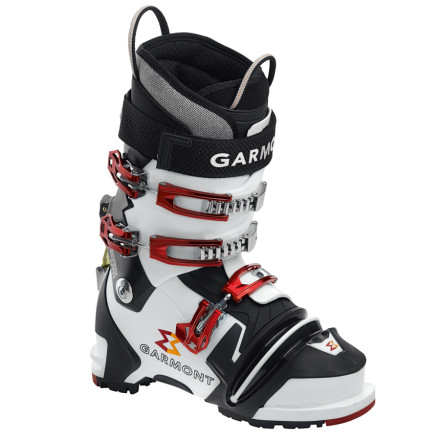 Community Images
Impatiently you wait in line to ride the lift again. Moments ago, you had some of the deepest turns of your like thanks to the Garmont Women's Priestess NTN Thermo Boot. When patrol dropped the rope to the resorts off-piste terrain you easily skirted past everyone because of the Priestess's free-pivot touring mode. Its progressive forward flex and alpine-like torsional rigidity enable you to slash turns like never before. An easy binding entry lets you get into your set-up in a jiffy when every second counts in getting a good spot in the liftline on a powder day.
Only NTN Option for Narrow Feet
Familiarity:

I've put it through the wringer
I bought these boots at the beginning of last season after extensively testing the Scarpa TX (which were too wide). Initially the boots were uncomfortable, the liners are pretty bad when compared to the initial comfort to the Scarpas. However, the boots are much more suited to those with narrow, small feet. I had custom liners built (Surefoot) to take up the extra space around my ankles and have been rocking them ever since. They tour great (I keep the buckles tightened). They also ski great (I teli a lot of trees and moguls).



I would definitely recommend them for ladies with smaller and narrow feet (Scarpas are a lot wider now than they used to be). But I would also recommend you ditch the liners for Intuition.
Bought two pairs of these for my girlfriend and sister. Boot is solid and if you hunt around you can find some for cheap. ( Used 1 day for $180, and BC.com for $365). The orginal liners aren't the best, both complained of being uncomfortable and super tight (Should have thermomolded) but they are both using other liners now. Boot seems to ski well. Only other downside is lack of a leash ring, the brakes love to drag in the snow and can really throw you for a ride if you get on ice. Having seen the scarpa lady boots side by side the scarpa product seems much better.
Unanswered Question
Does anybody know whether these boots would...
Does anybody know whether these boots would suit wide feet with, hem, fat "athletic" calves??
Is there a telemark boot out there --...
Is there a telemark boot out there -- preferably NTN, but not necessarily -- that has an easy flexing bellows so I can tele on the ball of the foot rather than the tip of the toes. Is there a boot that is soft flexing out of the box, so I don't have to spend two seasons trying to break it in? I'd buy it in a heartbeat!!!
Apologies, but it really isn't a question of the right boot. Tip-toe vs ball is a matter of technique, not boot flexibility. It sounds like you're not weighting your rear foot enough. NTN boots are all going to be stiff. In order to get the best out of the system, you really have to drive the boots with your knees and flex the crap out of the boot.
Last spring I decided to make a leap of faith, sell my alpine set up and buy a brand new NTN set up. I impatiently waited for ski season to start up again as I got my new bindings mounted and my new boots heat molded. So far, I love it! The boots fit wonderfully, they keep my feet warm and they seem to be quite durable. Now, I don't have a lot of experience in this field, as I just started free-heeling a few weeks ago, but I feel confident in saying that these are good boots. I'll be sure to update as I continue to break in the boots and beat them up.
Where is the Dynafit compatibility in this...
Where is the Dynafit compatibility in this boot. Why does garmont want to cheat women out of the dual ski experience.
Thats because these boots are NTN specific and are not compatible with AT bindings. NTN bindings have all 3 options too: alpine, touring and telemark and Garmont is the only major boot company that makes women specific boots so if anything, it is helping women with the triple ski experience, not just dual.
Scarpa makes a women's specific NTN boot that is Dynafit compatible called the Terminator X. Although, it is pink, why do companies assume the only colors women like are white or pink?