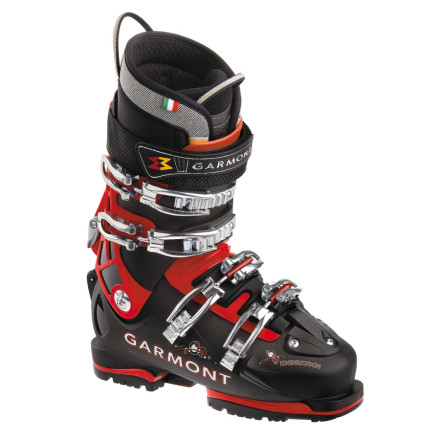 Ski professionals, ski mountaineers, backcountry enthusiasts, and pros who live in their boots chose the Garmot Men's Endorphin Thermo AT Boot when they need a charging boot they can rely on. Why you make ask? Because its 130 AT flex index and freeride design make for one hell of a stiff and responsive boot that stands up against any freeride alpine boot.
Multi-injected cuffs provide support and leverage when you arc your big boards down the slope
Broadband 2 tongue has a smooth, firm, progressive forward flex ideal for those who expect top alpine performance in the steeps and difficult terrain
Three-position cuffs lock in two forward lean positions, 20 and 25-degree, and unlock to an easy walk mode
Rabid Thermo liners mold to your feet for a custom fit
Soles interchange from ISO norm alpine sole to a ski mountaineering sole
Having been a full time ski professional for the past twenty years I can't believe I didn't buy these boots earlier in my career. My feet say thank you. This boot is almost comparable to a race boot feel when skiing and is as comfortable as my tele boots to walk in. If you work in your boots all day you need these boots.
Will these fit into Fritschi Free ride pro...
Will these fit into Fritschi Free ride pro bindings?
Yes they will. These boots come with an interchangable set of soles (easy to switch) being one of them the DIN type sole which will fit into any alpine binding including the Fritschi free ride I have. Beside, they resulted to me incredibly light and comfort just out of the box, two good features for touring by the way. It is particularly true the statement of the size chart, I use a race fit on my Salomon Falcon 10s (26.0) alpine boots but these are 26.5 and feet just as tight.
Are the Endorphins Dynafit compatible?
Are the Endorphins Dynafit compatible?
The Endorphin is NOT Dynafit compatible. For Dynafit compatibilty, check out the Garmont Axon boot:
http://www.backcountry.com/garmont-axon-thermo-at-boot-mens
they come stiff out of the box and I needed a boot fitter to help me tweak the fit (using boot heaters to soften it up) but once we got it done I am very happy. due to med/wide foot I had to go to next size larger shell and that results in some extra room in the toe box. I don't race anymore, and don't need a super tight fit so I enjoy warm toes for the first time! the boot fits snugly around the calf, ankle and heal so there is excellent control. to benefit from the hinged cuff during touring mode you have to loosen the buckles on the cuff. its a stiff boot in Alpine mode and is the equal to any brands expert / racing models.
Wondering about Binding compatability,...
Wondering about Binding compatability, will these work with standard bindings? What is it about the boots that only allows an AT binding? What is different about the bindings?
AT boots have a treaded rubber sole, and so they are dimensionally thicker in height and thus may not fit in many alpine bindings. If your alpine bindings adjust in height then you may be able to get the AT boots to clamp in. I've worn AT boots in alpine bindings before and it worked just fine, but in general it is not recommended since your retention settings may not be the same with the AT boots. Some AT boots have interchangeable alpine and alpine touring soles; if you install the alpine soles then you can use them in your downhill bindings.

Other than that, there are no major differences with AT boots to only allow for an AT binding.
Yes, they'll work with standard bindings. That's because they come with interchangeable soles (ISO norm alpine sole or ski mountaineering sole). It takes a few minutes with a screwdriver to change the soles.
Light and Fast. Comfortable. Great Back Country Boot!
I'm 5'6" about 130. I ride 169 K2 hellbents.

i LOVE the rockered AT sole, and with the dukes, they fit perfectly. I also use them with my BD crampons....the fit is no less than PERFECT! The Vibram soles seem to be holding up extremely well too! Barely any wear and i mountaineer with these in the BC. I came from a race boot, so these things were LIGHT! the walk mode is nice when skinning because it gives a little bit more pivot on those long hauls. I stay on them for 10+ hours a day with ZERO foot issues. Bake out the liners and have fit second to none! Plenty of strength for turning big pow skis. Boots flex and sit really nice on the foot...no more cranking in on the buckles for a good fit!!

the only "issues" have been the tall toe box. I have a smaller foot, and the box seems to be more roomy than most boots. It packed in, but felt funny for the first few days.

Other issue i had was the boots seem to run larger than normal. I should have don the 25, but i got a 26. Not a big deal because i still fit snug in the boot, but i think the smaller size would have let me pack out the liners more.