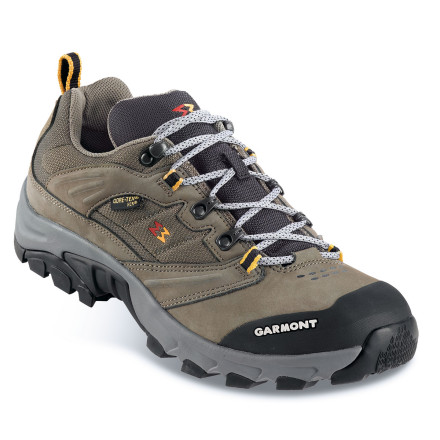 The human species didn't spend millions of years evolving the ability to walk upright so you can just throw it all way because your shoes are crap. Slippery-soled shoes can leave you scrambling after your more human buddies on even the easiest approaches. The durable Garmont Eclipse III Hiking Shoes with Gore-Tex XCR help you keep your footing on all kinds of terrain so you don't have act like an ape.
Gore-Tex XCR membrane helps keep your feet dry by blocking external moisture and letting internal vapor escape
G3+2 Vibram outsoles stick to all kinds of terrain from slickrock to the loose stuff
Breathable polyurethane mid-soles gives you durability and stability so you can really heap the miles on
Garmont PU spines add support under your arches and flexiblity under the balls of your feet and your toes
True heel design gives you better traction during decent so you don't end up coming down the hill on your ass
Don't let the description fool you, these things are boots, not shoes. They will go anywhere and have a very rigid sole. I have done 15mi with a pack on and had no foot problems. One bonus for me is that there is plenty of room in the toe box, your toenails will thank you on the descent. the only reason I deducted a star is because it took me a while to break them in, so take them on a coupler of 5 milers before you really go for it with them.