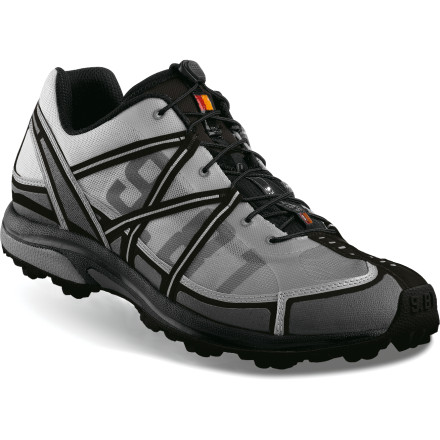 Community Images
Give superheroes a run for their money (literally) when you lace up the Garmont 9.81 Bolt Shoe. We're not saying you'll run the 100-meter dash in 9.81 seconds, but thanks to a quick lace system you'll at least be out on the trail within that time frame. A mesh upper cuts back on weight while enhancing breathability, and a triple-density Ortholite footbed provides cushioning even on unforgiving terrain. On the underside, grippy, super-stable Dura Lug outsole eats up any kind of terrain, and the low-profile midsole provides supportive shock absorption.
Just got these a few days ago. Hiked about 3 miles today. Comfortable immediately. True to size. I have a narrower foot and they are a perfect fit. No need to break in. Very light and breathable. Great traction system. Great cushion system. Lacing system is quick and easy too. Since they are an Italian company the only thing I wish is that they were made in Italy. They are made in China. But, none the less, extremely solid quality. Looking forward to my trip out West knowing that I will have comfy feet trecking through Canyon Lands, Havasu and Tahoe. (I've added a picture of the inside of the shoe so you can see that angle). At this price it seems like a "no brainer".
Recommend for light trail usage
Great shoes for the price. Very light but a sturdy sole. Its probably not strong enough for trails with rock, but I actually use these a lot when I fly. Easy to put on / off and loosen for low pressure / swollen feet.
The limited runs I did these seemed good.