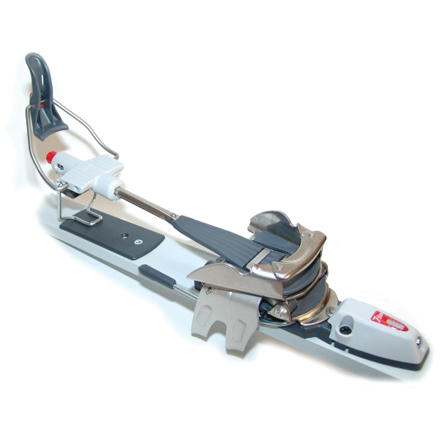 Community Images
The 7tm Power Tour Releasable Binding is a DIN-releasable telemark binding with a dedicated touring mode. Skin up the valley with an AT-like rigid toe pivot and climbing bars, then switch into ski mode at the top and drop knees all the way down. You can stop worrying about the ligament-shredding leverage your skis used to have in crashes, because the 7tm Power Tour releases like an alpine binding in twisting falls. Adjustable ride characteristics allow you to tune stiffness to your liking, and the 4-11 DIN setting won't leave you inquiring as to the whereabouts of the beef.
Unanswered Question
Hi, does anyone know if these have the...
Hi, does anyone know if these have the same bolt pattern as voile hardwire crb's? Thanks
I would like to know how this binding...
I would like to know how this binding perform for petite 100lbs 5' person tele boot size 51/2
Hi Johanne, this is probably too late for an answer but I learned how to telemark on these bindings with K2 Quarter Pipes when I was 10 and weighed about 75 lbs. So they are perfect for a tele petite skier
Unanswered Question
I have a pair of 7tm PT bindings (2 pairs...
I have a pair of 7tm PT bindings (2 pairs actually), and am happy overall, but ...
one of my bindings switches to tour mode while I'm skiing ! When switching into ski mode, the lever doesn't have the same resistance/"wedging" feeling that the I get on my 3 other 7tm bindings. Anyone experience this? Anyone have ideas on how to fix?
I'm a big fan of 7tm bindings, I've had them since the non-power version. This is my first pair of tours and I like them. The only minor glitch is that the tour mode lever on the left ski hits the brake when engaging, so it takes more a push to lock it in place. No biggie, it works fine.
I have a tele binding (hammerhead) and...
I have a tele binding (hammerhead) and boot (scarpa) and Im looking for a heel clip to lock down my boot heel on some descents- any suggestions
Bad idea. Hammerheads, of course, are non releasable. The only saving grace is the ability for everything to flex (instead of your ACL). If you lock the heels, you're taking away that flex. With a bomber active binding like the hammer combined with stiff boots, and good skis, you have equipment that will ski about anything, providing one has the technique. I suggest either practice more, or get an alpine touring setup. Dynafit bindings are lighter than tele cable bindings, but you also need AT boots. If you are still determined to destroy your knees, you could possibly modify the heels of your scarpas to accept a dynafit heel, but I can't remember exactly how those heels work, I think there's a couple of notches in the boot.
Looking for sweet bindings for old school...
Looking for sweet bindings for old school Aslo Extremes. Been a tele skier for 30 years and want to upgade. I need suggestions!!
I used to have the lace up extremes, they were about the only boot at that time. They'll teach you how to really ski! If you are just touring on narrowish skis, those 22 designs Litedog 3pins might be a good, cheap, light choice if your pinholes haven't ovaled out. If you're going wider, say 80 plus or lift skiing, the Voile switchbacks would be good, offering more control. Voile also makes a light 3 pin with a cable that is cheaper than the Switchback. Those boots aren't a good match for real wide skis or the big hefty duty bindings out there. And they are too soft to really work with releasable bindings.
Sue and I have both the 2010 and 2011 7tm Power Tour Releasable binding mounted on Karhu Guides, and Madshus Annum( which replaced the Karhu Guide) Waxless backcountry skis. I have about 20 days of skiing on the 7tm, both backcountry and chair lift. Before we got these bindings we were telemark skiing on skinny skis. We held on to our skinny skis for 30 years because they were very light. This new telemark setup is heavy compared to our skinny skis: it weighs the same as our old Ramer Randonee setup. But we were never able to ski all day on the chairs with our skinny skis, and these 7tm setups allow us to easily telemark all day on the chair lift. We can't skin as far, because it is much more weight, but the trade off is increased control. These bindings are so solid we can simply switch to parallel style skiing when it gets steep and icy. I've never had them release, and I fall a lot, but it's nice to know they can. Sue had the Voile Switchback last year, but didn't like it. She said it was too stiff going downhill. I also tried the Voile crb releasable, but it pre-released on me. There are a couple clip points and holes that allow you to tie this binding to your boot for safety straps. I can't really comment on it's back foot control or high end performance as I'm not that good yet. I can say though that I am doing some fast, controlled telemarks in all kinds of conditions. This binding is very well made, we have no complaints.
- the binding is in action in the sequence "Spanstind"... Other bindings featured: Rottefella, NTN, Targa.

I've had this binding for 2 years now. Since many bindings now have touring mode, I don't think this binding is worth it anymore.
First - the release mode: It's false safety! I only had releases when I didn't need it!!! It can release on steep icy climbs going up. It also released in really heavy "slush", when really putting pressure in the turns. It never released when crashing!
Second the "power" is not really that powerfull (and nothing compared to the rottefella R8 I've tested) , meaning you get little pressure on the "back" foot. It also lacks in sidewards stability since.
In the end, the heel-clip broke off twice while skiing in the pist. Lucky it didn't do it in the powder, then I'd be lost!! When you can't trust your gear - it's time to change. The only binding they had there was the BD O2, which is much more solid, better power and sidewards stability.
If you want the tour-mode look for Targa ascent, BD O2 or the new NTN. I can't recommend the 7tm, even if I had wonderful backcountry experiences with it!!!
Hi people, I've had the 7tm power tour binding for a couple years now, here in the North Cascades. When I bought it, it was the only binding that had the free climb feature ( so maybe I've had it for more than a couple years?) anyway, the free climb feature was essential, the release feature was comforting,I love the crampons, and I could deal with the weight. however, after a few years of use, not super heavy use (OK....about 12 times each year riding the lifts, about 12 times each year on long day trips, and about 10 days of ski camping backcountry trips), I have issues with the bindings.
OK, now the bad stuff.

There is too much side to side play in the binding in tour mode on the steep stuff. set at the proper binding tension, I still get my heel sliding side to side sometimes ( I do have a size 13 foot, though). A big negative is that in free climb mode, due to the binding and heel lifter being mounted to the foot and not the ski, the balance of the ski is not good for deep snow trail breaking. In other words, when you are high stepping in deep snow and lifting your foot, the tip does not come up / the tail does not drop. I've mitigated that somewhat by two things: first, I added two big washers taped to the tail lever of my skins to weight them down some. And second, I use some small bungie cord routed through the run away loop on the binding and then stretched up to my boot buckle, in an effort to ge the front of the ski to lift for me.
And now, I've got the stainless steel rivits coming loose on the little part that recieves the pivot pin and is mounted to the bottom of the (nicely heavy duty) toe piece. I can't seem to get those tightened up (by peening). and also, my pivot pins themselves seem to be wearing out.

Another problem I've had was easily fixed by mounting a couple sink faucet washers on each ski in the proper place to keep the heel lifter from slipping forward and collapsing from high position to mid high position when you least wanted that to happen.
The rubber piece that runs under the boot and attaches with one little tiny bolt always scared me too, so I carried extras in the field, but I never had one fail.
I do have to add that being able to buy an extra toe mounting plate for another pair of skis has been nice for me, and I use the same binding on my work skis when reading meters around town.

The power binding upped my skiing a notch, to be sure. Now I'm looking to go up again with the axl. I hope I'm not jumping the gun on that binding however, due to the fact I will be losing the release feature and it looks like no crampon either..
where can i buyit in austria near...
where can i buyit in austria near innsbruck?
who has experience? please let me know
Hello,
ich habe meine bei Sport Conrad bestellt - super niedriger Preis und es ist das model mit "step in".
http://www.sport-conrad.com/index.asp?disp=artikel&art_nr=72400303

Der Shop "Sportler" hat eine Filiale in Innsbruck
(bindung ist teurer als sp-conrad)

http://www.sportler.com/sportlerShop/produkt/katalog/skitour-telemark-schneeschuh/skitouren-telemark-schuhe-bindungen/7tm-powertour-sti_9779122

Hoffe dies hilft.
is anyone having trouble with the heel...
is anyone having trouble with the heel lift collapsing during use?
i have one that constantly collapses and it is really starting to irritate me. the other side hasn't been a problem...yet
Yes, I have had the same problem. No solution yet - though I haven't really tried too hard. I have thought of bending the wires to increase the tension. Will post again if I am able to solve this, the only issue I have had with these bindings.
Maybe get a cylindrical burr in a Dremel and deepen the slots?
Maybe get a cylindrical burr in a Dremel and deepen the slots?
Looking for other info here, but I can say that I solved the un wanted heel lift collapse problem by putting a pan headed screw through two faucet washers right in front of where the heel lifter sits on the ski in hige heel position. This little rubber post, about 3/8" high, was enough to keep the heel lifter from closing on me while hiking the steeps.
Unanswered Question
What size is the climbing bar on the...
What size is the climbing bar on the 7tm?
R your current online ones the latest 2010...
R your current online ones the latest 2010 model?
, ☃bcs_badge_alumni_label☃
Yes, these are the latest 09/10 model.
I got these to go with a new set of G3 telemark skies. Being a downhill skier who's converted to lightweight world of telemarking for ski-mountaineering, I really wanted something that offered additional safety in case of a fall. These bindings are perfect, although finding someone who was comfortable mounting them was a little challenging.

The bindings themselves are very clever. One frustration I did have was that other elements; like brakes and leashes, were additional extras which can make it kind of expensive to get a complete binding solution.
Bottom line: These bindings have solid construction, reliable release, and ski great.

The mode change is not the easiest to engage, but NEVER ices up. This is much better than my friends' experiences with BD 01 bindings.

BTW - Getting in after release is VERY easy. Just put your boot with binding attached into position on the binding plate, slide the front tab into its place, and step down firmly. You'll hear a satisfying click and you are securely reattached.

Releasable bindings make me more confident about tight trees, early/late season "snow snakes" and avalanche safety. Easily worth the small weight penalty!
I need questions. Between these, the voile...
I need questions. Between these, the voile switchback, g3 ascent, adn black diamond 01, which is the best and why?
Voiles are prob simplest and easiest to operate.
Good all rounder but there are limitations
Have skied these for years and welcomed the release mechanism many times. V. reliable setup and tour mode is sinfully easy. However they don't release forward (and don't claim to) and I trashed a knee when they didn't. Only alt I think is CRB which claim to and also Telebry.
I also have these bindings and like the...
I also have these bindings and like the way they ski. Is there a trick to getting back in them after a fall in soft snow?
It's a problem, to be sure. The only way I've been able to make it work is to lie on my side, put my boot in it, and pull really hard on the ski with my hands. That worked, but don't expect any style points for it.
I had problems with this too. We lined up the heel plate to one side and one strong person was able to slide the toe back into place, but it was really tough to do. I didn't have luck stepping into it as described above.