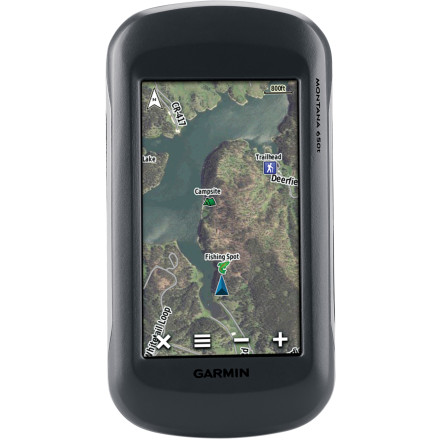 The Garmin Montana series is a popular option among those who want to avoid getting lost while they're getting after it, and the 650T sits atop the heap. Like the 650, it takes geostamped pictures, enabling you to find precisely where images were taken, whether they were taken by you or a friend. Like the 600, you get a number of map overlay options, and you can share waypoints and images wirelessly with users of compatible Garmin GPS units. Plus, it has the same shock and water resistant body, and 4 inch color screen. The big difference is that it comes pre-loaded with U.S. TOPO 100k maps, giving you precise topographic maps right at your fingertips.
Tucked into the durable body is a large 4 inch, glove friendly, backlit color screen, which is easily visible in both low and high light. In addition to the included worldwide basemap, the Montana 650T comes pre-loaded with U.S. TOPO 100k maps. You can also load BlueChart marine maps, CityNavigator maps, and Custom Maps via the MicroSD port. If you still need more information, you can download BirdsEye satellite images, and overlay them on your map. Waypoints can be selected off of the mapping feature, or by importing them wirelessly from compatible devices. It's easy to save, modify, and index your routes for future trips. Your waypoints and routes can be shared wirelessly with other users of compatible Garmin GPS devices. By downloading a geocaching .GPX file, you'll have access to hidden caches, for more options on your next outing. And you're able to select the profile of your trip, which helps you to organize your information between recreation, driving, boating, and training.
The 5 megapixel camera not only takes high quality pictures, but it geostamps them, enabling you to find the precise location that the picture was taken. By using both GPS and HotFix technology, the Montana is able to determine and maintain your location, even in deep canyons and around tall buildings. To ensure that your information is presented in a way that works for you, the dashboard is customizable with a 3d compass, barometric altimeter, and configurable data fields, among other tools. It's compatible with a number of aftermarket mounts, making it highly adaptable to nearly any outdoor activity. And it's helpful that you have the option to power the Montana via the included rechargeable lithium ion batteries, or using standard AAs.
The Garmin Montana 650T GPS is available in the color Black, and includes a USB cable, lithium ion battery back, AC charger, and user manual.
GPS
5 megapixel camera
4 inch color screen
Pre-loaded 100k TOPO map
Barometric altimeter
3-axis compass
Battery powered