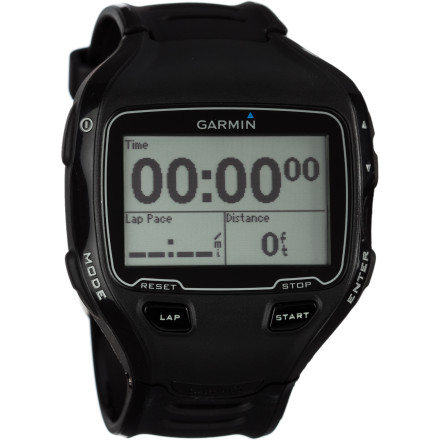 Colors

Detail Images
Description
Stay in front of the curve.
Triathlon training is serious business, so a do-it-all computer like the Garmin Forerunner 910XT is a training partner as important as a bike and a good pair of shoes. A plethora of features track all your data from the swim, the bike, and the run, so you can take your training to the next level in pursuit of your best results yet.
Like a triathlon, let's start at the swim. Obviously, the Forerunner is waterproof—up to 50m—so it'll be right at home in the water. It's capable of counting strokes, tracking stroke style, measuring distance, and recording swim efficiency, whether you're swimming laps in a pool or cruising through open water. It can also track your path and display all this information in real time, so you can look at it on the go as well as after you've finished.
After you blaze through T1 and hop on the bike, the Forerunner will be able to show you all the relevant ride data including speed, distance, gradient, altitude, and total ascent and descent. It will sync via ANT+ with a power meter or heart-rate monitor, so you can also view cadence and power output as you ride. The features for the run are similar, with distance, speed, and pace measurements, as well as reminders to hit splits or grab some nutrition before you bonk. Maybe the coolest features are the Virtual Racer and Virtual Partner programs, which let you race against your personal bests, other users' times, or a pre-set goal.
With 20 hours of battery life, you'll probably run out of juice before the Forefunner does. It can display from one to four data points at a time, and switch between sport modes with the push of a button. All your data is saved internally and can be set up to sync wirelessly or via the included USB cable, so you can accumulate it all for closer analysis or upload it to Garmin's Connect program.
Trip distance, total distance, and splits
Stroke style, stroke count, distance, and efficiency swim measurements
Altimeter, gradient, total ascent, and total descent measurements
Compatible with heart-rate monitors
ANT+ wireless capability
Cadence measurement (with power meter)
Virtual Racer and Virtual Partner training programs
Water resistant to 50m
Excellent training partner/tracker
Familiarity:

I've used it several times
This is my second Garmin device. My Edge 500 is great but decided to incorporate running into training so got this watch. The wireless sync feature is fantastic. all the metrics, small package and multisport. The quick release strap works wonderfully and allows you to use it for the bike only.
Still My Top Choice
Familiarity:

I've put it through the wringer

Fit:

True to size
I've been using the Garmin 910XT for the past three years. It's been through multiple Sprint and Olympic Triathlon competitions, numerous 5k, 10k and half marathon races, and probably a few thousand miles of training. I've been using Garmin products now since the original Forerunner 305. I've been through the 305 and the 610 products. The 305 had its obvious faults, mostly based on early technology and design limitations. The 610 was an improvement but I found the user interface (the touchscreen) difficult to use (particularly during races).



The 910XT is a huge improvement over the 305 and the 610. The design is slimmer than the 305 because the GPS technology improved over the years. The 910XT ditched the touchscreen and went back to buttons, which I thought was a smart design decision. What I really liked was the ability of the 910XT to go into the water. Amazingly, the 305 and 610 could not be used during swimming.



So the 910XT was really designed for triathletes. In addition to being able to get very wet, the 910XT has built-in transition tracking capabilities. Plus, if you do Aquabike or Duathlon categories, you can tweak the racing setup so that it tracks exactly for that competition with built-in transition tracking.



I've also used this watch for hiking in the White Mountains in New Hampshire and so I've really tested the battery life. I've found the watch to have decent battery life - they 20 hour predicted battery life is an accurate estimate.




Delivers more than what I need
Familiarity:

I've put it through the wringer
I've gotten accustomed to Garmin watches so when my old Garmin 405 started giving me an issue I had to take advantage of the deal at competitive cyclist along with the rebate that was offered by the manufacturer.



The design and display are very easy to use. It establishes connection with satellites quickly and it's easy to upload data onto my computer and Strava.



One issue I had was when I used it while swimming at Hawaii. It seemed to lose its satellite connection after being submerged in the water. However, the waterproof quality of the watch held up quite well.



This product works superbly with my HR and Cadence sensor. I'd definitely buy one again given the right price.
Garmin 910XT
Familiarity:

I've put it through the wringer
I have a quiver of Garmin products. I bought the 910XT primarily for the triathlete side of my life. It's one of the few Garmin products that fits on your wrist and you can get wet more than just from running in the rain. It performs as well as all the other Garmin products I own. I particularly like the button approach over the touchscreen approach of the 610 (which I also own). I like the fact that you can customize the screens for triathlon or duathlon or any multisport event, and build in transition phases also. So when doing a race, it easily records your time for each event in the order you programmed them as well as building in the proper transition sections. My only complaint is that the watch doesn't seem to track perfectly when swimming laps indoors. Once I get past 500 or 600 yards in a 25 yard pool, it starts to be off by a lap or two. I find it annoying, but only a minor inconvenience. I've also noticed that when I am in the open water and it is tracking off of the satellites, that it will give you an alarm when you hit the bottom of your water stroke that it lost the satellite reception. In a number of races it did that constantly, but then later when I uploaded it, it still seemed to track perfectly. I wonder whether it's because I have it set on the most sensitive GPS level.
garmin
Familiarity:

I've put it through the wringer
This watch is great for triathletes. Its very accurate in the pool. Its not too big, prob the same size as the garmin 310. I use it for all 3 sports(swim, bike and run)