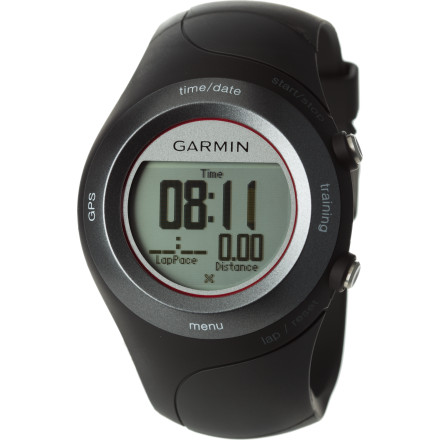 During the tenth mile of your run, you look to the Garmin Forerunner 410 HRM GPS on your wrist to tell you your heart rate, calorie consumption, distance, speed, distance back to your starting point, and many more useful pieces of data. Its high-sensitivity internal receiver stays in constant contact with satellites to provide up-to-the-second GPS info, while its heart rate monitor informs you of your body's status during the long run. The large face, customizable screens, and touch-button bezel enable easy navigation through all the data. Once you're back home, the ANT+ technology wirelessly transfers the data to your computer so you can use Garmin Connect to compile, analyze, and share it with others online.
Shock-resistant plastic housing feels light on your wrist (weighs a modest two ounces) and sheds drizzle during rain showers, and the smooth wrist strap feels good even when you start to sweat
High-sensitivity GPS receiver records pace, distance, and elevation; stores up to 100 waypoints; records 1000 laps; lets you compare your new time in the same course; and can guide you back to your starting point with distance and direction
Heart Rate Monitor displays your heart activity and calorie consumption for accurate training regimens and features five customizable heart-rate zones to compare and improve your heart's health
Also functions as a regular watch with daily alarms, dual time, and date
Virtual Partner lets you compare your actual performance to performance goals, much like a motivating personal trainer
Course feature lets you race your last run to try to beat your time on the same course
Auto Pause pauses your timers when you stop to chat with a friend on the street
Auto Lap starts a new lap when you cross your starting point so you don't have to fiddle with buttons
Auto Scroll cycles through all your data screens so you don't have to toggle around to find what you want
Customizable screens let you design three training pages (pick from over 30 pieces of data) with one big field of data or two to three smaller fields to pack more info into your runs
Pace, time, and distance alerts (when set) sound so you know when you've reached your goal or limit
Interval training keeps your exercise and rest regimen accurate
Rechargeable lithium-ion battery works for eight hours in full training mode and up to 2 weeks in power-save watch mode; a power button lets you turn it off completely
When in range, the device automatically and wirelessly connects to your computer (with help from its USB stick) so you can analyze and share the data with Garmin Connect's running community as well as see your route on a GPS map
Forerunner is both Mac and Windows compatible
Unit-to-unit transfer capability means that it is compatible with a foot pod (sold separately) to provide enhanced pace data
Includes Forerunner 410 with heart monitor, USB ANT stick, two extra wrist straps, AC charger, charging clip, and manuals
What do you think about this product?
Have questions about this product?
A bit confusing control layout
I tried it for a few days... GPS accuracy was pretty good (~1%), I found it a little bulky/uncomfortable for my narrow wrists. I also found the bezel controls to be non-intuitive as a first time GPS watch owner.

I ended up returning it and getting a Garmin 210 which I like a lot (the slightly slimmer, smaller face is noticeably more comfortable. The 210 controls are easier to figure out on the fly (admitted it took more key presses... but I felt that was an acceptable tradeoff). I found I didn't need all the fancy settings of the 410 workout programs.
Unanswered Question
Is it possible to turn off the GPS but...
Is it possible to turn off the GPS but keep HRM on (e.g. to maintain the HRM aspect on long single-day hikes/climbs)?