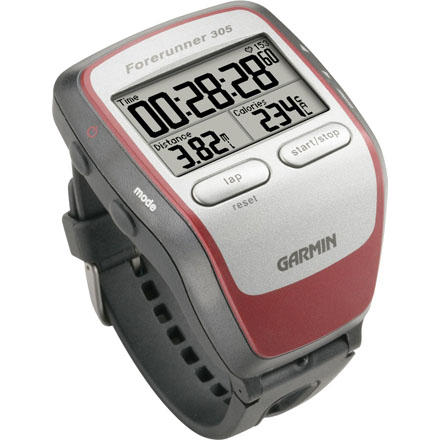 Community Images
This is a great product if are a trail runner like me. I've never lost a signal even under thick tree cover. Track miliage, elevation, grade etc. I agree the soffware is lame but you can download Sportstrack for free. It's much better than the stock software. Too bad MotionBased is no longer availiable. It was great.

Not sure why some of the reviewers had a problem with battery life. I've worn mine during 50 mile ultras and the battery lasts for nearly 10 hours.
I really expected it to be big and annoying, but I do not notice it while running. Accurate tracking and great interface options with the computer. I have not had any problems in the woods, it holds a signal well once it initially locks on (can take up to two minutes if cloudy). Take the altitude data with a grain of salt; this uses gps for altitude instead of an actual altimeter, so it can be off by like 15 feet vertical even though the path is dead on.

My only complaint is battery life. I get maybe 6-7 hours with the heart rate monitor active, you also need to charge it within a few days of using, the battery discharges fast sitting around unused.
How accurate is the gps system?? Is it...
How accurate is the gps system?? Is it less than 3 feet? Can you map a field that you have run around accurately?
Best Answer
I'd say that the accuracy is more in the 10/15 feet range, which range isn't depending from the device but from some limitations of the administrators of the satellite network
I agree with Jean-Yves, about 10 to 15 feet is a very acceptable range for any GPS unit.
A great watch for all your fitness needs. As the description says, it keeps track of speed, distance, average speed, calories, and heartrate and there are options to allow you to put multiple views up on one screen. It has handy features like a pace alarm, virtual partner, and multi-sport options to keep you motivated and the battery seems to last the advertised 10 hours. The bundled software could use an upgrade but I don't use it that much anyway. Overall it is not terribly bulky and it is very easy to use.
How do I delete the database? I'tsfull.
How do I delete the database? I'tsfull.
*) If you mean History, select Mode then History then whatever sport then Delete. This would be odd, though, since History is automatically overwritten, meaning the history should never be full.
*) If you mean Location, select Mode then Navigation then Find then Delete All.
*) Workouts, Courses, and Routes all have to be deleted individually.
Unanswered Question
So will this track your speed on a bike,...
So will this track your speed on a bike, or do you have to have the speed/cadence sensor to see your speed?
As an endurance trail runner & cyclist, I love this thing. It has replaced my Polar HRM. After a few months of using it, I am still excited to use it. I am love being able to track my long trail runs, use the virtual partner function, and the pace/distance etc.. reminders that you can customize. I utilize the MotionBased.com software that you can upload your workouts to and run detail analysis of. I have not experienced any issue with the GPS and I run wooded trails and use this while cycling. I am very happy with the product and highly recommend.
can i track my child by this watch on a...
can i track my child by this watch on a computer.
First, no, it's too big for a normal child to wear. Second, also no, you'd have to be crazy to strap a 325 dollar watch to a kid's wrist. Third, still no, you have to bring the watch back to the computer to download the data, which defeats the point, and fourth, keep track of your damn kid yourself.
Not really. I guess there'd be 2 reasons you want to do this:
1. You don't trust your kid. In which case he could just take the watch off and leave it somewhere you don't mind him being before picking it up on the way home from where ever you didn't want him to be.
2. You don't trust other people (kidnappers? Paedophiles etc). In which case it wouldn't work because you have to get the watch back before you can see where it's been.

You could always inject a chip into your kid...erk.

http://www.thecheers.org/Tech/article_734_Get-identified-under-your-skin.html
don't want to sound stupid.But will this...
don't want to sound stupid.But will this work in Central America?
Yes. GPS signals are sent from satellites from around the world. Just because we made the technology, doesn't mean we don't let others use it.
One correction to my review...
When I said my buddy had the Edge 301, I meant to say the Forerunner 301. The Edge product line is for biking... guess I had that in mind from when I was talking about carrying my other GPS in my hand. Hope this didn't cause anyone any confusion. Also, if anyone knows of a way to edit a review, please feel free to share! Happy running... or biking... just don't forget your new GPS!
You won't be disappointed!
I got hooked on the GPS when I got my Garmin bike computer, but wanted something to run with that I didn't have to carry in my hand... this is the perfect combination! Gives you all of the stats that you want on 3 screens as you run, and you can customize each screen to show you up to 4 different things per page. There's even an auto-scroll function to roll through the pages as plug along. One of my favorite features is the backlight that you can set to stay on for different amounts of time after you press a button, or just leave it on for your entire run. Garmin also has this packaged in a bundle with a bike cadence sensor and handlebar mount... and I'll admit that I bought mine elsewhere at a bit of a discount from BC.com's price (even with the bundle), but I love this product and wanted to share with all of the purists on this site. As for the size and fit, I've got no complaints. My buddy has the Forerunner 301 and this is much more comfortable and less cumbersome to wear. Honestly, it doesn't bother me at all when I'm running. The display is easy to read and the ability to analyze your workout when you're done is a good mental-motivator, especially if you tend to run the same course a lot. Doesn't provide much in the way of mapping information, but if you can run far enough to get yourself lost, then you're in good enough shape to take a few detours on your way back... but it will provide directional data (a bread-crumb trail, if you will) if you're willing to turn around and run the same route in reverse. All in all, a great product. If you plan to use the multi-sport (running/biking) functionality, look around for the multi-sport bundle... otherwise, I think the cadence sensor and handlebar mount will cost you about another $90 or so.
Shorter, good. Longer, no way.
I am in search of the perfect training partner watch/HRM/GPS unit. I am testing and trying and WANTING to find my match. As an autobio, I'm a multisport endurance athlete. This is closer to what I need than the Garmin 405 (see my review of that one, if you're interested) but it's still not "the one." First of all, the positives. The GPS tracks well, though I do lose the signal in very heavily wooded areas or deep in canyons. I have not tested the altitude feature extensively because my training is not centered on this factor. The computer interface and data reporting is exceptional and can even be addicting. I love the auto multisport features and the display screen can be adjusted to report to you the information that you need to know. One frustration is that you can set the screen displays for both running and biking, but those screens are not the default screens when the watch is in multisport mode. You have to hit the buttons to get to the screen that you want to see. (If you're not in auto multisport mode, you don't have to do this.) But the biggest let-down of the 305 is that again, similar to the 405, the battery life is just too short for long endurance athletes. Ten hours tops, but most of the time, I got 8-9 hours worth of tracking. So even though I don't wear it during the Ironman swim (it is not waterproof and is not intended for use in the water), I can't even get all the way through the run without a dead battery. And that's when I most want to know how I'm doing. It's hopeless on long training days and adventures too. So while I would definitely recommend this watch for any single- or multisport athlete who needs tracking only up to 8-9 hours, I cannot give the thumbs up for the rest of us. I'm still looking for my dream tracker. I'll let you know when I find it.
whats the difference between the 205 and...
whats the difference between the 205 and 305? Do they both come with a heart rate monitor? If so, do you have to wear the heart rate monitor or can it take a wrist pulse?
One difference - the 205 is not a heart rate monitor and the 305 is a HRM, the 305 receives wireless HR readings from a chest strap
The size and fit take some getting used to but it has all the features you would need as a recreational runner and then some. The software is too much fun, track your heart rate and speed and elevation throughout your run and compare to previous results. If you have to have 100% accurate distance and elevation I'd choose a foot pod based wrist top computer.
I concur with the previous positive commentary. For those concerned about the size-- I'm a smallish woman with relatively small wrists. I grabbed a $2.50 5-inch long wrist sweatband from one of the Sports aisles in Wal-Mar. The 305 sets nicely atop the band, and is so comfortable that I'm not conscious of it until I want to quick check a stat during walking or biking. Just be sure to get freebies SportTracks and Google Earth. Eye candy with stats up da wazoo. Heck of a motivator, in terms of coercing daily exercise--- don't wanna see gaps in my graphs!
Here's an easy one for anybody who owns...
Here's an easy one for anybody who owns this... all the reviews say that the 305 is great for training, but does it have built-in training profiles? More specifically, does it direct you to speed up and slow down to target specific heartrates, or does it just show the real-time data?Thanks,Sully
You can use beep alerts for time, distance, speed, and heart rate. There's also a Virtual Partner that competes with you.----------------------------------------------------Thanks Arthur! I bought one, and absolutely love it!-Sully
This is incredible. The HR monitor works great, and seeing the stats on your computer after the workout shows everything about your run. Would highly recommend getting this for your training.
I love this watch!! The heart rate monitor is spot on and the GPS picks up even under tree canopy. The unit takes about 30 seconds to lock a signal and it's all fun and games after that. It has SO many features!! TOTALLY boosted my training.
indispensible piece of trail running equipment
i have to disagree with matt's one-star review which i found a little harsh. it is important to remember that Garmin is still the only major player in the market of trail running gps devices and that the whole concept is still relatively new.

first of all, only a minority of people will ever hit the battery limit. i'm sure future iterations will address the 6-hour limit but for now, most runners will do fine with the given capacity. secondly, although i also thought the size of the watch would annoy, a couple runs with the thing and i nearly forgot i was wearing it. even if you don't like the rubber strap it comes with, you can replace it with a velcro one. thirdly, i find the accuracy of the unit to be remarkably good. runs with many switchbacks and dense foliage caused it to come up a little short and the altitude is prone to some error but once again, this is still a technology in its infancy. it's certainly more accurate than trying to chart the course out by hand on a map. finally, i agree that the included software isn't very well constructed, but there are alternatives. i've heard great things about sport tracks (http://www.zonefivesoftware.com/sporttracks/), and garmin is still in the process of converting their online database (motionbased) over to a more user-friendly, functional "garmin connect" platform.

ultimately i think the forerunner was worth every penny. there is certainly room for improvement and making it more appropriate for ultrarunners but the ability to plot out my runs in google earth and compare altitude, pace, heart-rate, and distance data from many runs is enough for me to give it a strong recommendation.