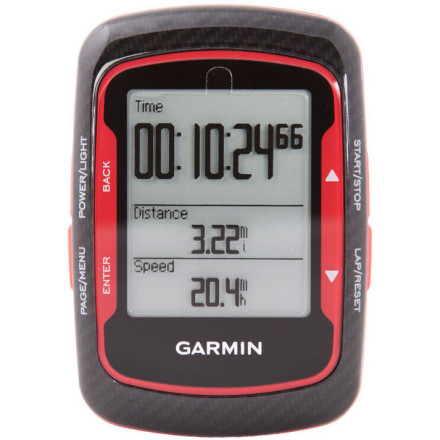 Description
Get the Edge.
Terabytes of data are great if you're NASA or something, but if you're just trying to track your rides, it can be serious overkill. Information overload is one of the complaints cyclists had with the Garmin 705, so the company is offering the Edge 500 as a simpler, more streamlined solution, and including a Premium Heart Rate Monitor and Cadence Sensor to give you more of the data you actually care about.
While the Edge 500 is smaller and simple than other bike computers, it still has plenty of room to track the things that matter. It offers up three fully customizable screens that hold up to eight lines of data each (we know, how could you need more than that?) and tracks all the standard information like speed, distance, time, altitude, and temperature. It also syncs wirelessly with the super-comfortable heart rate monitor and the auto-calibrating cadence sensor.
Garmin didn't stop there. It ensured the Edge 500 is fully compatible with all ANT+ enabled devices, like powermeters, and works with the Garmin Training Center program and Garmin Connect website, among others. A rechargeable lithium ion battery keeps it running for up to 18 hours, and the secure mount keeps it locked onto your stem or handlebars for easy visibility.
Heart rate monitor and cadence sensor included
Customizable display
Speed, distance, gradient, and time functions
Altimeter and temperature functions
Compatible with ANT+ enabled devices
Rechargeable lithium ion battery
Mount
Awesome little gadget!
Familiarity:

I've used it several times
Tons of data. Very easy to setup and learn. I don't even miss the wireless feature. And with a small plugin I can even load my data to Endomondo.com and continue gathering data for my stats in one place!
Short term joy
Familiarity:

I've used it several times
Great whilst worked. After a year started to frozen up and had significant failures. Even after all recomendations from the technical support it didn't survive.
Training to the Next Level
Familiarity:

I've used it several times
Finally pulled the trigger for my first GPS unit to use as a training tool for road racing, and I'm super satisfied with my decision with this model from Garmin. Did a ton of research before choosing this one, and decide on this model for its function, weight, design, price and the HR monitor included. Found setting the speed/candence sensor easy enough to mount, and after some exploration with the unit found it simple to find the right settings for me. I now use the Garmin connect program to track all my rides, set goals and analyze my training. I've also started to get into Strava, and both have improved my motivation to ride during the cold winter months here in Utah. My only knock is the mount it comes with, and I would highly suggest upgrading to the K-Edge mount which provides a better/safer position and is super super solid!
Great Tool with Right Settings
Gender:

Male

Familiarity:

I've put it through the wringer
Bike Computers are something that I have skimped on a bit. Since my rides are getting longer and rigs more sophisticated, I decided to plunge in to the Edge 500 from Garmin and I wasn't disappointed. A plethora of information awaits those who take the time, study the manual and plan out the display system that is right for them. The unit it self is very small and feels sturdy and most of the extra gadgets are pretty easy to install. This unit does come with a Heart Rate strap and while I feel that it could be easier taking on and off, it does the job well.

I want to revisit the earlier statement of "plethora of information awaits those who take the time" etc. etc. If you are the kind of person who doesn't mind digging in to the manual and experimenting with all the settings, then the Edge 500 will reward those people with a streamlined display of all the stats needed. If you are more of a "plug and play" type of person, the Edge 500 will be a little lost as it will be set to the factory pages of stats and that isn't necessarily what people need. Also to mount is good in a pinch, but if you want something that extends the unit further out then I would start checking Bar Flys out as I feel like I have to crane my neck down further than comfortable at times.

Overall, a great training tool for those who are willing to take the time to unleash it.
I like it!
Familiarity:

I've put it through the wringer
Have had this model for 2 years and then an older model for 2 years. This one is pretty small from higher end models I've seen. You can design your screens to show only what you need or nearly everything it does. Pretty simple turn it on and go, unless you need to hook up cadence hardware. Garmin supplies a site you download too, stores it and you can see all sorts of data, total mileage, calories, distances, for whatever dates and manages different activities, tech! Also works with strava, if your into that. Used for MTB, hiking and skiing.
Great training tool!
Familiarity:

I've used it once or twice and have initial impressions
Easy to set up, fun to us, and a great training tool. With Strava, I can "race" my friends and people I don'e evne know up all the mountains.
Great cyclometer!
Familiarity:

I've put it through the wringer
Does the job, no glitches. Super easy to set up with simple to use features.
Perfect Sized Bicycle GPS
Gender:

Male

Familiarity:

I've put it through the wringer
I purchased the speed/cadence sensor as well as the heart rate monitor for this unit. When you upload ride data to Garmin Connect, you not only get charts and graphs representing your ride, you also get a map with your ride highlighted. Very cool! Unit has proven to be waterproof on several rides in the rain. Battery life is awesome. Battery is not user serviceable, but according to Garmin, will last several years. Acquires satelites within seconds from powering up. I am very pleased with this purchase.