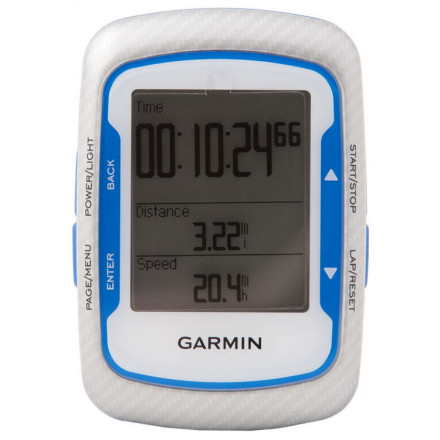 Description
When a little data is all you need.
The Garmin Edge 500 with Cadence and HRM has been a steadfast standby in the world of ANT+ compatible on-bike computers for quite a few years now. It's no wonder that Garmin keeps it on the table even after introducing the Edge 800.
The 500 is, first and foremost, a smaller package than the 800. With this downsizing comes two screens for data that are fully customizable. You are able to see times, temperature, altitude, gradient, speed, and cadence. It is also compatible with ANT+ enabled power meters. The data you won't find on the 500 is in-ride mapping capabilities. But after your ride is complete, the coordinates are saved so you are able to see your route. Additionally, there is no virtual training partner, which is especially nice on those off days when you just want to cruise.
Like the rest of its Edge group, the 500 is compatible with Garmin's Training Center Program, which works on PCs running Windows XP or newer and with Intel-based Macs running OS X 10.4 or later. The data can also be uploaded to the Garmin Connect website for free, and to Map My Ride, Strava, WKO+ and TrainingPeaks.
56.7 grams
1.9" wide by 2.7" high by .85" deep
Compatible with any ANT+ power meter
Comes with Heart Rate Strap, Cadence sensor, AC charger, USB cable, and handlebar mount
A Great Device - Without Maps
Familiarity:

I've put it through the wringer
It was interesting coming from a Forerunner 305 to the Edge 500 that they decided to get rid of the bread crumb feature that allowed you to retrace your foot steps. Without that feature I was less willing to explore places unknown. The work around it to make a course on Garmin Connect and upload it to the device. That is the only way to get a map you can follow. Anyway, enough about maps. I found that my device was sometimes slow to get a GPS fix. I sometimes had to sit a minute or two. Other times when I started riding it would take a few minutes to get a GPS fix. It works great for tracking and giving information needed to have a good workout. The size is also reasonibly compact. The ANT+ cadence and HRM work pretty well. From time to time the heart rate monitor would give me crazy readings. My nit-picks have been resolved with and upgrade to the 810. It is a great device that served me faithfully for 3 years and would have served me longer without its untimely demise.
I LOVE my Garmin Edge 500! I already had the HR monitor and the cadence, so I opted for the computer only. It's a great product and I haven't had any problems with it. I've recently moved from the US to Europe and it's been great to be able to keep track of trails and routes that I've ridden! Have recommended this to many others!
Garmin Edge 500
Gender:

Male

Familiarity:

I've used it several times
This is my first cycling GPS and it is a wonderful product. All the data for training zones, heart rate, speed, cadence, elevation etc is right at your finger tip. I highly recommend this product.
Love all the data you can collect from this bike computer, but specifically wanted a computer with HR monitor. Upload my info on Strava after my rides and like the fact that I can compare my previous times up my favorite climbs. Holds a charge well and can certainly overwhelm you with all the info that can be shown. Don't use the cadence sensor anymore as it seemed like too much clap-trap on my steed. Don't need any wires or magnets on my bike, just stick the computer on and everything is GPS based. Awesome product!