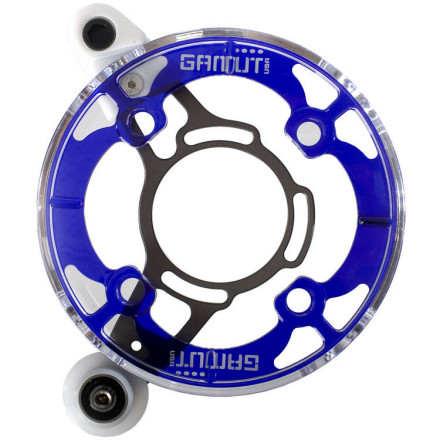 If you like Gamut's P20 design, and you want to run a 35 or 36-tooth chainring, step up to the Gamut P30 Bashguard kit. Just like the 20, the 30 has a new optimized design that flexes with moderate and even big hits. The flex means that the impact is distributed over a greater area of the bashguard, enabling it to come back for more.
The trick is simple. They started with their old polycarbonate bashguard design, kept a 9.5mm lip around the circumference, carved out material between each chainring bolt material and put in a spoke above each chainring bolt hole. The reason you want flex is so the bashguard neither shatters on impact nor is so rigid that other crank elements are damaged.
Gamut has also done a nifty thing with their boomerang. The angle of the upper and lower flanges are slightly different coming out of the center. This allows for the boomerang to be flipped upside down, and offer greater adjustability. Start with the boomerang in the orientation it comes in. If your normal setup creates interference, unbolt the Delrin guide at the top, unbolt the two-bearing roller at the bottom, flip the boomerang, and then re-install the guide and roller.
The Gamut P30 Bashguard kit is designed for the outer ring position on four-arm 104mm bolt circle diameter cranks. It will work with 35- and 36-tooth chainrings. There are options for ISCG mounts, ISCG-05, and a bottom bracket mount as well. The bashguard is available in Black, Blue, Red, and White. The bashguard weighs in at 82g. The ISCG mount is 135g, the ISCG05 mount is 135g, and the bottom bracket mount is 123g.