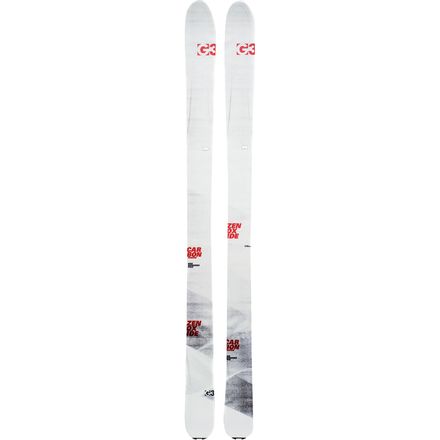 Description
Breathe deep and ski hard.
If you assumed ZenOxide is something all the kids are doing now that nitrous is played out, well, you're half right. It's a hell of a good time, and everyone wants to be on it, but it's not what you think. Nope, the ZenOxide Carbon 105 Ski is G3's lightweight touring/powder ski that is back and unchanged for another season after blowing away the fast-and-light, big-mountain community these past few seasons.
Designed to bridge the gap between ultralight mountaineering and big-mountain powder skis, the ZenOxide weighs just over three pounds per ski, making it one of the lightest 105mm-waisted skis on the market. It's not some rando noodle, though, as it is made with G3's carbon fusion semi-cap construction with triaxial carbon-fiber laminates, which give it the torsional rigidity and fore-aft stiffness to charge and the lightness to make short work of the skintrack, so you can tack on pow lap after pow lap, without beating up your legs before you get to the top. All that lightweight carbon is laid above a paulownia and poplar wood core that gives the ZenOxide a smooth flex and lively feel when you're surfing through powder, outfitted with a Titanal mounting plate for strong and reliable binding installation, and topped off with a shiny nylon topsheet that resists UV rays to keep your skis from slowly fading in the sun.
The ZenOxide's a powder ski, but the backcountry serves up plenty of variable conditions when you're least expecting them, so G3 gave it a solid amount of traditional camber underfoot to increase power and hold when you need to lay down a solid edge. The early-rise tip gives the ability to float through powder and stay nimble in tight spots, while the ski's relatively long running surface and generous turning radius keeps you stable as a table when you're opening it up down big faces and pointing it out the bottom of tight chutes. It's also outfitted with burly steel edges and a fast and tough P-Tex 2000 Electra base to keep you moving fast and holding tight edges in everything from deep snow to unexpected windslab to springtime corn.
Early rise tip, camber underfoot
Carbon fusion semi-cap construction
Poplar and paulownia wood core
Triaxial stitched carbon fiber laminate
105mm waist width
Rockwell C48 corrosion resistant edges
3lb 10oz per ski
What are the specific weights per length? Thanks!
Best Answer
Robby, here ya go:



167 cm - 3.5 lbs

171 cm - 3.7 lbs

178 cm - 3.9 lbs

186 cm - 4.1 lbs

191cm - 4.2 lbs



Now they have a tolerance of + or - 3.5% so thats where you might see some slight differences.