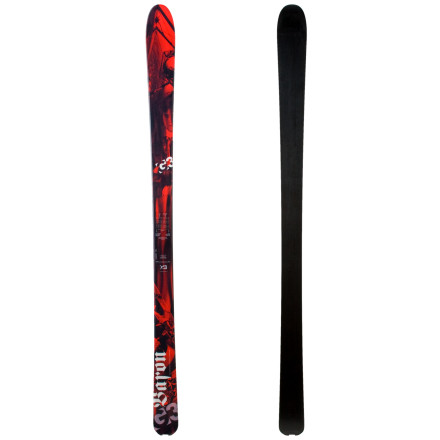 Detail Images
Beautiful, brilliant lightweight telemarks
I'm a downhill skier traditionally, and I bought these as part of my move into telemarking. I love their lightweight, and coupled with the Garmont 7tm bindings have made the transition to telemark skiing much easier than I expected.
I'm 6 feet, 188 lbs, advanced skier - I'll...
I'm 6 feet, 188 lbs, advanced skier - I'll be using these mainly for the east - basically tuckermans and places near there and occasional trees at jay. I have a pair of 177 and a pair of 184s, so I need to get rid of one pair - I'll be mounting naxos on whichever pair I keep. I also have a pair of b-squads with fritschis that I use out west, so this really is a strictly east coast use. 177 sounds a little short to me, but when I'm going through trees sometimes I think the skis I currently tour on are way too long (184 b-squads), but I'm guessing the skinny waist of the g3s will make them feel smaller. So, I guess my question is 184s or 177s for east coast touring?
Best Answer
Hey~
I'm skiing the '06 Barons & love these skis after finally giving up my long straight skis 2 years ago. (Dynastar Course SL in 203) I have them set up for AT with Freerides in a 184 after having tried it in a 170 and finding them too short. (they didn't have the 177) They are solid yet light and bust through crud as well as hold well on NE "packed powder". Had them out to Snowbird two weeks ago and floated them in 14" pow just fine. (wish I was there NOW...34" new in the last 24hrs!) The length is fine as I'm 5'8" & 155 but often have an overweight monkey on my back. G3 actually had a sizing chart online that seemed to recommend skiing them long. I mostly ski the East and usually in the trees or gullies of Mt. Washington. You can't go wrong with these boards.
G3 sizing chart info:
Baron 170 cm 125-155 lbs
177 cm 135-175 lbs
184 cm 155-175+ lbs

I am almost 6' and weigh 155 lbs. I'll...
I am almost 6' and weigh 155 lbs. I'll be going to school in NY and doing backcountry skiing in the Adirondacks. Is this a good ski for me.
Hey skinny guy, this might be a bit too much of a stick for you at that length. Plus, for adirondack tree bashing, I would go short and fat...

I'm 6'4" and weigh about 190. I consider...
I'm 6'4" and weigh about 190. I consider myself intermediate but plan to ski more and soon to be advanced/intermediate. I ski 100% groomed resorts and mainly just carve it up, some long, some short. I occasionally hit the bumps. What size ski do I need/what do you recommend? I am a first time buyer.
I recommend looking at the K2 Apache series of skis, or the Salomon X-Wings. This is a pretty unforgiving ski, with telemark skiing in mind. Those other skis are better for intermediate/advanced skier and hold nice on groomers, bumps, even the occasional pow run. Anything in a 175-ish length should be nice for you.
So I'm a old-school GS skier (currently...
So I'm a old-school GS skier (currently own a sweet setup - 183cm Fischer WC GS about 3 seasons old)... under the right conditions these razor blades rip, I treat 'em like SL's and carve-up tight turns down the front side groomers. Getting older and want to do more AT & BC skiing... legs are not as strong as when I skied 200cm. I'm from the North East and basically only ski here... I'm 5'7" and weigh 145 lbs. What size Baron's should I get? I need a good all mountain size for front side and the BC (NY 'dak slides, Jay Peak, etc.). I'm not going to ski as aggressively like I do my GS skis but I need something for a advanced skier.Is this the ski for me? What size? Would 170's better suited for ducking in and out of trees?Without a doubt I'll mount them with AT bindings.-DoubleB
I'm also a Northeasterner and ski the same conditions and areas you do. At your skill level, I think the 170cm will be too short, and you'll quickly overpower them. The 177cm would probably be a better choice. It will give you more stability, while still being manuverable in the north country's tight trees and on the hardpack. Keep in mind these are going to feel a lot softer than your WC GS boards.
I am looking to buy an AT ski/binding set...
I am looking to buy an AT ski/binding set up to ski out of bounds/inbounds in the north east and occasional trips out west. I am 6 ft 200 lbs. I have Garmont Adrenaline Boots. Do you think the G3 Baron All Mountain and the Naxo nx22 are a good match for what I need? Interested in one all around ski. I am also wondering if the Naxo's will take my ice climbing boots (La Sportiva Nuptse's) when I am going on moderate approaches/descents.
it wouldn't be a bad setup. this is only my 2 cents. if you were to have a one quiver ski i would go a little bigger, look at the Reverend, the saint, or the spitfire. these are a little wider. i would get a ski over 180cm. as the the bindings. i would try the bindings if you can, some people love the naxos other hate them. personally i wasn't a fan. i like the single pivot like the freerides. as for using your ice boots, i would be careful you could truly screw up your ankles.
I am not a tele skier. I bought these...
I am not a tele skier. I bought these looking for a "all mountain ski". Thinking about mounting as set of Marker Duke's or the Baron's. These would have to mounted a special way correct? I believe what I have read that they have to be mounted slightly forward? Thanks
There should be a center-line that will line up with the center-line on your boots once mounted. That's the manufacturer's suggestion and a good place to start unless you have strong convictions about mounting forward a cm or two. That's also where any reputable ski shop will mount them unless you tell them otherwise.
I still like these ski's, but I am a little less into them as a 1 ski quiver. I am thinking about getting some super fat skis for the pow and skied on some true ice coast catskills stuff of the like that i haven't seen for the 90s and would have prefered bomber lange WC's and a slalom ski to carve it up.

Barons - Great 85 percent of the time. Pow, crud, windblown ice/crust. For waist deep hero pow or an east coast hockey rink, choose something else (or stay inside).

Hope that helps.
i am a decent alpine skier and have skied...
i am a decent alpine skier and have skied telemark on 2 occassions. Would this be a good first ski? Also, what size ? I am 5'10" and weigh 180lbs
These are an awesome ski. I'd go with the 184 for your size.
Is 184 the right length for me? I'm 6'...
Is 184 the right length for me? I'm 6' 2" and 185 lbs. I've spent the past 5 seasons (I think) on 191 (107/75/94) Rossi Big Bangs (which I got through a great deal at Backcountry.com). There were many times (especially in the trees) where I felt the Big Bangs were too long. I'm a burly northeast skiier (I lack grace) but I do make occasional trips west. I spend most of my time at resorts with a few days in the backcountry. I'm comfortable on all types of terrain in all types of conditions.
Yes the 184 would be appropriate if you are looking for a snappier turn.
Baron is a great all round ski
I bought these last season and have a tele set-up. These things are sick... from groomed runs to skinning up, they are probably the most versatile ski i've been on. sure, if you have the coin and the time to tinker around with a bunch of different types of skis, then i'd roll with the el hombre for serious powder days. i travel a ton and by default, end up as a bit of a minimalist, so if you only have the time or the cash and enjoy hiking OB, heli and hike, or whatever, then these will be a great ski for you.
I'm looking for a pair of ski for my wife....
I'm looking for a pair of ski for my wife. She's 5 feet 4 inches and wights 125 pounds. The ski is for backcountry travelling with bindings for mountain boots. More for travelling then down hill ski.
We also make a ski called the aviatrix for women which is the same shape as the baron but comes in smaller lenghts, you may also like the Viva Ski. Its a bit wider so you wil have better float in the powder. My wife is around the same height and weight and skis on a 166.
What is the weight of those skis?Thanks,...
What is the weight of those skis?Thanks, Stefan
Hi Stefan,The Barons weigh 3.4Kg/7.4Lbs (177cm)- they are a discontinued model though. I would recommend the Spitfire for an all round, quiver of one ski.
Unanswered Question
How much do they weigh?
but they do everything else. I am really really impressed. Ice, trees, and hucks, I don't know what i did without these. I was on an AT set-up too, not tele.
Without a doubt, one of the best all-around skis I have ever owned. A delight to ski. Anonymous is right on
Deep powder, bullet proof ice.. rip it all with these awesome babies!