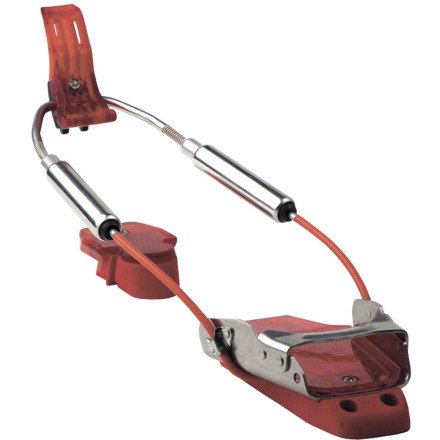 Community Images
Description
G3's Targa Telemark Ski Binding—time-tested and proven Telemark performance.
Count on the G3 Targa Telemark Ski Binding for your in- or out-of-bounds adventures. G3's TourThrow heel lever makes the Targa Telemark Ski Binding ideal for backcountry touring. Flip the Targa Telemark Binding's heel lever down for low cable-resistance during your uphill touring climbs, and flip the lever back up once you're ready to pounce on that hard-earned powder. The durable stainless steel components and a secure toe box design make this binding reliable season after season.
Ok for a beginner
Familiarity:

I've put it through the wringer
These are decent bindings, cheap and easy to learn on. But since I have started to ski more, I have experience 4 cable breaks (3 front, and 1 rear). Yes, G3 sells a backcountry repair kit and I starting skiing with a spare front cable in my pack, but replacing a cable in the cold would be very difficult (and in the backcountry!). All of these breaks have been in mid-turn when the binding is activated, and in my mind it is quite dangerous.

Final word, this is a deisgn flaw that puts too much stress on the cables and with serious skiing they WILL break. They may be good bindings for a beginner due to their cost and simplicity. But if you will ski more than 10-15 days a year then you should replace the cables every season, which shouldn't be the case in a ski binding.
We are setting up for "meadow tele" cross country skiing. We both have Asolo New Snowfields, looking for the right binding / ski combination. It seems the ski should be light, short and very flexible as we won't have speed to carve with. I'm 6' at 180, Sally is 5'6 at 125. Suggestions on bindings and skis?
Based on what you just said, these would be an awesome option!

I have these - SUPER light and flexible... which is actually why I am getting rid of them, but for what you are looking for these would be PERFECT!

I have them on a pair of Surface Watch Lifes that are 100mm underfoot. They are kind of just my "mess-around"/bluebird play ski.

Hit me up and I'd be happy to give you some ski recommendations as well!

Lfeasler@backcountry.com




Will these fit a size 25 Garmont Syner-g?...
Will these fit a size 25 Garmont Syner-g? And would this be a good combo with a k2 BAckup for all-mountain use?
This is a late response, but here it is for anyone using this binding - it just comes in one size! To make the cable longer or shorter, you just remove the plastic shell and either twist and lay in the grooves, or untwist and pull. OR if its just a minor adjustment, you just twist the cartridges! SUPER easy to do! That might not have been the best way to describe the process, but once you do it you'll know EXACTLY what I mean!


Unanswered Question
Hi! I just broke of part of the plastic-holder...
Hi!

I just broke of part of the plastic-holder (black) at the back of the binding (the one of the two tips protruding at the bottom of the black plastic - backpart of the set-up holding the heel-wire). Wondering if I can buy spare parts for these bindings, as it is only the black piece of plastic I need to change and they have many more runs in them on a whole

-Marie
Great tele binding!
Familiarity:

I've put it through the wringer
I've been skiing the G3 Targas for about 7 years now (backcountry and in-bounds) - and I have nothing but good things to say. They are simple, light, and easy to adjust. Watch the cable tension, or you may stress the cable, leading to a premature replacement. Purchase the backcountry repair kit and you are all set. I recently purchased a second pair, and will consider a 3rd, 4th...
Hi. I've been telemarking for two years,...
Hi. I've been telemarking for two years, with my third season this coming winter (In Australia). I spent most of my time touring with Fischer S-bound 98s, Targas with Cross Tour cartridges and Garmont Excursions. Last year though I spent most of the season inbounds with old Salomon 1080s, Hammerheads on position #4 and BD Seeker boots. I've grown to enjoy the feel of the HHs. Two questions: 1. Can I make the Targa feel more "active" by changing up the cartridges to World Cups? I weigh around 90kg (200lbs) and am quite a bit more aggressive than I used to be two years ago. 2. I prefer using the stiffer but more comfortable BD Seekers with both sets of skis. Is it overkill/too much boot for the lighter S-bound/Targa setup, and would I damage the skis? So far using them this way just feels great with more power and comfort! Thanks.
You can make the Targa stronger with new cartridges, yes. I don't think the boot will overpower the binding or the ski, certainly not enough to damage them. My main concern will be that the boot isn't stiff enough and doesn't extend far enough up the leg. The stiffer the setup, the more your foot is going to want to move around in the boot and you can get bruising around the shin as a result. But the skis and bindings should be fine.
I have Scarpa T2X boots and the Targa G3...
I have Scarpa T2X boots and the Targa G3 binding mounted on Atomic TM22 skis. As can be seen in the attached picture, the sole has been sheared off at the toe and exposed the metal plate beneath which is then in turn digging into the binding. I was pretty sure that the boot/binding were compatible so I am not sure what the cause could be. Any help would be greatly appreciated.
Best Answer
Boot and binding are definitely compatible. If your bindings are too loose this will cause excessive wear in and around the toepart of your boot.I would try some epoxy to cover/seal up the metal in the toe and see if that helps - not a lot but just enough to cover up some of the damage. I have had the same boot/binding combo and never had this happen, but overtime the toepiece on your boot will wear out from normal wear and tear.
what epoxy do you recommend for this?
I have the solution for you! Very similar thing happened with the toes on my Scarpa T2's using Voile 3-pin Hardwire CRB bindings. It is not a binding fit issue - has to due with the rubber compound used by Scarpa in the soles (hopefully they improved it in later models) and the pressure exerted on this area when you flex your boots in telemark position. Must be fixed because it will get progressively worse. I tried various things like epoxy glue - didn't work, much too rigid of a material for this application. I was about to send them to Dave Page Cobbler Seattle for complete resole ($100+shipping) when I discovered Gear Aid's Freesole Urethane Formula Shoe Repair. Follow directions to build the toes of your boots back up to the original level (you will use a piece of tape around the front of the sole as a form). The urethane is both flexible and super-tough after it sets, works like a charm! have experienced no further wear problem. One tube is enough to rebuild the toes on 2-3 Scarpa T2's. This is your best solution when the rest of the outer sole is otherwise in good condition. If the whole sole is heavily worn, or cracked in other places, get them resoled. Happy turns!!
Old School Simpicity Rules!
Gender:

Male

Familiarity:

I've put it through the wringer
These bindings are still the best. In response to some of the other posts, one is entitled to express one's opinion, but I must strongly refute G3 dissing. First off and always the most important consideration, they look good. Clean and simple, not a bunch of cables and springs hanging off in every direction. No moveable breaking ubertech to blow out when you need it the most. The turning sweet spot of this binding puts your weight naturally right where it should be. Sure, everybody is skiing the tour mode bindings, but the release clip ices up and you have to take your skis off to de-skin sometimes, that is wack. Keep it simple, ski the G3
I am new to Telemark. I have a new pair...
I am new to Telemark. I have a new pair of Crispi cx p boots size 27.5. they have3 pin holes and the part that fits in the binding says 75mm. What binding do I need. Not to aggressive and my weight is 170.5'11" Thanks
The Crispi CX P are compatible with this binding - 75mm. Those boots work for most telemark bindings (exception being things like NTN, etc).

Some options you have are:

Black diamond's 01 or 02 or 03

G3 Targa or Ascent or Enzo

Voile switchbacks or X2

22Designs Axl or Hammerhead

Various others.



If you are not too aggressive and $ is not a huge issue I would go with the Voile Switchbacks because they are bulletproof, light, and best touring mode IMO.

If you arent doing Touring I would say the Hammerheads which are very versatile and also bulletproof and give you the option of being more aggressive later because of their ability to change the pin poistion.



This is my 2 cents.

I started with the Targa's but now they just seem so flimsy compared to all other models/makes I've tried. G3 makes nice stuff but the Targas fall short in many areas IMO.



Good Luck


Simple functional inexpensive
So.....I have never had a complaint about the performance of these bindings. I have been skiing both lift-assist and backcountry for 30 years....that's right I am a 59YO backcountry skier who has been earning his turns and pounding his knees for 3 decades. I have witnessed the evolution of tele-gear, and these bindings work just fine. I have skiied on them for the past 5 years, and have never had an issue.
So expensive for so little...
This binding is almost as expensive as a pair of hammerheads, for a fraction of the performance and durability. Even if you like a flimsy binding there is no reason to use this one because other binders have adjustability to accommodate preferences. Sure its light and "classic" you probably saw more folks tele on these pieces of crap than anything, but if you're going to pay this much you might as well get one of the newer offerings. Just look at the other conflicting reviews and you'll easily see they're a mixed bag.
Hi, I weigh 200lb and am fairly new at...
Hi, I weigh 200lb and am fairly new at telemarking. I use garmont excursion boots. Which cartridges should I use with this binding?
For your weight, boot and stated ability/aggressiveness, I would recommend the XMountains. World Cups are probably too stiff for your boot and the Cross Tours are too soft for your weight. Hope this helps!
Hi, would a TNT telemark boot fit in these...
Hi,
would a TNT telemark boot fit in these boots? what telemark boots would? can you give me examples?
Thanks
Any 75mm "duckbill" tele boot will work with these bindings. By "TNT", I think you meant "NTN-New Telemark Norm. NTN boots will NOT work.
Hi, would a NTN telemark boot work in these...
Hi,
would a NTN telemark boot work in these bindings? what boots would?
Thanks
Best Answer
Any 75mm "duckbill" tele boot will work with these bindings. By "TNT", I think you meant "NTN-New Telemark Norm. NTN boots will NOT work.
These were my first bindings for Tele, and they are quite simple to work on to replace parts that have worn out or broken from a hard season. If you are just getting into the sport/lifestyle of being a freeheeler I recommend these as a good starting block.
I'm newish to Tele, but an expert Apline skier. I picked up the G3s on a recommendation from a long time Tele Skier, and I can't express enough how much they have allowed me to progress in my riding. I went with the WC cartridges.

From Minnesota to Utah these bindings have done the trick for me!

I have them mounted on some Rossi Scratch skis and they kill it!

I have no doubt that there will be many more G3's joining my quiver in the future.
I would like to know if there is many size...
I would like to know if there is many size for that bindings ?
Best Answer
Mary: It will typically fit a 4.5-14US Mens (or euro 37-49). G3 makes a version, the Elle, which fits down to a US Woman's 4.0 (euro 35).
I have 30.5 boots and the G3 binding I got...
I have 30.5 boots and the G3 binding I got from my brother in law is too short (not enough thread in the screws to support the bending boot). Do they make longer cables?
Best Answer
Hey drew, I've got 30.5's as well and I had the same issue when I got my Targa's. If you take the plastic piece on the toe plate off, I'll just about guarantee your bindings are set "short". That is, they are looped under the plastic piece instead of going straight through. Set em to straight through and you should have plenty of cable. Just make sure you get the cable set in there evenly.
A great lightweight backcountry binding.It is very stable on any snow conditions.