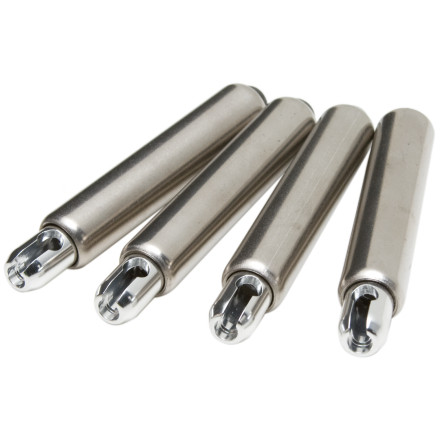 G3 Targa Cartridge Sets provide tele skiers with the ability to customize their G3 Targa bindings to suit their boots, skis and skiing style. These cartridges feature durable stainless steel casings, easy adjustability, and a maintenance-free dry spring design. Racers and aggressive in bounds skiers with the stiffest, beefiest boots prefer the WorldCup cartridge. The XMountain cartridge caters to bigger boots and aggressive backcountry and resort skiing, while the CrossTour cartridge works well in a wide variety of conditions.
These cartridges are simple and easy to change out if you don't have a multiple ski setup. The Cross Tours are just that good for touring and having a nice day on the groomers. The X Mountains are a bit stiffer and good for all around I feel. I have a pretty aggressive style and these give me good stiffness and response. All and all both are a good buy.
Do these come with cables? If not can...
Do these come with cables?

If not can the be ordered and what's the cost?
They do NOT come with cables. Cables are usually $16.95.
Does this come with one or two?
Does this come with one or two?
These come as a set of four (4) cartridges in total.
These are great cartridges. They deliver much more power than the x mountain cartridge. They are not as stiff as some of the BD cartridges but I love them and they do exactly what I ask of the. Nice and springy and I don't get much tip dive on powder days either. These are defiantly the cartridges you need if you want more power.
This Cartridge does exactly what the company says it will do. It is very active, rails groomers, dives in powder. I appreciate the honesty G3 provides in their description, other companies are not so forthcoming and it caused me to purchase an inferior product. Consider your needs, I feel G3 will provide excellent information and and product knowledge, I trust reviews from the company as well as outside sources, I have found them to be accurate across the board.