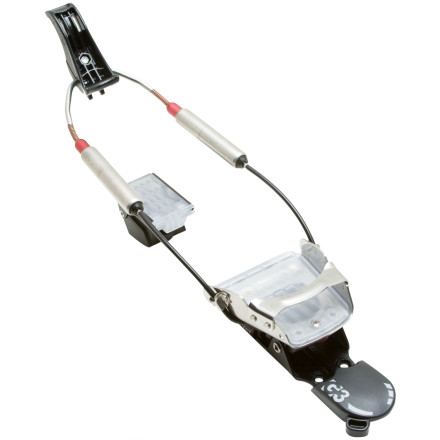 Detail Images
Thanks to the stainless steel toe plate and heel tube, the G3 Targa Ascent S/S Telemark Ski Binding takes on your hardcore backcountry challenges and handles your fat skis with ease. This binding's pivoting toe plate, pole-activated climbing heel, and secure downhill mode increase your backcountry performance, which means you can leave your AT buddies in the dust. This G3 binding's front switch allows the toe plate to pivot as you hike uphill so you don't have to fight against the resistance of a fixed plate. The Targa Ascent S/S's pole-activated climbing heel pops up easily and gives you a more secure hold on steep climbs. Once you're at the top, flip the Ascent S/S's front switch—a sturdy retention bar secures the binding in place for your downhill attack.
Leashes
Gender:

Male

Familiarity:

I've used it once or twice and have initial impressions
I can't comment on the binding (having only riden it for 1 day) but I can say my experience with G3 Leashes was been less than terrific. Make sure you get the leashes with the metal clasp opposed to the plastic clasp which is prone to falling off when you need it most.
These are probably the best back country binding I've used. They are fairly light while still providing good support. I have these mounted on a pair of G3 Tonic and rock them round the Italian Alps for 7 days and they were terrific. Two others also had these binding and they all help up great. Probably one of the best parts is that because the way the binding bends, you're able to use the crampons while the heal risers are flipped up. Great for those steep icy hills. I haven't had the problems with the heal flipping downs, but I believe it's all in who installs the heal risers and if they do it right. Mine were just fine but another member in my group risers would filp down occasionally.

All in all this is a great binding all around binding.
I bought the stainless steel Ascents because I wanted more durability. I thought these would be my favorite binding. At the shop, they tried to sell me Hammerheads, and I didn't listen.
After breaking three cables in one season, I decided to switch to the HH. Fortunately, I was working at Grand Targhee and the 22 Designs guys hooked me up with a pair. I have since tried Switchbacks, Cobras, Targas, BD's, and NTNs. The only binding I've found to rival the HH is the Bomber Bishop binding, which is no longer manufactured. Fortunately, I managed to sell my Ascents for $150, and cut my losses.
The Ascents not only broke, but they didn't give me nearly the power and performance of the Hammerhead. If you're looking for a backcountry, free pivot binding, get the Axl, from 22 Designs.
I would not recommend the Ascent to anyone. The HH or Axl, I'd recommend to everyone.
Is the G3 Targa Ascent S/S only for men?...
Is the G3 Targa Ascent S/S only for men? Or women too?
they are for anyone, but G3 makes a women's version, the elle ascent.
Best touring binding I've used
Amazing binding! I've hardly had a problem with them for two years and my wife skis on a pair too. I've also got a pair of skis with BD 01s which I dread skiing on because I'm always wondering how many problems will I have with them today. These bindings rarely ice up, and if they do the mechanism is easy to free of ice, unlike the BD01s. The heal lifters are phenominal and smooth.
Did g3 ever fix the problem with the heel...
Did g3 ever fix the problem with the heel lifter from falling down while hiking?
Best Answer
I've never heard of the heal lifters falling down. Maybe yours were mounted in the wrong spot.
Colin,Thank's for your answer.
I ski in the wasatch a lot, and have spoken to a few other people,and they seem to have the same problem with the heel lifters. If your going up a very steep slope in varible conditions they keep falling down. I switched to the Voile switchback and it seems to work a lot better,plus it dosn't ice up as much.--- ed jacobs
They did a retrofit years ago by adding that thin stainless plate under the heal. Make sure the ridge is up front and pointed up. May need to slide it a little further forward. Get it where it works best for you and tighten it down. Best heal piece on the market when properly tuned!