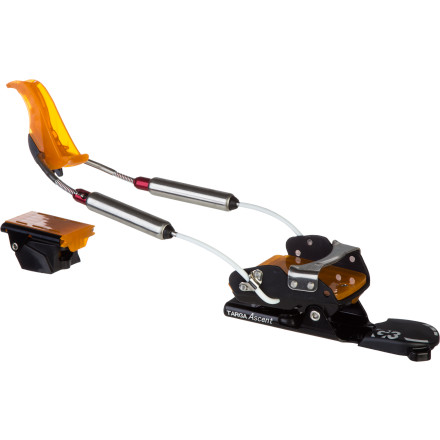 If you're the type of gal who likes to explore the resort as well as hop in- and out-of-bounds, permitting of course, you'll appreciate the ultralight G3 Women's Targa Ascent Elle Telemark Ski Binding. G3 had the ladies in mind when they designed this durable free-pivot binding with climbing heel lifts. Ideal for heading out into the slack or backcountry, and checking out the resort's full potential, the Ascent Elle converts into an aggressive downhill binding for your midfat skis.
In tour mode the Ascent Elle pivots unrestricted on a stainless steel axle located 7mm in front of the pin line for an efficient, natural stride.
In ski mode the Ascent Elle switches to a solid downhill rig that you can rely on
An XMountain spring cartridge supplies the right amount of stiffness needed when you rip it up around the resort, and slack or backcountry
Lightweight aluminum components help save weight and you energy on the uptrack
Pole-activated climbing heel lifts provide 70mm of rise for the skin up
great binding, crappy heel-lift
these bindings are classic G3, awesomesauce tele bindings. the "tour" mode is great, and takes the cable tension off, so that you can pivot from the front of the toe with ease.

the heel-lift, however, should be redesigned. while on steep inclines, if a small amount of snow gets under the lift while pivoting from the toe, the next time you put your heel down, the block collapses *nearly-every-time*. the collapsing of the heel lift is enough to make you want to get a pair of Dynafits. seriously. G3, please redesign the heel-lift on this great binding.