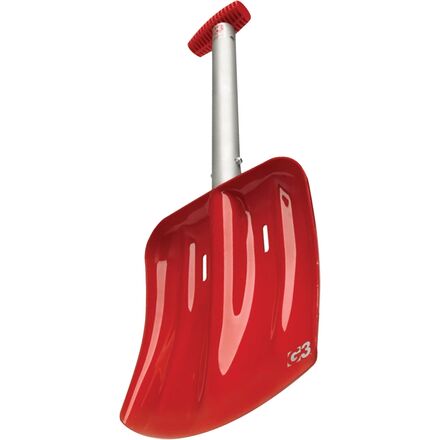 Colors

Videos
Description
Bring the compact, durable Spadetech on your backcountry adventures.
G3 made the Spadetech Shovel with a strong, lightweight, compact design. This backcountry travelers a durable shovel that is easy to pack and easy to pull out. The rounded leading edge and low-angle blade penetrate consolidated snow, and the T-Grip handle provides a solid hold when you're digging snow pits. A TIG-welded connector tube increases this avalanche shovel's durability, and the Spadetech's slotted blade allows for rescue-sled construction.
Share your thoughts
What do you think of the
G3
SpadeTECH Shovel
? Share a...
Good if you want a spade-shaped shovel
Familiarity:

I've used it once or twice and have initial impressions
A solid shovel that has it's place.
Paint flakes off easily. After first light use in snow the paint at the "sharp end" has chipped off.
In a camp site scenario this shovel does not move as much snow as easily as a regular shaped and sized shovel.
Well built. I would imagine it would perform as well as any other shovel in an actual avalanche rescue.
D-handle is very comfortable to hold.
Good shovel for when weight is an issue
Familiarity:

I've put it through the wringer
After getting my first Voile pro shovel about 12 years ago I got one of these little G3 shovels for free when I bought a new avy beacon about 4 seasons ago. At first I was very sceptical- the small size made me think that it was less effective and therefore a liability.

After some time I've realised that having a shovel with a bigger blade will not make you more immune to avalanches, sure you might be able to move snow slightly quicker (assuming that you have both a good shovelling technique, are familiar with concepts like the "strategic shovelling strategy" and are physically strong) than someone with this shovel. But personally I tend to pick my lines more conservatively- if I think there's a chance that I'm going to have to dig a buddy out, then I'll opt to ski a different, safer line.

I still sometimes bring along my Voile shovel with the larger blade, because yes I can move snow faster with it and if I'm planning on digging a sh*tload of observation pits then it makes most sense. But for 80% of my touring I bring the G3 spadetech- because the weight savings and decreased size are worth it in my opinion.
this thing is little bigger than a trowel. take your friends' lives seriously and get a proper size shovel that can move more snow.
Great little shovel.If you want light and want to free up room in your pack, here it is.In summer, I even eliminate part of the handle for less weight.Ideal design for digging snow pits and profiles.
Summer Ski mountaineering
I went on a summer ski mountaineering trip late July and this was the perfect tool for the job....Packed well in my pack....Perfect for penetrating hard snow conditions....
Is this strong, and effective at digging?

Is...
Is this strong, and effective at digging?

Is it one piece or two (does the shovel and handle disconnect?) and what is the strength of the connection between blade and handle if it does seperate?

What is the main difference between this and the G3 AviTech shovel? Which is stronger? which is the better digger? Thanks!
I can answer one of your question, yes, the handle does disconnect.
Best Answer
This is better for diggin in hard coastal and cascade conditions!

Both equally strong.

The avi tech will scoop a larger volume per scoop.