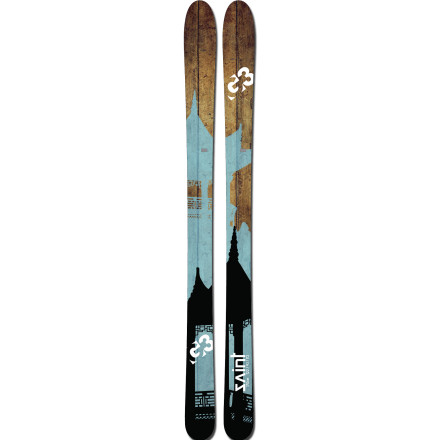 Community Images
Crush the uphill and blaze the downhill with the G3 Saint Ski. For those who like to get away from the resort crowds, but love to ride the empty mid-week lifts let the Saint tempt you with its lightweight wood core, stability in variable conditions, all-mountain width, and responsiveness in dicey terrain.
Lightweight Paulownia poplar wood core allows you to fly up the skin track and still stable enough to charge back down
Early rise tips with a little camber underfoot allows your tips to lift above the snow when breaking trail and sets you afloat on the descent
Semi-cap construction produces a durable yet lively ski
Low-mass tip and tail reduces flutter and swing weight
What do you think about this product?
Have questions about this product?
What's the Rapid Transit replacement? My...
What's the Rapid Transit replacement? My beloved RTs are getting on. I'm a patroller looking for mostly lift serviced but occasional side country. Strictly telly. Any suggestions?
I think you would enjoy, the Saint, or the Tonic.
How does the Saint (and Tonic) measure up...
How does the Saint (and Tonic) measure up against the Volkl Mantra?

I have the 10/11 BD Verdict... very nice ski but a bit soft. I need more dampness and a snappier ski. thinking of the Saint or Tonic... but I keep reconsidering the Mantra. Any suggestions?

THX
Best Answer
I think the Mantra is the king of damp midfats (not so sure about damp yet snappy... seems like those two things tend to conflict). That being said, the Saint is an entirely different beast - it is super light weight. So not really a damp ski, but very nice going up (not true of the mantra with its metal layer). The tonic is in between - it has a much deeper sidecut than the mantra so it depends on how big of a turn radius you like. In terms of dampness, I think the tonic is closer to the Mantra than the Saint, but it's a solid wood core no metal so it doesn't approach the level of the Mantra. If you're considering those three skis, try to ski them, because they are all very very different.