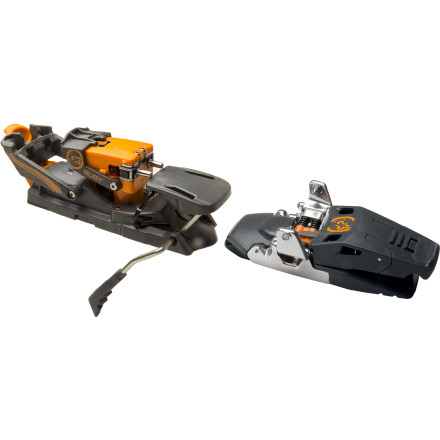 The G3 Women's Ruby AT Binding offers a lightweight addition to your setup that won't leave you gassed after a long approach. Tough-but-light components would put most satellites to shame, and they prove reliable even when you're lugging a heavy pack into the backcountry. Did we mention these are made with forged aerospace aluminum?
An effortless ski/tour switch eliminates the need to do acrobatics when it's time to tour or hit the downhill
Pole-activated heel lifts make life easier on the skin up
Burly components give the binding high boot retention, and keep your skis where you want them most
Crampon compatible
Includes brakes or leash
My GF loves it!
Familiarity:

I've put it through the wringer
After a 4 solid years on the Onyx for me and talking with G3's cust service dept. about the brake deployment issue I bought the ruby for my girlfriend this year along with skins and dynafit boots. She got the skis...anyway I digress. Her first year back on skis in 10 years and I'm taking her in the bc with this setup. She picked up the whole procedure very quickly and is very impressed with the binding. She's even talking about getting more plates and skis types because of the ease of changing the bindings from ski to ski. The weight increase is so small over dedicated bindings like dynafit imo pales in comparison to the changeability from ski to ski. She's 5'1" 115 lbs and never once complained about the weight or ease use. G3 onyx and ruby's are winners in our camp.
Pretty Good
Familiarity:

I've put it through the wringer
I use these bindings touring and skiing at resorts and they have held up well. Able to go in and out of ski mode easily without taking my skis off. They are pretty light compared to other bindings.



I seem to be having a slight issue though. One of the springs holding the pins closed has gotten weak. If I put torque on it (leaning forward to the side) my boot has been popping out. I am going to see if I can get this fixed. As of now I have kept that toe piece in lock position and I haven't popped out.
decent
Familiarity:

I've put it through the wringer
a bit hard to swap between boards, and slightly too complex for what could be a good competitor to Dynafit. But for a cheaper pair of bindings when you need a couple pairs of skis; awesome
This binding really only has one advantage over the much lighter Dynafit bindings and that is you can go from ski to tour without taking the ski off.
But at the price it really is not worth all the other plastic and moving parts that come with it, lets be honest it looks like a nightmare in the back county.
That being said it has not broke yet and it seems to work smooth.
So I would say get it if your more 70% Resort 30% back country other wise look at some of the new Dynafit bindings there getting better each model year.