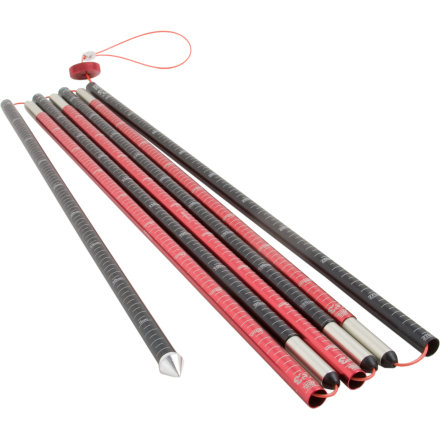 Detail Images
Share your thoughts
What do you think of the
G3
Professional Tech Probe
? Share a...
I did allot of research before getting this probe and came up with a few criteria:
1) Fits in my pack? This it does but with no room to spare. At 20.25" (51.4cm) in height (collapsed) it will not fit in my avy gear pocket of my Dakine pack (ProII) so it resides in the main compartment. Only a slight drawback.
2) Min of 280cm? At 320cm this is one big probe.. let's just hope none of my buddies is buried that deep!
3) Rigidity? With a larger diameter size than most coupled with thicker aluminum walls this thing is a tank and can hold up to Rouche block testing, unlike carbon probes. In comparison with my buddies probes this has allot less deflection.
4) Ability for fast visual depth finding. This is where the alternating color comes in real handy. You can easily tell if you hit something at a shallower depth just buy visual reference alone, something solid color'd probes fail to do. It also has fine markings for accurate snow study/ science.
5) Speed! This is where one star falls off. Speed is of the upmost importance here, and the spindle lock top just does not work fast enough or is as easy to use as other designs.

Over all I am very satisfied with this purchase, especially at the deal BC.com gave me on it. I would recommend this probe to any and all pow lovers.
Has the power to break through ice layers that would break other poles. I like a thicker probe as I can grip it a lot better
As an avalanche forecaster I use my probe multiple times per day, every day. I've been through a few probes, and this is by far my favorite. Why?:

1. It's stout, never has that "about to break" carbon fiber probe feel.
2. Simple screw top is great. I recommend applying a bit of Vaseline to the threads to keep the probe from icing up.
3. It's got markings every centimeter that have withstood the test of time. (I often use the probe in the corner of my extended column tests which means I'm dragging a piece of knotted cordlette across it all the time. Other probe markings have worn off with this practice.)
4. I feel that 320cm is a great length. If you live anywhere outside of Colorado or Alberta, a six foot probe is not going to cut it. Go long, and you can use it to probe for crevasses the next time you're on a spring ski mountaineering trip.
5. Not the litest unit out there, but it's been going strong for me over 3 years of professional use.
If you are going to carry a probe (and you should), this is the one to get. It isn't the lightest or easiest to assemble, but it is very strong and won't let you down. Doily little carbon probes and ski pole probes bend and break in hard snow or avalanche debris. The G3 Pro Tech probe will not only last through many practice probes, but will work when you leave it set up for weeks at a time while probing glaciers for crevasses.

The large diameter tubing and stout ferrules are a plus. The downside is that the screw top adjustment takes time, but hopefully your partner can be digging for the victim while you are getting your probe set up.