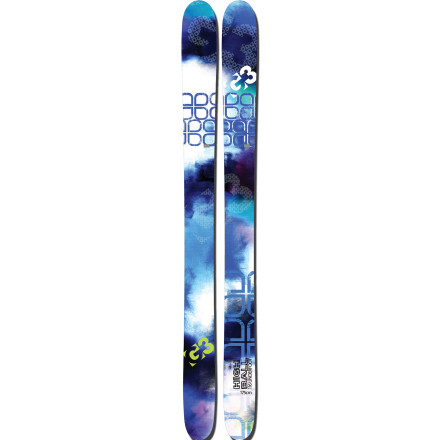 Community Images
Big skis don't always have to ski like big skis. 116mm under foot is great in the deep stuff, but what about the inevitable hard pack and chop? G3 has the answer with its widest ski, the Highball. The combination of poplar construction, low-mass tip and tail, and Sweetrise camber gives the Highball the versatility of an all-mountain ski with the added benefit of huge flotation in powder.
Sweetrise camber allows the skier to modulate the effective edge length of the ski by angling the edge
Low mass tips reduce tip flutter and swing weight
Variable J sidecut provides more predictable turn initiation with plenty of reserve power during exit
Poplar core for greater durability and relatively low weight
Titanal stringers for added lateral stability and greater edge control
Sandwich+ construction provides the damp, smooth ride of sandwich construction with solid tip and tail durability
"Straightlinin' with a coffee in hand"
Where are people mounting these skis? are...
Where are people mounting these skis? are you mounting on the boot center line or forward from there?
this isn't a symmetrical ski so I wouldn't go to far forward from the recommend mount position!
Unanswered Question
Greetings all, Thanks sooo much in advance...
Greetings all, Thanks sooo much in advance for answering this!!!! So i just recieved the 185's (bc.com version) as a gift and I must say they look great, love the stiffness/rocker profile, but still have a few questions/concerns?!?! ABout me: 26yo, level II PSIA Instructor, very strong (college football player, nearly 5'10" and weight fluctuates between 185-200lbs. I ski aspen snowmass (100+ days per season) and looking for a big mtn ski with everyday/powder capablities ( i know, i know.lol) I ski steep and deep (hlands bowl), trees, technical culoirs,medium to large cliffs, inevitable groomers and inevtiable bumps etc. Now to ?'s... First, is this a true big mountain free ride ski for resort use with regular alpine bindings? Will i regret not having something with more weight and more popular for resort like the Blizzard Cochise?? Dont get me wrong, these may be the best skis in the world, i just have no experience with g3 and cannot find anyone locally who does. and i am not going to use these for touring cept the occasional side country hike etc. Where should I mount these for a free ride style? I like to ski aggressive and fast; but also like to butter, smear, surf,and turn the big mountain into a terrain park. Is the mounting AT line to far back for this? Also, is 185 the right length for me? I know rockered skis ski short but with this nearly flat camber im not exactly sure. I want to get it right before unwrapping and mounting these. Thanks soooo much, pleeeeasseee help a fellow skier out with some beta!! Happy skiing all!! Its almost here (in western colorado)
I had these skis just laying around my house from around christmas time, when i purchased them. Unfortunately my search for AT bindings was endless, oh the choices! However, I digress. Finally I got the skis mounted with Fritschi freeride Pros (I think they are a fantastic binding afterall I am a pretty strong 17 year old at 5'10" 120lbs so the uphill is fine, and if they hold me in the downhill, they could hold a lot of people in). ANYWAY back to the skis, My first real day on the Highballs was a couple days after Snowbird received about a foot and a half of light, light snow.

Run Down (pun intended)
My First run I was a little skeptical of the skis right off the bat, mostly because I was skiing more or less Ice. The day before had warmed up the snow significantly and froze overnight, so it was pretty rough. Took a few turns on the off-piste (bumps, horrible idea with the ice) but suprisingly the skis held their own on these icy, choppy, bumps.
Upon ending the run, we headed back up Gad then proceeded to little cloud hoping that the sun warmed up that higher elevation the day before. Instead, we dropped into mineral basin. Immedietly I noticed a difference. With the colder all around temperatures the snow actually was still soft and there were some fresh turns to be made. Being the adrenaline-driven 17 year old I am, I made a bee line to the nearest cliff, dropped it, no problem. The Highball's stiff tails absorb impacts without shooting you out at the bottom, phenomanal in my opinion. After the cliff drop I came out at some pretty high speeds, and the skis absolutely charged through the crud. I was personally amazed at the power of this ski coming from a touring company, who usually goes for lightweight efficient skis. I also own a popular ski (Katana) and these Highballs can easily compete with them in the crud, but far exceed them in the powder.
We lapped a few times back in Mineral Basin doing the same kind of stuff, and each run I gained more and more confidence in my new found favorite pair of skis.
Finally we managed to venture into the cirque off the top of the tram, charging was done, however do keep in mind these skis do have the ability to turn very very quickly, they do prefer to go fast and make big arcing turns. (No problem for me, I've alpine raced for 12 years of my life). Then I got the balls to jump back into the bumps again, sadly they still hadn't softened up and I just ended up torturing my legs to the bottom of the tram.

Day 2:
Back at snowbird again, except the night before it didn't freeze so everything was pretty soft almost immedietly. We made it back to Mineral Basin, and let me tell you, It was wet, heavy, and freaking fun. Heading down the catwalk to get a little speed, I jumped off the lip and into the bowl, landing with confidence, stability, and most of all, speed. Hauling ass through this snow could be scary, but the Highballs handle it like a champ, a few super-g turns later and I had slowed down enough to choose my route through the rocks.
Naturally, I chose the tightest and most technical way down as possible, and with the soft, wet snow, hop turns were mandatory. Since the weight of these skis is relatively light, it was no problem, and even throwing around a few quick sliding turns to get down was without a trouble on these beasts. Oh, and a word from the wise (I may be young but that doesn't mean I dont know a few things) don't be afraid to straightline something on these skis, because these skis have the balls, but do you?
In any case, these skis can handle anything from hardpack crud, to deep powder, to spring slush, to the little bushes you might encounter on your way down, oh yes and groomers, I almost forgot.
These things on the groomers is not what you'd expect, actually much better than you'd expect. Coming from more or less 2x4's strapped to my feet when racing, any ski is comparitively soft, but the Highballs can arc a turn like they are specifically designed to do so. Since the skis have a reverse camber on them, they initially start the turn rather quickly (Since the tip and tail dont make contact when the ski is flat) but when you are on edge and pressuring the ski, the ski flattens out completely and prefers to make those long, sweeping turns.

One thing here though- You must rule the skis, you can't let these skis rule you. If you are not ontop of these things they will take you for the ride of your life. You have to be assertive, and if you are, you will be rewarded greatly with smiles, confidence, and screams from near-by crowds who wish they were as good of a skier as you.

Finally, sadly I have not been able to tour on these yet as the snow here in Colorado (I actually live in Summit County, but was in Utah over spring break) has been piss poor, and so has the snowpack in the backcountry. But I would imagine that they would do just fine in the backcountry if they can rule the resort.

Oh yes, these are the 180's, fantastic ski, end of story.
Initial impressions, after a few days on them: The Highball is surprisingly good on soft groomers I tried it out on after new snow. It is actually pretty quick edge to edge, but then I am an assertive skier, and I think the NTN bindings help with cranking them over some too compared to my 7tm/Linken combo I was using. One of the first things I noticed was that the Highballs are not nearly as "hooky" as my Rapid Transits or El Hombres are. They are very smooth when engaging the turn, which in itself is very confidence building for such a wide ski. I think that lack of hookiness is due to the rounded tail edges.

We had a good dump of heavier snow this week so I took them off in the fluff for several forays. Again, they are confidence inspiring, float very nicely, and the shovels and tails kept me above the surface for quicker turns than when I'm on my RT's.

One drawback I noticed during these two days on them is, they don't do very well in bumps or pushed around and compacted snow. In piles of softer stuff, they bash right through, but in the set-up wet stuff that had been moved around, piled up, and then set-up, they got a little squirrely and transmitted considerable amounts of vibration to my legs. Again, that was in heavy, piled up bumps of snow compared to the lighter stuff I was in on day one.

One thing I noticed about the rocker was that they don't transmit nearly the vibrations at speed to my knees that the Rapid Transits or El Hombres do. It's kinda weird, but that was my impression. They DO transmit vibrations at speed going across heavier bumpy junk and ribs in the snow, but then I think any ski does that in chunked up stuff that has set-up.

My color scheme is a Backcountry.com exclusive rather than the blue ones that come from G3.

Update: Road them today at Whistler on chopped up fluff that was in VERY good shape still due to cold weather. Took them off in the fluff several times including Blackcomb Glacier bowl. They absolutely rocked in the softer stuff, quick edge to edge, awe inspiring, and definitely confidence building. I got in the back seat a few times but the tail is stiff enough to stand up on and get back into alignment. My bro in law was jealous with the float I was getting.

These skis bash through the softer piles of pushed around snow with ease, and enabled me to shift quickly into proper position from piles to scraped-off ruts between the soft bumps.

They even performed admirably on the way down the mountain through the firm, icier slopes. Not too squirrelly in those conditions, but you do have to be on top of them.

By the way, after 3 days of use, these skis have a huge sweet spot, and you can just cruise on them as long as you are aware that they are wide skis and you shouldn't drink and then drive these babies.

Day 4 update. Took the Highballs into all sorts of cut up fluff, windpack, heavy snow, lighter snow, groomers, chop, and soft bumps at Whistler today. We were making turns in about 8" of new snow in drifts.

They absolutely shined in the cut up fluff, kept me on top of the windpack and heavy snow and made me holler in the light stuff. Did just fine on the groomers with new snow on top of the corduroy, piled up bumps and even scraped off stuff*. (Dang knuckle draggers. Rolling Eyes ) They have great edge hold on harder surfaces but a whole day of it would wear me out.

I seem to be getting used to making quicker turns edge to edge on the harder groomed snow, so my initial impressions have been confirmed that these are well-built, and well-designed wide rocker skis.

Buy 'em, you won't be disappointed!
Crazy Versatile for such a big gun!
For reference, I'm an advanced skier who skis backcountry 95% of the time. I'm driving the 190 cm Highballs with G3 Onyx mounted dead centre. I also regularly ski Dynafit Manaslus for ski-mountaining and long tours, and I just came off the G3 Fever. I've skied many other similar skis to the Highball, such as the Rossi Super 7s, BD Zealot and Volkl Katana.

But to the point: The Highballs are just mind-blowing! I have been out on them 6 times in the backcountry in many different conditions, and once at the resort on the groomers, and they just continue to amaze every time. On wide open powder slopes they just destroy. And they are somehow just like racing skis on the groomers.

Yesterday we were skiing 45-50 degree pitches where the snow had sloughed and then consolidated, and you didn't really want to mess up. The titinal underfoot made sure the Highballs just ate that crud for lunch. Then we hit some trees with deep powder and pillows galore. The Highballs are awesome in tight trees due to the full-rocker shape that allows you to make tight smear turns and scrub off speed really quickly-- my 190s feel more like a 180 in the trees and I never feel out of control. In deep powder they are just amazing--The tails don't hook like S7s and you never get tip dive. You can just open it up and rail.

And when jumping pillows and small cliffs they just provide the best landing platform-- they just suck up impacts and let you ski out the landing with confidence. The Highballs are just super playful- you can pop up so easily, and landing and skiing switch is fairly easy. I also want to jib everything in sight now!

I like them better then the Rossi Super 7s for sure just because the tail doesn't hook and the tails don't wash out on you when you get in the back seat. The only thing to be aware of is that this is a full-rocker ski: these monsters are born to just open it up. So if you are skiing steep spines or slopes, they will get sideways on you if you let them and you will slide a bit (think like jibbing). But that is how they are designed, so this is not a knock on these skis. Really it gives you good control if you want to ease up and carefully negotiate steep terrain. But really these skis are designed to turn down the fall-line full throttle.

The engineers really nailed it with this ski-- full credit to them! If you want a big mountain gun, that somehow makes tight trees seem easy, then this is the ski! This ski really deserves to get more attention. I honestly feel it is better than the Rossi Super 7s and that is supposed to be the "best" big mountain gun out there. It is not as stiff as the Katanas, but the Katanas have a full metal top sheet that make them not nearly as nice as the Highball to lug up the mountain. But I never really felt the Highballs were lacking in stiffness- they just inspire confidence for me. They are fine for the backcountry- I just did 4 days averaging 2000m a day and they weren't bad at all. Bottom line-- get on these skis and you will not be disappointed!
Demo'd these at Wolf Creek this last week and loved them. Nice control down the steep and deep. Floated through the powder in the trees. Rolled the edges across the groomers. Would definitely ski these again.
from a experienced skier, 40 years of skiing, level 2 instructor, this ski is really awesome. Was looking for a Gotama like the ones of 2008...these skis beats them by far. A bit heavy even w Dynafit binding, but still manageable.Easy and fun to turn in trees(5'6" 130pnds = 175cm), big turns in groomed, fun fun in powder..manageable, responsive. Great. Love them, was looking for it since a few years.
The name of the couloir is bigger than the line.Fun ski line regardless.Took the Highballs out for a rip for the first time up on the Duffey.
It's good to know people in high places.Big mountain charger ski.I finally have a ski I can take to the ski hill on the big powder days.Floats through powder and edges through crud.All the days I've spent climbing uphill, now I can take to the lifts and charge downhill.Especially good in the coast mountains where we get of a lot of wet powder days.
I can't slow down! (But in a goood way) 190 Highball
What a sick ski!, shredding in deep PNW pow at baker this ski performs and pushes you off the edge. Fast, big, aggressive turns, lands like a dart with pillow, suspension technology, and it skins up with ease and big strides.

Just skied, chalky dry pow and slide down some spines, and pillow ridges and the rocker is more pronounced than you think, but it still has a stiff tail, that locks in your landing with the strength off a ski that is made of metal, but with the lightness of TUA wood core ski. One of the best jumping skis ever! They just want you to go faster, bigger, higher than before. LOTS OF POP! Also ski's backwards/switch real nice, high speed groomers are also fun, being able to rail turns in any condition on the hard pack. Overall my feelings are strong that this ski is the answer! I can't wait to open it up when it gets a little deeper! Good swing weight in the air, for tricks or just going huge, this ski can handle anything you want to give it! John - 6"2 - 200lbs, fast, strong, aggressive skier.
I have skied many styles! Starting in the eighties,I was hitting the moguls,then I joined my High School ski team so I could get a free bus ride to Whistler..(Where I learned to race gates)Then I taught skiing...then ski patrolled for 10 years..

I tried these skis for the first time last year on ski tours and in bounds...I just felt like I was in the Fun Zone all the time, skiing all the styles I learned as a kid...These skis just made everything easier and more fun to ski,and I have not even used these on (deep)powder days yet...I am looking forward to floating my way to happiness!