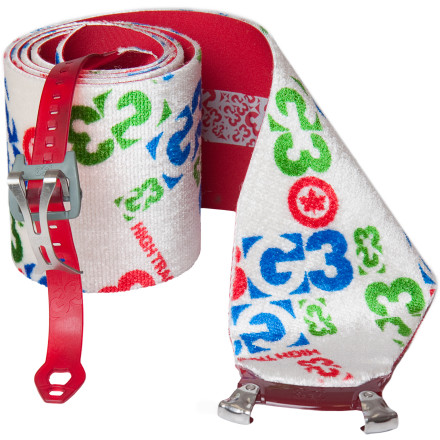 Tenacious like a rabid dog with glide like an eagle, the G3 High Traction Skins will take you to the summit, even in negative 20-degree temps. Lightweight and equipped with RipStrip to reduce skin-to-skin stickiness, these skins stay secure for climbing that's otherworldly efficient.
Lightweight synthetic plush material glides like a dream and grips like a vise
Non-toxic, solvent-free glue sticks at -22 degrees Fahrenheit
RipStrip reduces skin-to-skin adhesion for easier separation
Laminated tip connector features low-profile, self-aligning, stainless-steel hands
Attachment strap adjusts and clip provides just the right amount of tension for a secure, stress-reducing fit
Unanswered Question
I have Rossignol BC 90, 169 cm length.What size skins? Thanks.
can you fit X-short on a 164cm ski?
Hi Nina,

You may be able to force it on there but it'd be quite the effort. I'd recommend going with a Short.

Ben
So... dumb question, but this is a pair right?
Yes, these are sold as a pair. If you have anymore questions feel free to contact me at 1-855-485-8180 ext. 4791
Sweet skins!
Familiarity:

I've used it once or twice and have initial impressions
I really love G3 and can't wait to get out and use these more! Also- the traction is impressive along with the quality. It's great how simple it is to get the skins on the skis and use the tip and tail connectors. I would recommend these to my friends. Also- I've noticed that a lot of different people think G3 makes awesome skins and that they last long and I understand why. They're just really great.
Glue failure, but G3 is making it right
Familiarity:

I've put it through the wringer
I love traction, I love the tail design, and like these skins better than the other brand. However, I've had some serious glue degradation issues. But I think G3 is going to make it right under warranty.


I have the Volkl Kink at 179cm with dimensions of 122-89-112, what size skins would I need?

Hey Edward,



You want the 115 mm, Medium size in these particular G3 High Traction Skins for your Volkl Kink skis. You would then need to trim them to fit the exact shape of your skis to maximize your uphill efficiency. Check out the newer model of the G3 Alpinist High Traction Climbing Skins (Item # GGG001S) as it looks like we have your size in stock.



Feel free to shoot me any additional questions on climbing skins or anything ski related.



Kyle

Expert Gearhead

klivingston@backcountry.com

801-736-4337
Bomber tip and tail connectors
When I skin I'm usually carrying extra weight so I went for the high traction option. Skinning is a great way to exercise outdoors but it can get frustrating if you're taking two steps forward and one step back or the tip/ tail clips keep slipping off. As soon as you get on a pair of these you can tell alot of time was spent designing them to be dialed. The sizing can be a little tricky. If you ask a Gearhead, they can match your skis to the appropriate size skin that will get you the perfect fit.
I have Dynastar cham 107 184cm ,what size skins...
I have Dynastar cham 107 184cm ,what size skins do you recommend
since the shovel of the Cham 107 is 137 you need the 140mm Long.
Hi, I have a pair of Atomic Access 191cm. What size G3 High Traction should i get? i was thinking XL, 130mm. is that correct?


Hi there,

Yes you will need the XL length, and for full coverage, you will need the 130mm and trim them down!
Great skin. Would buy again.
Familiarity:

I've used it several times
I've used mine about 15 times now. I feel the traction is slightly but noticeably better than my BD ascensions. If you look closely you can see that the hairs on the G3 High Traction are indeed a bit longer the Ascension. I also much prefer the G3 tip and tail clip mechanisms. As for glide, when do I ever glide? Most of my backcountry forays are up/down for powder laps. The trade off of better traction for reduced glide is well worth it for me.



I would not hesitate to buy this skin again.
Best traction i've ever had.
Familiarity:

I've used it several times
These are fantastic skins for those who are new to touring. The traction is next to none, and the glide doesn't suffer so noticeably that I wouldn't consider them for a long tour. And the attachments for your skis are bomber.



The glue could be stickier, but I havent had issues with it yet, So I wont take a star off for speculation.



Best purchase I've made for my touring setup.


Beats Black Diamond
Familiarity:

I've used it several times
I got really tired of my Black Diamond skins not staying on the tips. These nose clips never accidentally slip off. You can tell just by looking at them the fibers/hairs are longer and have better traction.
Quick breakdown between the Alpinist, High Traction, and MoMix by G3
I have a pair of skis 180cm 126/115/124 and was wondering what size skins i will need. ?mm and med or long .
Hi there,

You could easily get away with the 115mm-Medium! Please feel free to get in touch if you have any further questions, my email is kweiser@backcountry.com
I have the last model K2 obsethed 189cm, dimensions 146 / 117 / 134 mm. Trying to find a good fit climbing skin. Read comments about these G3 being a bit short?? What is the right size for G3 and/or are there better skin options for these skis? Can't find the original k2 fitted skins for these anywhere.
Ski manufacturers often measure length of their skis differently, which kind of throws off this size guide. I did just see a review for this skin on the K2 Shredittor, so for K2 skis I think it would be a good idea to size up! In that case, I'd pick the XL. You'd probably also want the twin tip kit that Grant mentioned... that is item #GGG0154



Check out that review for k2 sizing by Jon:

http://www.backcountry.com/backcountry-backcountry-climbing-skin?ti=U2VhcmNoIFJlc3VsdHM6YmFja2NvdW50cnkgc2tpbjoxOjE6YmFja2NvdW50cnkgc2tpbg&skid=BCC0343-BLU-S100MMSHORT
I am wondering if these skins come with the twin tip connectors?
Best Answer
Negative, those are sold separately. Item: GGG0154
I have K2 Pettitor 189cm ,what size skins...
I have K2 Pettitor 189cm ,what size skins do you recommend
Hi there,

A size 130-Long would be a great choice- you can trim those down to fit underfoot, and they will still give you enough coverage in the tip and tail
I have K2 Coombacks (167) what size skins...
I have K2 Coombacks (167) what size skins do you recommend?



I also have K2 work stinx and it would be great to use them on both skis, but not required.
Hi there,

For the Coombacks, a 100-short would be a great choice that would give you enough coverage. They would be too wide to be compatible with the Work Stinx though unfortunately