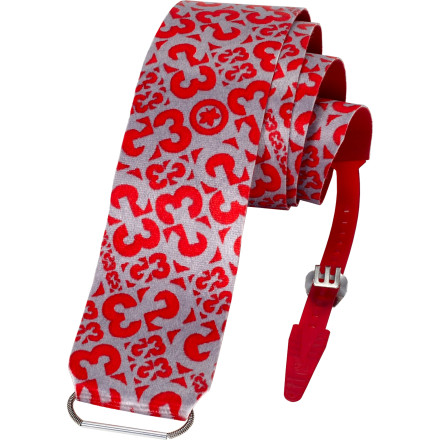 Colors

Community Images
Description
A sweet skin-to-ski connection.
Not stoked on stopping every ten minutes to wrestle your skin-tail or tip back on your ski? The Expedition Climbing Skins use G3's Tip & Tail Connection System to make your skin feel like part of the ski while you climb.
Laminated tail reduces weight and drag
Tip loop system for a secure fit
Waterproofing helps prevent clumping
Temperature-tolerant adhesive won't flake-out and loose stick when it gets cold
RipStrip makes it easy to pull off the ski and reduces skin-to-skin sticking
Includes G3 trim tool
Share your thoughts
What do you think of the
G3
Expedition Climbing Skin
? Share a...
Ive been touring with these skins for 6 seasons nth and south hemisphere and they are still going, no re gluing needed, just stored correctly. The tail piece can come loose on a flat tail ski, however for expeditions this has not been a major problem for me - in deep fresh snow it can be annoying.
Great product, wish they came with a bag
I have used it twice in the backcountry so far on my tele-skis and they have worked great. I was expecting at least a carrying bag from a good company like G3. Else I would have given it 5 stars.
i have 2007 she's piste skis. 112-70-97, length 174. could i make the 90mm work? what is the length of those?

Hey CCC,
These skins are 205mm in length. For your skis I would recommend going with the 110mm width. They should trim to fit perfectly.
Bad choice
Gender:

Male

Familiarity:

I've used it once or twice and have initial impressions
I am new to alpine touring and I feel like I was taken advantage of by being suggested to order these peaces of garbage. Not only do they not come with a mesh for saving the skins future use. They also came with a tip loop that was far too small to use on a ski that needs 130mm skin. If the skins going to be that thick send a thicker tip loop or its useless... Another thing is these do not work well on twin tip skis that have an emblem on the tips because the tip loop gets caught on it and makes it sit funny. I wouldn't suggest ordering skins off of this website unless you really know exactly what you are doing. Their advice is amateur and not anymore helpful than what I already know for the most part. have to say this was my most disappointing buy from this site so far. Not to mention I purchased these at full price $150 and should have just gone with a higher model on sale for a few more. Now these peaces of garbage are on sale for $92 and I have to say that is still overpriced.
Pretty ticked off right now
I got this for myself with the intention of going on some short touring trips and all seemed dandy. However, when I got the skins, the first thing I noticed was that the trim tool was missing, though it said it would be included in the box. I didn't mind that really, and just borrowed one from a friend. When I actually went to trim them to fit my skis, it appeared that someone had already tried to (and failed) at cutting them, there were even sharpie marks! The first skin was totally fine, and I trimmed it down to size, but the other one didn't even reach the end of my ski! I'd like some explanation as to why I was sent what appears to be a used product. Never giving G3 my business again.
Chose these because they were cheaper....bad decision Pat. The tip attachment simply uses the skin folded back over on itself...needless to say it sucked. The metal tail clip also doesn't stay in place unless the skin is completely attached & the clip is around the tail. Much lower quality than all the other climbing skins I've bought in the past. The more expensive G3 skins are excellent.
How do I know what size to buy?
Hi Aidan,
You won't need to cover the entire base of your ski, just a good chunk of it to get good grip. Feel free to email me with the dimensions of the skis you want to use them with, and I can help you out with the sizing- kweiser@backcountry.com
Works well for G3 Fevers.
Familiarity:

I've put it through the wringer
This skin works well in the nontraditional snow conditions that a skier experiences in the Aleutians Islands. I personally have used these skins over the past two years and have used them in a variety of conditions. Since there are not ski lifts in Unalaska, AK a skier's skins are one of the most important pieces of equipment. Little powder, but mostly wet snow/ice conditions are what a skier experiences in the Aleutians and these skins have been very dependable. In a typical skin trip lasting 1-2 hours the skins grip on the snow/ice well and remain consistent in multiple trips in a day. In the past years I have averaged 15-20 days of skiing and the skins have help up pretty will with only a few signs of wear and tear. Very little slippage and they have the ability to climb pretty steep slopes. On flat ground the skins slide very well with hardly any drag.
When I first bought the skins I did have to trim them slightly to fit my G3 Fever Skis (193 cm length, 100mm under foot). The only thing that I have that detracts from the skins is a little scratching from the hooks on the front tips of my skis which is to be expected after two years of pretty rigorous use. Over all I am very satisfied and I rely on them every time I go skiing.

size for atomic ritual 182cmm straight...
size for atomic ritual 182cmm straight install, 100mm ok?
Hey grep1163335,

With a straight install on the Atomic Ritual 182 cm you will be great with the 100mm size. I hope this helps.
They fit my G3 Fevers that are 193 cm and 100 mm under foot really well.
I have G3 spitfire skis, and the measurements...
I have G3 spitfire skis, and the measurements are 123 89 111. Would these be good, and which size is best? (Based on the other questions I'm thinking the 120 would be right ...) Thanks!
Hey Paul B,

Thanks for your question.

You will be great with the 120mm size. The trim tool will cut the skins edge to be about 2mm from each of the edges so that the edge of your skin will be exposed but the base of the ski will be covered by the skin. So your tip will be properly covered with the 120mm size.

I hope this helps.
Would this skin be ok with the salomon...
Would this skin be ok with the salomon stella q 158? The widest part of the ski is 124 so I was thinking the 120 width. It's my first time buying skins, sorry. :)

Many thanks!
Hey karen kirkham,

Thanks for your question.

The 120 mm would be a nice fit for your skis. You want the edge of the skin to be about a millimeter or two from the edge of the ski so with your ski being 124 mm at the widest will have a nice fit. The G3 trim tool included with the skins will help you shape the skin to the rest of the ski to have the perfect fit. I hope this helps!
Do I have to buy the tail clip to use this...
Do I have to buy the tail clip to use this skin or I just can use it without it? Does the skin comes with this tail clip?
Best Answer
Hello Nicolas,

The tail clip comes included with the purchase of these skins.
It is a rubber piece physically attached to the end of the skin.
I suppose you could cut it off if you didn't need it, but I'm having a hard time determining why that would be useful.
The tail clip helps keep your skins in place, especially as the material becomes wet and less sticky (or perhaps icy) while touring.

What are you up to? : )
I have a 142-115-139 ski, would the 140mm...
I have a 142-115-139 ski, would the 140mm skins have a loop that will fit the top of my ski? Is it possible to purchase a larger toe loop?
Best Answer
They will fit just fine.....
When trimming the skins, the metal edges of your skis must be visible, so you simply will start trimming not from the very beginning, but a little further.....
When you glue the skins on the skis, then at the tip they should fit perfectly.....
will these work on my 160 k2 she's back?
will these work on my 160 k2 she's back?
They will, you need 120 mm wide and you will need to cut them on length and trim to your skis.
Will this skin work with my 205 cm Madsus...
Will this skin work with my 205 cm Madsus EON back country skiies?
They will.
They actually are 205 cm long but you gonna need to cut them a little bit anyway and trim them to your skis.
Hi I need skins for my 188cm Soul 7s...
Hi I need skins for my 188cm Soul 7s (137-108-127) and my wife's 170cm Kikus (139-107-123). Please can you help me with sizing?
I would recommend the 130mm for both of your skis. although you could go with 140mm if you are picky about wanting full coverage.
G3 Expedition
Familiarity:

I've put it through the wringer
I have been very impressed with how well these skins glide compared to BD's Ascension skins and uphill traction seems to be just as good (though my G3's are on a bigger ski so there's more grip area). They have shown a bit more wear along the cut edges than I expected but nothing too bad, I still expect they will last for the life of my skis. The tail clip is a clever design that is quick and allows you to easily adjust the tension on the skin. Overall I prefer these to the two pairs of BD skins I've had.
HOw long are these skins, from one sticky...
HOw long are these skins, from one sticky end to the other [i.e. excluding the tail] ?
How wide is the toe loop? Is it the same for each skin width?
A widths of the G3 Expedition Climbing Skins start as 205cm length and can be trimmed to your desired length with the trim tool that comes included.
Everything you need for skin trimming
Here is a video for how to trim your skins!