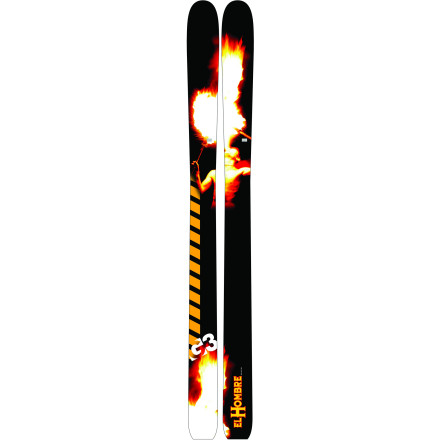 I'm 6 ft tall, 182 lbs, mostly ski untracked...
I'm 6 ft tall, 182 lbs, mostly ski untracked powder in the Colorado backcountry but an occasional resort on a powder day. I love tree skiing. Is this the right ski for me, or is there a better, lighter alternative that floats well but cranks tight ones in the trees?
These are good, but gone. I'd give the G3 Zen Oxide a run. Super quick, but the weight won't crush you.
Round two thanks for the first answer, now...
Round two
thanks for the first answer, now for sizing:
I'm 5'11" 160ish and a decent rider (season at Jackson, but I wouldn't describe myself as more than a high intermediate judging by the expertitude of the rest of the folks posting on here) Last skis were Rossi S5's of which I broke two pairs and will never ever buy rossi's again. When they were alive they were buckets of fun, very playful and whatnot, but I am pretty sure that they weren't burly enough for what I really prefer. (they couldn't hold big, whomping turns so hot). These days I'm mostly trapped on the east coast, but with the priority of one big trip out west per year. My terrain preference is in the trees, steeps, bumps (what else is there at some east resorts), and the occassional park lap.
SO: all this info for one simple question
177 or 185 or 192 (maybe I could handle it)
Neale-for your size/style I'd go with the 185 if you can find any. Good luck & keep 'em pointed!
I am looking to get a new pair of skis...
I am looking to get a new pair of skis this season. I have skied BD verdicts and really liked them but i want something with a little more float. I tried the BD Zealots and hated them, for me they are the worst ski I have ever been on. I am 6'2" and 220. I want a fun playful backcountry ski that can still hold a strong edge when I find myself on hard crusted over snow. I am thinking about the G3 El Hombre. I will mount with freerides and use Garmont Endorphins. Usage would be 90% in the backcountry along the Wasatch front in Utah. I would welcome any recommendations or comments.
The Zealot is not a playful ski at all. Try something with a lot of flex, a lot of width, and early rise or reverse camber. There's a lot out there, but playful is pretty much synonymous with reverse camber these days, so look at the K2 ObSethed, the Armada JJ, the Surface Live Life, or something like that. The Verdict and the El Hombre are more traditional skis for linking up quick, snappy turns, and laying out pretty conservative lines. Rocker is what you want. For backcountry, you'd be happy with some Voile Drifters.
Good luck.
reverse camber is the worst idea ever for BC rideing.......your ski should not be a pain to lug up hill with u. the G3 el Hombre is fun....soft tip and a big shovle make it super in everything. i mount this ski with dunafit and drop big stuff always
So this could be an immensely stupid...
So this could be an immensely stupid question, but would these work passably well as standard downhill skis? Long story, but I'm buying skis in the czech republic and it's hard to find boards that aren't for carving and in the price range. These are showing up very cheap at a prague shop and I'm wondering if it could work out. I'm about 5'11" 150-160 depending on the week, and I'd say I'm a moderately aggressive skier (prefer speed and diverse terrain/not as good at cliff-huckery as I should be though) I appreciate any of your thoughts.
Hey Neale, these would make an outstanding all-day, every-day ski for resort skiing. They are light for touring but are not flimsy at all and excel at the kind of diverse terrain and conditions that you describe. We here in Utah see them all the time up at Alta and Snowbird. Buy them up and have a great winter.
Is this a good tele ski for a life-time...
Is this a good tele ski for a life-time alpine skier? I would stop just short of saying I'm expert on alpine (I'm not Jeremy Bloom), but many times, I'm waiting on friends and family when skiing. It's time for something new that just might slow me down while skiing in large groups. I'm an aggressive skier, comfortable in any terrain (trees, bumps, bowls, chutes), and so far I have been confined to resort skiing with the occasional hike. I want to get into tele so I can do more backcountry skiing here in Colorado. I've borrowed friends' setups three or four days here and there. Even when I get experience on tele, my guess is I'll still be doing 80% of my riding at the resort. Is this too much ski for someone new to tele but 25 years of alpine experience? I'm 6'1", 150 lbs, currently riding a 176cm alpine setup. I'm considering the 177cm.
Not at all. With the dims this ski boasts, it would make an excellent one ski quiver. The tip may be slightly soft for chunder, and beat up snow, but I would definitely consider this ski.
I second John Duke's notes. The only drawback may be mach 5 turns on the groomed, but it doesn't sound like that is what you are looking for.
Enjoy!
For inbounds skiing the Hombres are as close as I've found to one tele ski for all conditions. Just fine on the groomed, great in powder, blast through chopped-up stuff. They are great in the backcountry too, but heavy. You are light enough that the Zen Oxides (same sidecut but lighter core) might work just as well inbounds, while saving a pound or so in the backcountry. I'm 6-4, 205, and ski the 192 Hombres (obviously, heaviest of all), and I really notice the Hombres' weight when climbing for BC turns.
These skis are beauties. Mine are the 177 length, mounted with rottefella ntn short bindings, and skied with 25.5 Garmont Prophet Boots. I am 5' 5" 150lbs and have been telemark skiing for 3 years(60+ times a year). I ski in the Midwest. The snow is getting pretty slushy here, and these worked great. Took a little while to adjust to size of them, but are working great now. They are great for soft snow and powder, and are stable at high speeds. However, I almost lost control of them on hard pack at speed. That may have been pilot error, because not used to such burly boards. The graphics on these skis look sick in person. Get them, and watch your tele buddies drool.
I am thinking of buying a pair of El...
I am thinking of buying a pair of El Hombres, but I am confused about ski sizing these days. I am a resort/backcountry skier in Washington state. I am looking into getting a pair of fatter skis to to support and upgrade my K2 Work Stinx (182 cm) on deeper days. I ski anything from bumps and trees at the resort to bowls above treeline in the backcountry. I am 6' 2" 200 lbs. I live in a part of the state that has no Tele or backcountry support (the only good shop around sells alpine and snowboarding gear). The only info I can find online is that size is up to skier preference. I have never had the opportunity to demo different sizes of skis and so I don't know my preference. I have to order them online and ski whatever comes to my door. The 177s sound short to me, but this is also a pretty wide ski. I know the 177s would be better in the trees and the bumps. What are the disadvantages to going smaller instead of the 185s? Would I lose much floatation?
Best Answer
Wow! What a question! I don't want to say "vague," but perhaps "broad" would more aptly describe your inquiry, and subsequent answer. We need to know your style of skiing, what terrain, what kind of weather... Tell us about yourself: What do you WANT your ski to do? There are so many styles of skis available now, that you can practically have a custom pair that's already on the market. Give as much detail as possible.
A 185 would definitely be a more adequate ski length for a person of your build. You will able to negotiate any terrain easily enough, and make tight turns when you need to.
If you aren't able to demo skis, see if you can't check out other resources and reviews, or, borrow some folks equipment. Most people are pretty excited and willing to show off their gear, and if you're nice, they'll let you take a run to share the stoke. Otherwise, backcountry.com is THE place to shop. You won't find a better (lifetime) satisfaction guarantee anywhere else. If you don't like the ski, then return it for something different.
Also, merely for expressing my own opinion and sharing my stoke, I have to encourage you (and everyone else) to buy a ski with rocker or early rise. Right now, I don't want to ski anything with traditional camber.
if you go with the 185 you will be super stoked, i think there is a place for a traditional camber and this is the ski for you, Paul Parker did a great job with this one!
The G3 El Hombre is very nimble and lively, easy to toss around yet it can still hold a mean edge when you want to put your foot down and go. I wanted to get away from the stiff mid fats I was on and go back to a more flexible mid fat this year and what a blast I am having already popping off of everything but I can still hold a mean edge at high speeds and beat my friends to the bottom.
P.S. I am a former extreme skiing competitor alpine skiing on them.
Anyone know the official turning radius...
Anyone know the official turning radius for 177cm El Hombre? I can't find it on the web.
All the reviews and specs I have found for the El Hobre, or the Xenoxide, say that the turn radius is "skier dependent." This is over my head, but I believe it is similar to how Line skis claim that they have "5 different turn radius' in one." I don't think it's rocket science, but I don't understand the physics and geometry to make that work. To answer your question in as much detail as I could gather, without doing a flex test and algebra, I'd say "medium." Sorry I can't help more than that. Good question, though!
I have been tele'ing exclusively for 10...
I have been tele'ing exclusively for 10 years, pretty hard and fast resort skier. I am making the switch this year to the scarpa TX Pro and NTN binding which means i need new boards. I will remount my Karhu Team 100s (size 188s) which will be my big mountain, go fast set up. But now i am looking for a snappy, high speed cruiser, bumps & jumps and good for the corn ski. The ski i have now for this is the volkl T-rock, but i think i would like a little more under foot. I demoed both and really liked the G3 Hombre (size 177) and the Rossi Sick Bird...but can't decide...any input is appreciated.
Best Answer
I have been telemarking for close to 30 years (gulp) and taught skiing for 5 seasons here and there. I have never found a Rossignol ski that I really liked-they always seem too flat...like K2's as well, I think they're just big ol' mass produced skis for the most prat. I am pretty picky, though.
I own a pair of the asymmetrical G3 Rapid Transits, my last ski before this was the asymmetrical G3 Tickets; I am a huge fan: they are well made, usually quite lively, and more than anything, they ski like a ski should. The Hombres are a big ski, though, I am not so sure you will get them to be lively in the bumps unless you get them relatively short for your size (which I did on purpose with my Rapid Transits-I got them in 171, mostly for bumps and trees-but in reality I probably should have gotten the 176!)

G3: The more you can give them the more they give back. Not so with Rossy or K2 (even tho you are not asking about K2's.) Were I to buy another G3 ski, it would be the Hombres to round out my quiver.
I have heard decent things about the Sick Bird, but I just tend to think G3, being a much smaller company, makes a better, more dedicated, and durable ski...
I thought that the Hombre was pretty similar to the Team 100's when I skied them. I'd choose the Karhu's over the G3's any day for the type of skiing you're talking about. I disagree with ahomichael about Rossignols; the Ravyns are perfect for fresh, corn, mank, and jumps. G3's are too tenacious and lively for me. I prefer a ski that doesn't get deflected. They are just too light for how stiff they are. I thought the Hombres were too stiff and unresponsive for crud-blasting and variable conditions.
Volkl Gotamas or Katanas would be a good choice, or some Scott P4s.
I'm a fairly aggressive skier and have...
I'm a fairly aggressive skier and have been on tele's for about 3 years off and on between alpine. 180lbs and 6 ft. Think I can handle these or any other suggestions? Also i'm looking for a fairly soft playful ski. Thanks.
Hey Ron, not sure if they changed the ski from last year, but the 09s were a hell of a lot of fun. They are not "soft and playful" per se, and needed some speed to come to life, but if you are comfortable making fast tele turns, they are a great choice. I'd also check out the Line Prophet 100s.
Ron ,
the skis have not changed from last year you will have lots of Fun with the Hombre. If your Looking to loose some weight choose the Zen Oxide same ski with a different core to make it lighter.
i have the 07 -- however it is the same ski.
I have skied many many skis, this is defiantly on the top of my list. get it with out looking around, you don't need to demo. if you can't handle this ski, put it away, get better and then come back to it when you can ski a big ski.