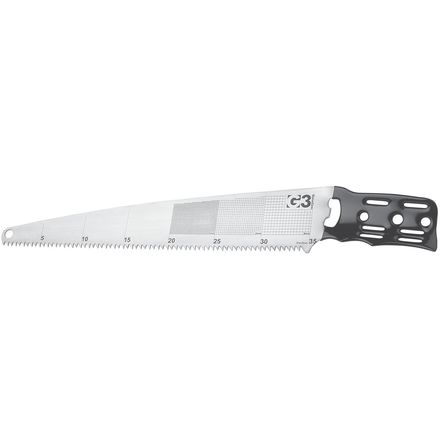 Community Images
Description
Everything you could ever want in a snow saw.
In designing the Bonesaw, G3 got together with guides and avalanche professionals to see which features were useful and which ones were useless. After months of design and testing with skiers who spend 100 days in the backcountry each year, they've got it dialed. The G3 Bonesaw has become one of the most versatile snow saws available. This burly saw has offset teeth that can cut snow, ice, and even wood. It comes with a durable sheath for easy carrying. The best part is that with two included straps, you can attach this saw to just about anything. Strap it onto your ski pole, avie probe, shovel handle, long stick, or anything else that's at hand to increase your reach for cutting test pits and Rutschblocks. For easy snow safety research there are measurements on the blade aid in making consistent cuts for tests and there are three different grids for determining snow crystal size.
Dig, Study.... LIVE
Familiarity:

I've used it several times
This is my first snow saw and I'm very happy with it. If you're serious about digging pits, you're going to need one at some stage. This one is relatively light and compact and seems tough and strong. It's got a ruler for measuring column widths and mini-grids for snow crystal sizes. Handy too, for the odd bit of wood surgery.



The handle can probably be ski-strapped to a ski pole for some long range cornice cutting, although I haven't tried this.



The bonus bottle opener is a nice touch for those post-touring trailhead beverages!
Great saw
Familiarity:

I've put it through the wringer
Works great for me. Nice and light weight. Cuts snow with the best of them.
All you need in a saw.
Familiarity:

I've used it several times
The G3 snow saw has a great crystal card on the blade so you can check you snow grain sizes. It not only cuts through snow, but wood also. It's lightweight and packs well with the sheath that protects your backpack. And it comes with 2 ski straps and is complete with a bottle opener.
quality
Familiarity:

I've used it several times
it big and its lite and there is a bottle opener. awesome saw cuts through the hard layers with no issues and there is just no better tool to use to check layers. also the crystal grid on the saw makes it a nice 2 in 1 kinda thing.
, ☃bcs_badge_alumni_label☃
Cuts like a hot knife through...snow.
Gender:

Male

Familiarity:

I've used it once or twice and have initial impressions
I have only had a chance to use this saw a handful of time but it has met all my expectations. I had used a shovel to isolate snow columns in the past and this saw is a major upgrade, making accurate stability tests much easier to produce.
Very nice, well made saw...for righties.
Gender:

Male

Familiarity:

I've used it once or twice and have initial impressions
Very nice saw, great feel of the handle, as long as you're right handed. Unfortunately I'm left handed.
I was caught in an avallanche a while back in the 90's and i had the bonesaw with me. It was perfect! I managed to "release" my foot in 35 seconds. I strongly recomand this tool!
And it can open your favorite brew!
this is a great saw! one of the best 35cm saws out there. its an ounce or so lighter than comparable saws, fairly ridgid for its length and weight and it cuts precisely. also, worth checking out is the brooks range scientist 35.
It cuts snow really well. As it should.
Too many days in the tent....
Noah....Stop looking at me that way
Solid like most G3 products.Excellent for isolating columns.Doing
full snow profiles.Once more tool you should have when backcountry skiing.
I can not claim to be a snow expert, but I was with a gentlemen the other day who is. When we were exploring the backcountry, we decided to dig a pit and this gentlemen as I say pulled this tool out. I was amazed how much more this tool did then just cut snow. It has crystal measurement scales, charts, and light weight too.
Its pretty fun to cut perfectly shaped snow samples too.
As an avalanche forecaster, I'm always digging in the snow. This is my saw. The markings help to keep cuts straight, and the saw goes through anything, even the dreaded rain lens. I often use the included straps to attach the saw to the end of my shovel to isolate extended column tests in shallow snowpacks. I've never tried to quarter an elk with it but, for a dedicated snow tool, you can't beat the Bonesaw.
Judging from the picture it looks as though...
Judging from the picture it looks as though this saw is designed to be used with the right hand. First, is this true? And second, is there a left handed version for us southpaws?
Yes it is designed to be used with your right hand.
I do not think there is a left handed version.
Brooks-Range.com makes snow saws for lefties.
Works great for isolating columns in your snow pit!
Packs well in my pack!
It works!
Cuts wood and snow with ease
I have trimmed lots of trees and brush as well as thousands of snow pits with this saw and it works great for that. Attaching this to a pole has never worked well for me at all, the connection is always sloppy, I just end up using cord to cut cornices.
Any comments on how it attaches to poles,...
Any comments on how it attaches to poles, probes, ect. Does the strapping system work well?
It works reasonably well. The straps are the stiff rubber backwards-thumb-buckle type straps that you often find at ski mountaineering shops for strapping your skis together. Usually they strap tight enough around and most things aren't completely smooth (even probes have a bit of a bump at the end) to keep it from sliding off. The curved handle works well to help staying on too. But as with any saw-attachment, it can be sort of bulky (i.e. difficult if not impossible to push through the already-sawed slot) and hard to saw with from a pole-length away.
Being a guide up here at valdez heli camps, i've put the g3 to the test. everything from cutting wands for lz's and pz's to cutting columns pit after pit, the g3 seems to hold up just fine. i haven't used it to cut cornices, so i can't say how the attachment system works. the only thing i wonder is if any one has has issue with it bending? i haven't yet so overall a great tool