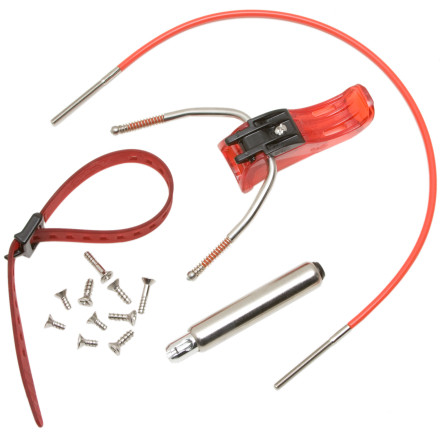 Description
G3's Targa Backcountry Binding Kit—don't miss a day in the backcountry because of a broken binding.
The G3 Backcountry Kit gives you an assortment of extra parts for extended backcountry trips. With a tension cable, lightweight aluminum heel wire assembly (for Targa and T/9 bindings), heel throw, one XMountain cartridge, a long ski strap, and mounting screws, the Targa Backcountry Binding Kit provides the essentials for fixing most binding issues.
Share your thoughts
What do you think of the
G3
Targa Backcountry Binding Kit
? Share a...
There's a reason there isn't a kit for Voile Switchbacks
G3 Targas are awful bindings. Bad at skiing, bad at touring, loud and squeaky, poor edge control, and oh yeah, they fall the hell apart -- hence this kit.

The kit itself does the job though, at least they're easy to put back together. Kind of like skiing on boards made from legos. 5/5 for the kit, 0/5 for the lego binding.
I hate G3 bindings. I will never use another pair in my life. I know, however, that there are a lot of folks who like them and swear by them. So if you're using them, that's fine by me. Everyone has their own preferences.
Be forewarned, though, that sooner or later, your G3's will fail. I broke three cables in one season. Fortunately, I never had a failure in the backcountry. If you're heading out of bounds, though, I would highly suggest that you buy a backcountry binding kit. Your bindings will break, and you will need these spare parts. If you don't use it, you can always return it at BC.com.
Does this kit come with directions for the...
Does this kit come with directions for the bindings?
Matt it does not , the bindings do come with instructions though.
Matt it does not , the bindings do come with instructions though.
super helpful. hope you won't need 'em
it's got all the basics you need if you blow a cartridge or a heel piece. backcountry trip? put 'em in your pack. resort day? leave 'em in the car.

i learned my lesson late season last year at winter park having to walk my broken setup down derailer, then truck back home because i was out of parts.

don't let this happen to you! keep your spare parts on hand.
The more you ski, there greater is the chance that part of your binding will break at the time you are least prepared for it. This happened to me, and nobody in the nearby towns (upper peninsula Michigan) carried anything. Luckily, I had a spare set of Riva Z repair parts for my old tele skis, and I was able to adapt that to my G3 bindings. I promptly bought this set and swapped out the Riva Z. My G3 bindings were just 3 years old and not that heavily skiied, and that's why I hadn't been in a hurry to equip myself with a replacement set sooner.

My only complaint is that I needed just the heel-lock (which was the part that cracked) and I would rather have had the opportunity to buy, say, 3 heel-locks. I had to buy the whole replacement set. It seems to me that the heel-lock is the most likely part to fail, and I would rather have the option to buy several alone--buying three new binding kits for a couple of back-up heel-locks is overkill. But I guess I'm a little glad I have the other stuff now . . . just in case.
Unanswered Question
Are there extra long cables available for...
Are there extra long cables available for any tele binding?How about the G3?