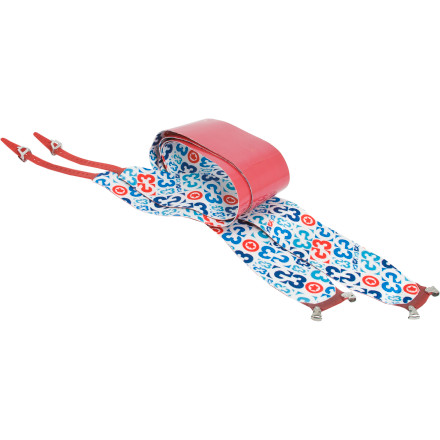 Detail Images
Packed with features to make life on the ascent as simple as possible, the G3 Alpinist LE Climbing Skins offer maximum grip and glide while keeping overall weight to a minimum. Laminated directly into the nylon fabric, the tip and tail connectors adapt to fit a wide variety of skis and, thanks to a low-profile design, are less likely to be kicked off as you make your way to the top. A dialed combo of fabric and adhesive means that theses skins will perform in virtually any conditions—from spring touring to arctic expeditions.
Limited Edition Alpinist Skins are packaged in a storage bag only, no box
What do you think about this product?
Have questions about this product?
Hi. I've recently purchased a pair of...
Hi.

I've recently purchased a pair of these skins. I'm new to touring so I don't really know what I'm looking for, but it says the skins come with skin savers. I can't see anything that looks like a skin saver. Its black mesh right? And isn't on the skin already?

Thanks for your help in advance
Hey Cgfp,

I don't think this model comes with the skin saver. I just bought a pair of G3s this spring and it only came with the cutting tool. G3 usually sells their skin savers separately. And you are right, it's basically just a long panel of mesh. I always use mine to increase the lifespan of the glue on my skins. You may be able to fashion your own on the cheap at the hardware store since we currently don't have any skin savers in stock.
Would these work for some faction...
Would these work for some faction 3.zero's?
These skins will work great for those skis. If you are looking for full coverage, these skins will come up a little short since those skis are 142 mm at the widest and these skins are in stock in a 115 mm or 130 mm option. But if you want to save a little weight you can not have full coverage in the front and you should be all set.