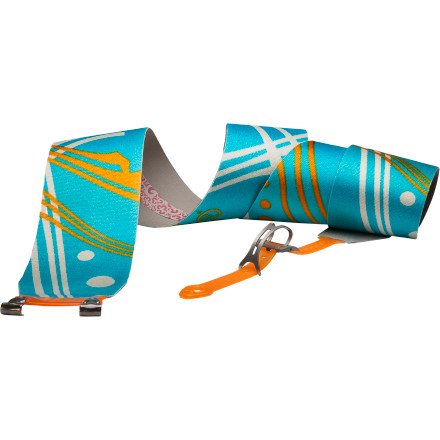 Colors
Description
First up the mountain, first back to the lodge.
Skins should be easy to switch so you can get out and play. At least, that's the philosophy of the G3 Women's Alpinist elle Climbing Skins. The Elle's RipStrip reduces skin to skin adhesion, removal from skis is quick and painless (as it should be).
Innovative tip connector features pivoting steel hands mounted on a low-profile crossbar so skins don't get ditched on the ascent
Direct tail strap lamination helps create a low-profile bond for optimized glide\
G3's glue formula works exceptionally in all snow conditions
Hey guys,

Will the x-small 140mm fit on the rossignol saffron 7 162cm. thanks
Hey Patrick,

Yes, you can get those to work, however there will be a chunk of the tail that doesn't have skin coverage due to the shorter length of the skin. Most of the grip when skinning comes from underfoot and behind.

Ben
Unanswered Question
Will my friends make fun of me if i am a dude and use them? Will they lose all traction and function?
Want to put these on my wife's 170cm Shreditor 102 skis (131/102/125). Would the 130mm in Short work? Also - do they come with the trimming tool? Thanks
Hey Andrew,

The 130 Short could work (especially after the skin stretches), but a 130 Medium would be much better. This DO come with the trim tool.

Ben
My skis are 149 cm long, could I get away with your x-short size?
I have Pandora 2014 Line skis size 172. What size skins should I go for? Also, what is the difference between the regular G3 alpinist and the women's version
I'd go with the medium 130mm.

The Alpinist elle has the same great features as the other Alpinist skins, with some added creativity in the graphic pattern on the plush.
Unanswered Question
What size for fischer koa 88 ti 160cm

128/88/115? Thanks
what size skins would i get for 112-70-97 k2 skis, 174 in length?
Hey CCC,

The medium length would work best. The 155mm medium length would fit best. However, if the widest part of the skis does not contact the snow, and the widest part that contacts the snow is around 105mm the 100mm width will work well too.
Unanswered Question
What's the best size for Rossi BC 110 (S7s) in a 176? They're from the first year they came out...
I just received these skins and while the...
I just received these skins and while the fit is good, i'm not totally sure about how well they will stick to the snow. They seem really flat, as though the hairs are quite short and not at all fluffed up. Perhaps it's because i've never used G3 skins before, but i'm a little skeptical that they'll actually hold onto the snow. Any thoughts? Do I need to "fluff" them up or something?
Best Answer
Hey Sophia!



Thanks so much for your order.

I've got G3 skins, and you are right, it is a little suprising how short the hairs are, but good news for you...



NO fluffing required : )



The skins will stick to snow like a charm and you'll be hauling uphill! The Alpinist skins are a great option and I've been using mine for 2 seasons now, I probably use them about 15-20 times per year.



Stay safe out there : )
would the 130mm in Med be a good fit for...
would the 130mm in Med be a good fit for my 171 Rossignol Sick Birds after getting trimmed down? (specs 128/98/121) my last set of fitted skins were stolen, and i'm unsure which size they were.. any help would be awesome!
Hey Snowspryte,



Personally I hate bottoming out on the tail adjustment so I would probably suggest the short so you have that cm to play with but either the short or the medium option in a 130 width would be correct.
Best Answer
Definitely get the mediums! I just got the short for my Kiku 170's which say they go up to 172, but even at the very last hole on the tail clip they barely fit and there is a little too much exposure on the tails. Really wish I got the mediums.
I am thinking 130mm shorts for a pair of...
I am thinking 130mm shorts for a pair of Volk Kiku 170's (139/107/123). Am I right?
For full coverage from tip to tail you might want to consider the 140 mm short but the 130 mm should work also work well.
what width should I get to fit my BD starlet...
what width should I get to fit my BD starlet 166? Would the short 130mm work?
Hey Sam,



I think trimming down a short 130 mm is the best idea for your ski.



On an unrelated note I do strongly suggest changing your user name to anything other than your email address. This is a public format and anybody can see what is written. Putting personal information out like that is as bad of an idea as leaving your social security number on a bus seat.
Sticks like sweaty polyester
Familiarity:

I've used it several times
Bought these to replace my old G3 skins that were too narrow for my new fatty skis. LOVE them. Stick tight even on steep icy skin trails. The design of the tip and tail kit is improved from older versions, as is the trim tool which made cutting simple for a perfect fit.

Now all we need is more snow!
Nice Graphics, Great Tractions
Familiarity:

I've used it once or twice and have initial impressions
Using these on my Rossignol 178 S3's with 95 underfoot. By following the directions for length and buying the 130's, I now have excellent fitted skins. It is worth noting, it takes no technical knowledge to trim these skins.

I really like the tail connector, as opposed to the BD tails that I was more acquainted with. These tails go on very easily, are quite simple to adjust, and with a simple pull, come right off. They sometimes go a little cockeyed on the tails, (as they are twin tip skis) but this is to be expected and easily fixed.

Skin wise, they have great traction, while maintaing a fair level of glide. This pleasantly surprised me, as I am used to incredibly grippy skins. With that said, these had no trouble going up hill.

Finally, I would just like to say how the tip, while slightly unconventional works quite well and does not come off the ski as one might expect.

The graphics on the bottoms draw compliments, the skins are grippy enough, but still easy to get off, and are flexible and thin enough to stuff in a jacket pocket, even on a colder day.
A decent skin for anyone that is looking to get into alpine touring! The tip clips are a must for those fat powder skis!
Same as Alpinist
Gender:

Male

Familiarity:

I've used it once or twice and have initial impressions
I bought these as a replacement for a pair of Alpinist skins that were too short. There were no Alpinist in the size I needed so decided to try these as the seemed to be exactly the same. They are the same, the tip and tail attachments work well and are easy to use. The skins glide and grip well and they are light and fold up small. I did have a bit of a problem with snow working its way under the skin and the glue doesn't seem very sticky. Also, the include trim tool works well, but appears to cause a bit of damage to the glue on the edges - be careful when cutting - I think this may be why I am getting snow in there.
what width are your skins??????
what width are your skins??????
In "select options", look for the dimension that ranges from 85mm to 140mm. This is the skin width.

This chart should help as well: http://www.backcountry.com/Store/content/sizingChart.jsp?chartId=875&categoryId=bcsCat51100031
Will the x-short size work on ski length...
Will the x-short size work on ski length 164. I wan to get the width of 130mm but bc only has them in xshort and long.
It would be a stretch. You may have to shop elsewhere for the proper size. Or, you could wait until Backcountry gets more stock.
Will these skins fit the women's rossignol...
Will these skins fit the women's rossignol S7 (168cm)?
Yes & No. The recommended width/length would be a 130mm short. G3 makes this, but it looks like Backcountry is out. The G3 Alpinist skin (http://www.backcountry.com/g3-alpinist-climbing-skin) is the exact same skin (graphic change only) and they have some in that size.
Enjoy!
How are these different from the Alpinist...
How are these different from the Alpinist (other than graphics)? What makes them "women specific"?
Graphics only. If you like 'em, go with it!