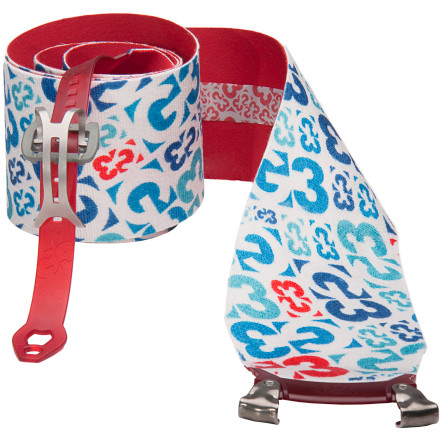 Colors

Community Images
Description
Glide and ride.
As a touring enthusiast, you want a skin that glides on the uphill and packs light on the downhill. Fortunately, so does the G3 Alpinist Climbing Skin. Backed by the tech necessary for an intuitive and highly functional piece of gear, the Alpinist cuts through snow and vertical like butter and paper, respectively.
Low-profile tip connector uses pivoting hands to fit securely on your ski tip and eliminate the extra weight and floppiness of fold-over designs
Laminated tail uses G3 tail connection system to reduce drag
Waterproofing treatment prevents clumping when you move through multiple climate zones
Temperature-tolerant adhesive remains sticky even when it gets cold
RipStrip makes it easy to pull off the ski and reduces skin-to-skin sticking
Includes nylon case, skin savers, and trim tool
I have moment jag/shark 183
143-116-129
What size climbing SKIN would I need? I am thinking Med 115...
Hey Ron,

Medium 115 will fit and work, but you won't have the most coverage on the rear of your ski which is where you gain the most traction. Long 130 will give you the most coverage throughout your ski.

Ben
What size should I look to purchase for some Rossi Savory 7s in 162cm?
130mm - Short would be perfect for the Savory 7.
What is the best size fit for 14' Armada TST 183.
130mm - Medium would work for that TST in the 183.
Hey i have liberty double helix's 190 length that i am thinking of putting these on, what size would i want to use

Alex O.



You would want to get the 130mm in the X-Long. That would cover all of the base for the best glide and sticking ratio.



You would need to trim them a bit on the sides with the dimension, but G3 had probably one of the best tools for getting the perfect fit for the double helix.
Great Skin
Familiarity:

I've put it through the wringer
Great Glide and the just enough glue so that it sticks to your ski without being imposibble to pull apart. I do slip a bit when the slope is icy and gets in the mid 30 degree range but that is probably the trade off for the glide (or just my bad technique). The included cutting tool made these super easy to trim it took about 10 minutes.

I use these on my Voile V8's and really dont have an issue with them slipping off the tail.

I would recommend them.
I have a 182 Liberty Double Helix. I need the 140mm, but only Long... looks like only X-Long is available with the 30%. Can I unscrew the tip attachments, cut the length and re-screw the tip attachments?
Hey Corey,

Unfortunately you aren't able to cut this skin down and reattach the the clips. They are anchored with rivets, not screws. However, give me a call and I can see what I can do to hook you up with those Long's!



800-409-4502 Ext. 4705




Which skin size would you recommend for the Salomon Q BC Lab Ski (length 184 cm)? And would you recommend the G3 or the Black Diamond Glidelight Mohair Mix skin?
You could go with the 130mm, just realize that it may not cover the entire tip of the ski. Most of your friction comes from the ball of your foot back towards the tail anyway but, the 140mm will cover the entire ski. You need the size long regardless of what you choose.
I'm throwing these on my Atomic Automatic 109's with a 189 length. I'm trying to determine which size to use, and whether the twin tip tail attachment is necessary. Thanks.
Cole,



In a 189 length you're right between the L and XL skin length. You could choose either one - the Long will be a little less bulky and slightly lighter, while the X-Long may provide a little more grip. I'd go with the Long length to save a little weight on a ski that big.



As for the width, go with the 130mm.



Finally, I would pick up a pair of the Twin Tip Connectors. The Automatic's more round and raised tail won't provide the best connection with the stock camming closure. Having your tail clips slide off the ski while you're touring gets old real quick.
Great Glue and Durabiloty
Familiarity:

I've put it through the wringer
The glue on these skins lasts a lifetime. The skins also cut and trim down nicely as you keep changing skis and widths but don't want to buy new skins. I haven't experienced much slipping, even icier or steeper tracks, but from time to time they do slip and this is where I like my BD skins a bit better. I have to say, the lengths are kind of a draw back. Seems weird after using BD for so long that the skins wouldn't just come in a more standard length. Don't buy um too short.
will get you to the top
Familiarity:

I've put it through the wringer
stick well to the skis, dont slide off, tip connectors work very well. all and all, great skins, do what they should do. however, the hairs seem to be a bit too short. i noticed that i start sliding in bad conditions sooner than climbers with high traction skins of BD skins. i think i'll look into skins that provide better traction in the future, but these guys have helped me climb quite a few peaks, so no complaints.
What is included when you buy the skins? Is there a tip attachment? A storage bag? A tail attachement? A cut kit?
Hi, what size should I buy for my Kastle TX97s? 167cm length, 128/ 97/ 117 width. Thanks.
You go off the widest point. So the 130 Short.
Ok, I've not used mu new skins yet except to cut them - really easy to DIY with the tool provided. However, I have another pair cut for other skis and I can say that these skis grip really well, are easy to take on and off. My only advice is for a twin tip ski change the tail attachment to the twin tip connector, otherwise you will find the skin can come off the ski. Ive got both attachments now for flat tail and twin tip skis, can't wait to tour with them this winter.
What size for my G3 Empire 115 skis, they are 190 length , tip 145 waist 115 and tail 126. ?
Hey Sae,

You could go with the Long or Extra Long in the 130mm or 140mm width. The 130mm should provide enough coverage on the contact points of the ski, but if you want the best coverage possible the 140mm would offer that.
What size for K2 Sidestash? They're 174s and 139-108-127. Thanks
ale106003565,



140mm medium.
G3 Alpinist Skins are great!
Familiarity:

I've used it several times
This is my second pair of Alpinist skins and I love them! They have great traction and pack up well. the G3 cutting tool makes it easy to do it your self.
G3 Alpinist Climbing Skin
Familiarity:

I've used it several times
Wow, these skins work great in all snow conditions. I almost ordered to small of skin width wise. Make sure you order the same width or greater as the fattest part of the front of your skis and trim them to fit. It takes 5 min per ski to trim them up with the included tool.
They also came with a skin saver mat and a storage bag.
I have a pair of Fischer Watea skis that are 130 mm in the tip, 96 mm in the waist and 120 mm in the tail. Length is 170 mm. I assume the short size, but what width skins should I buy? Thanks
Hey Pnop,



You could go with the 115mm or 130mm width. The 115mm width will be lighter, but have less coverage (which leads to less traction), whereas the 130mm will have better coverage, but a bit heavier.



Give me a call or shoot me an e-mail if you have any other questions!



Ben



801-746-7564

brabinowitz@backcountry.com
These would be for a pair of Atomic Automatic 102's. Length 180 cm, 131-102-122. Which would be best fit?



In addition they would be used mostly to skin up groomed runs and the same runs ungroomed once area closes. Would you recommend these or High Traction's from G3? Any other brands?



Thanks

Dave
Get the 130mm long. You do not need the high traction version. They are really only for split boarders who have far less surface area on the snow than you will.



You can call or email me directly. 801-736-6398, or bporreca@backcountry.com
What would be the right size for an Armada TST that is 183cm in length 119-132-102-123? Thank you so much!
130 mm Long would be the best size. You will not have to cut at all around the section of the ski that is 132 mm in width.



You can call or email me directly. 801-736-6398, or bporreca@backcountry.com