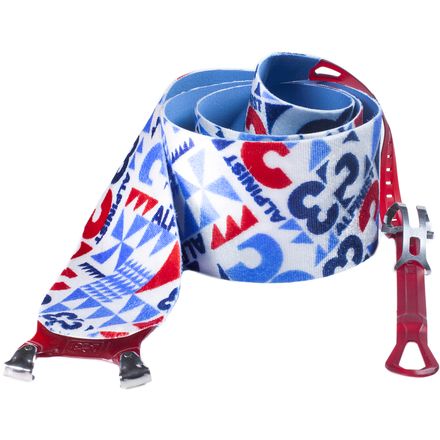 Colors

Detail Images
Description
Same plush ride in a more reliable design.
The role of a climbing skin is simple: stick to it. The G3 Alpinist Climbing Skin accomplishes this with flying colors through a plush nylon material that bites into everything from soft powder to nasty, compacted skintracks. G3's classic Alpinist got a facelift this season with a removable Ripstrip on the adhesive side, which reduces skin-to-skin adhesion for easier pull-aparts during transitions, but it can also be removed when you need some extra sticking power if your skin glue starts to ice over, or gets a little dirty drying in the hut. The skins are treated with a hydrophobic coating to prevent ice build up, and their glue is rated to perform in temperatures down to -22F.
Nylon
Low-profile tip attachment
Adjustable camming tail clip
Removable Ripstrip
Included carry case
Trim tool included
Made in Canada
Share your thoughts
What do you think of the
G3
Alpinist Climbing Skin
? Share a...
What size would you suggest for Salomon MTN Lab Ski 184 length?
130 Medium or 130 Long. Medium if you want lighter weight, Long if you want more grip.
Ben
What is the best size for Volkl NUNATAQ 139_107_123. Length: 186. I was thinking the 130 Long?
What is best size for Rossi Super 7 at 188 cm length?
What size and type of skin would be good for 177 Nordica patron
Mark,
130 or 140 Medium will work great. Contact me directly if you'd like a personalize experience here at Backcountry.
Ben
What size skin should I get for Armada Norwalks? (121-146-116-132) 189cm length
Aaron,
130 or 140 Long will be perfect! Contact me directly if you'd like a personalize experience here at Backcountry.
Ben
Howdy! I have the 2015 Moment Belafonte's in a 187 Length (133-106-122). Any recommendation on sizing or particular skin for these? I've read the tip and tail of Moments can be difficult to fit with certain skins. Thanks!
Hi John,
I'd go with the 130mm Long. You may also want the G3 Twin Tip Tail Connectors: Item #GGG0154
Ben
I have the 2015 Blizzard Cochise 177cm length. What size skins do I need?
You'll want the 130mm - Medium for those skis!
Give me a call if you have any questions: 800-409-4502 Ext. 4705
I'm currently skiing 177 cm 4frnt yle's with dimensions of 138-118-138. Because i'm between sizes, which skin would be the right choice?
Thanks
Hey Nick,

You want the 130 mm, Medium size in these particular G3 Alpinist Climbing Skins for your 177 cm 4FRNT YLE skis. You would then need to trim them to roughly fit the shape of your skis to maximize your uphill efficiency. There will be a small amount of your bases left uncovered at the tip and tail. You could also go with the 145 mm, Medium size skins and trim them to fit the exact shape of your skis. Either size will work, it just depends how much trimming you want to do.

Feel free to shoot me any additional questions on climbing skins or anything ski related.

Kyle
Expert Gearhead
klivingston@backcountry.com
801-736-4337