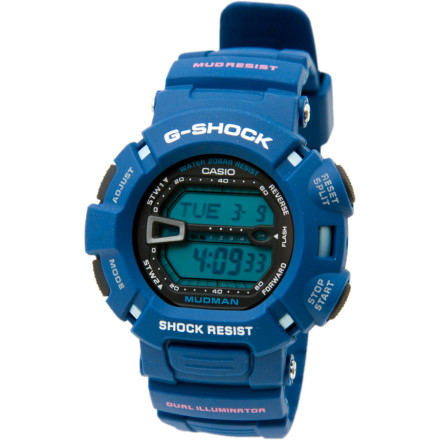 Detail Images

Community Images
The Mudman Watch upgrades G-Shock's legendary durability with a sealed case and buttons to prevent damage from dirt, dust, and mud. Whether you're into moto, mud-wrestling, or extreme desert-walking, the Mudman is up to the task.
Shock-resistant design shrugs off brutal impacts
Automatic backlights illuminate as you raise your arm to check the time
Dual independent chronographs with lap counters track course-time and/or buddies' keg-stands
Countdown timer keeps track of your tasty microwaveable burrito
World time function easily adjusts to any time zone
First g shock of many to come!
I got the black mudman, its been great to me thus far. I've had it for a month, usually one month in i find some issues with any watch, or at least scratch/ding it. This thing is a tank, in a small package, i could re-package it and sell it as new.

the ONLY issue i have is the display is hard to read if you go with the inverted display as pictured, i knew what i was getting into though so i didn't dock any points on the watch due to my personal decision.

Super comfy, looks great even at work in my suit, and performs well with anything i've thrown at it so far. next purchase will be a riseman, i'm addicted!
True to G-Shock style, there is an assload of watch packed into this piece. Probably more than than what most need (who the shit needs 5 alarms and 2 chronographs?). What I did need though, was an ill, everything-proof (water, blowing sand, freezing temps, haters, raccoons, etc.) digital timepiece that didn't require donating sperm or stealing from the elderly to pay for. And for all of this, the Mudman delivers in heaping, muddy spades.

* red colorway isn't quite as bright as photographed. probably for the best, as the inevitable PU stains won't be as visible
* protip: multi-city timezone feature is badass for traveling, but when initially setting your watch, google your home city's respective UST or GMT +/- hour value, and set that first, to save yourself a headache, or three
Casio G-Shock Test - hammer