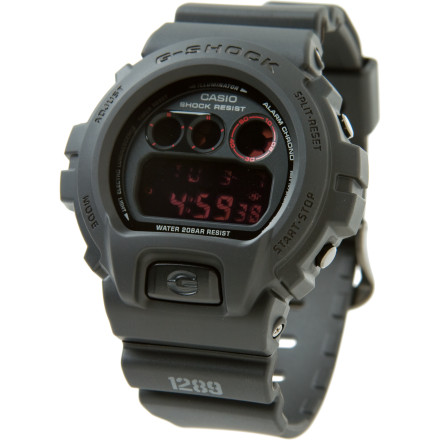 Detail Images
Swim upstream, signal your platoon to await further command, and glance at your G-Shock 6900 Military Series Watch. The fact that you were underwater won't matter; the stealthy 6900 has a water-resistant rating of 200m. Now, pop out of the water, signal for your men to split up and surround the enemies' camp. When the timing is right, invade. Nevermind the fact that you're actually walking into a frat house with a throng of sopping-wet party crashers. Keep focused on the task at hand (draining their kegs and leaving with their ladies).
great watch. simple to use and super durable. I use is on a day-2-day basis as a trainer and also let it lead me down the single track on my mtn bike.
Unanswered Question
I am receiving naromax watches and I did...
I am receiving naromax watches and I did not order any watches. I have been searching watches with interest to buy one if I located one I liked. I did not find what I was looking for. Now I have received 2 to date with no receipts and no charges on my credit cards. Please advise.
do these watches have a band that can be...
do these watches have a band that can be changed by the owner? or do I have to mail it in to the factory?
Yes. That small Phillips screw visible on the band is how the band attaches. There are four, and they unscrew and the band slides out. The bands can be changed with a small jewelers screwdriver, but only Casio specific bands fit as replacements. Meaning this band is only able to be replaced with the same band, and not a different style without strap adapaters.