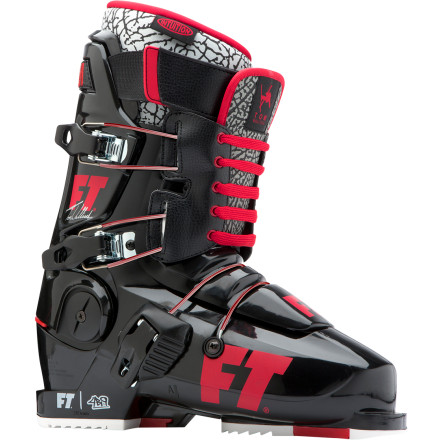 Tom Wallisch could probably win comps skiing in high-tops, but give him a choice and he'll opt for the Full Tilt Tom Wallisch Pro Model Men's Ski Boot 11 times out of 10. It isn't that sneakers aren't awesome, but they generally don't provide the same support that the three-piece medium-flex Full Tilt Soul shell does, nor do they offer a snug 99mm last with a wide, comfortable toe box. The tongue of the Wallisch Pro pivots forward from the bottom for easy on and off, while its ribbed pattern teams up with the free-flexing rear cuff to provide a smooth, reliable flex with no sudden stops or dead spots. Instead of traditional ladder buckles, Full Tilt locked the whole package down with widetrack aluminum buckles, which offer one-handed microadjustment and use flexible cables instead of stiff wickets, giving you a snug fit that doesn't interfere with the boot's flex or cause shin bang.
Oftentimes, a boot's only as good as the liner you put inside of it. Lucky for you, Full Tilt hooked the Wallisch Pro up with an Intuition Pro heat-moldable liner, which has Powerwrap foam to create better contact with the shell, increasing performance and responsiveness. There's also a J-Bar foam insert at the ankle bone, designed to seriously increase heel hold so you never feel your heel sliding up and out. The Wallisch is also the only boot in Full Tilt's freeride line to feature a full rubber sole for grip, but has the same shock absorber impact-reducing bootboard as plenty of the other freeride and freestyle models.

99mm last with a wide toe box
Intuition Pro heat-moldable liner with Powerwrap foam and J-Bar
Three-piece Full Tilt Soul shell with medium flex
Pivoting easy-entry swappable tongue
Free-flexing rear cuff
Shock absorber boot board
Full rubber sole
Widetrack aluminum micro-adjust buckles hook-and-loop power strap
Fully customizable
What do you think about this product?
Have questions about this product?
Comfortable All-Day Fit and Performance
Familiarity:

I've put it through the wringer
1. Comfortable as a slipper

I never unbuckle all day; which is seriously unheard of as far as expert-level, tight shell fit ski boots go. I never lose circulation or feel pins and needles in my feet. With other boots, I had to unbuckle after every run and take my boots off every 2 hours. These are tight in all the right areas I guess. I do not even have to buckle past the 1st or 2nd notch. I have 1/8" shell fit or 5-8mm.

2. Flex

The 6 flex is way too flexible if you weigh a lot or need that extra support (around 100 flex). I recommend getting the 8 or 10 flex if you weigh a lot. I weigh 200 lbs. The 8 flex is perfect for me and it is extremely stiff in cold weather and all I will ever need (120-130 ). The 10 Flex is ideal for professional who do backflips, were former racers, someone who weighs 225 lbs., or for a really warm spring day. However, ski what makes you have the most fun!

3. Soul Shell (FTS) vs. Original Shell (FTO)

These are the Soul shell. I own the green tongued Seth Morrison's in the original shell and these feel slightly wider and more volumeous. If you have a really narrow foot, then get the Original Shell.

Side Note:

Trust me --- the soul shell is slightly more volumeous to accommodate more feet even though they are both stated as 99mm. Helpful for many people.

The Soul Shell feels like a true 99mm last, while the Original feels like a 97mm.

I prefer the Original Shell in the older Seth Morrison's over the Soul Shell.


Gotta love full Tilts
Familiarity:

I've put it through the wringer
No matter what kind of skiing you do Full tilt has a boot for you. The options of change in the tongue stiffness make their boots very customizable to your skiing, one option that I have found extremely appealing. I remember before I started wearing full tilt, trying to squeeze my foot into hard plastic in the mornings and almost breaking my foot with how difficult it was, these boots are easy to get on, off, and the most comfortable Ive ever worn.



The boots are extremely light in comparison to other boots making them very practical for jumping and rails, and to top it off they have changed their buckles so no more getting them jammed in the powder.



I love the boots and honestly give them credit to saving my knee, but thats a whole other story.



Buy em
I'm thinking of buying a set of boots like this does anyone know if they run small or big
Hey cpt,

These boots run true to size. They are wider than some boots on the market, especially in the toe box. You will want to select the size based on your Mondo size and not your street shoe size.



If you need help sizing the boots feel free to give us a call at 1-800-409-4502 or chat online with one of our expert gearheads.
He is right. They actually run true to size according to typical standards of measurement. However, they are shorter in length than most companies. For example, 26.5 is 301 mm, while other companies are between 303-307mm.